Wary of dissent in times of economic slowdown, China will sack officials in case of riots
Facing job losses and social disturbances due to economic slowdown, China has passed a new rule putting the onus on maintaining law and order on officials
Beijing: Facing the prospect of millions of job losses and social disturbances due to economic slowdown, China's ruling Communist Party has passed a new rule putting the onus on maintaining law and order on officials, failing which they could even be dismissed.
Party and government officials at all levels may be ordered to resign or face dismissal if mass disturbances or public security incidents occur and it will promote officials' ability to maintain social stability and reduce the likelihood of social conflict, state-run Xinhua news agency reported.
Party and government leaders responsible for social order will be punished if problems such as major crimes, mass disturbances or public security incidents take place under their watch, a regulation issued by the general office of the Communist Party of China (CPC) and central cabinet said.
In such scenarios, they will be reprimanded with a circulated notice, summoned for talks, given a deadline for improvement, ordered to resign or dismissed. In some cases, they could also be prosecuted for criminal offences, the report said. "The new regulation has specified that officials will be held accountable for major criminal cases and mass incidents, which shows big progress compared with a regulation issued in 1993, the vagueness of which has led to officials passing the buck," Su Wei, a professor at the Party School of the
Chongqing Committee, told state-run Global Times.
According to previous regulations, officials' liability for major criminal cases and mass disturbances was usually neglected, Su said, adding that officials were only held responsible for very few incidents, such as major traffic accidents and incidents endangering work safety.
Analysts said the rule is aimed at preparing the party and the government to face mass protests and violence due to the likelihood of job losses.
While government said 1.8 million workers will loose jobs in coal and steel sectors, other media reports said about five to six million jobs can be axed in the next few years. Last year, the economy slipped to 6.9 per cent, the lowest in 26 years with predictions by IMF and World Bank that the slowdown will continue this year and the next.
"Due to the downturn in China's economy and a rise in the number of laid-off workers, certain social problems are likely to occur during this period. The new regulation will push party and government leaders to actively resolve social conflict and nip problems in the bud," said Zhang Xixian, a professor from the Party School of the CPC.
The Supreme People's Procuratorate has announced in February that 25 officials will face prosecution for their roles in the deadly Tianjin explosions in August 2015. The officials have been accused of dereliction of duty, abuse of power and bribery.
PTI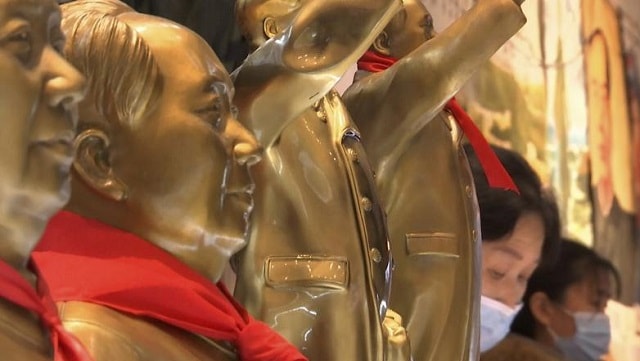 World
In Guizhou, tourism in the first quarter of 2021 has already recovered to 2019 levels, local official Lu Yongzheng said.
World
Foreign Ministry spokesman Zhao Lijian told a media briefing in Beijing that China expresses 'sincere sympathies' to India over the deteriorating COVID-19 situation recently
Entertainment
Zhao faced a nationalist backlash in March when she won a Golden Globe for Best Director, with internet users in China questioning whether she could be called Chinese and some saying she had insulted her home country in comments on the political system.