British author VS Naipaul, the famously outspoken Nobel laureate who wrote on the traumas of post-colonial change, breathed his last on 11 August, six days before his 86th birth anniversary this year.
Naipaul, who was born in Trinidad and the son of an Indian civil servant, was best known for works including A House for Mr Biswas and his Man Booker Prize-winning In A Free State.
"He died surrounded by those he loved having lived a life which was full of wonderful creativity and endeavour," his wife Lady Nadira Naipaul said in a statement on Saturday. She described the outspoken author as a "giant in all that he achieved".
Vidiadhar Surajprasad Naipaul settled in England and studied English literature at Oxford University on a scholarship. But he spent much of his time travelling and despite becoming a pillar of Britain's cultural establishment, was also a symbol of modern rootlessness.
Naipaul's early works focused on the West Indies, but came to encompass countries around the world.
He stirred controversy in the past, describing post-colonial countries as "half-made societies" and arguing that Islam both enslaved and attempted to wipe out other cultures.
When he was awarded the 2001 Nobel prize for literature, the Swedish Academy described him as a "literary circumnavigator, only ever really at home in himself, in his inimitable voice".
It said he was "the annalist of the destinies of empires in the moral sense: what they do to human beings. His authority as a narrator is grounded in his memory of what others have forgotten, the history of the vanquished," it said.
Naipaul, who was knighted in 1990, mixed fiction, non-fiction and autobiography without distinction. Overall he wrote more than 30 books. Among his noted works were,
A House for Mr Biswas (1961)
One of his seminal novels, the book looked at the almost impossible task for Indian immigrants in the Caribbean of trying to integrate into society while keeping hold of their roots.
The book follows the life of Mr Mohun Biswas, a protagonist inspired by Naipaul's father, as he struggles to find his freedom and a house of his own. He marries into the Tulsi family, on whom he becomes dependent, but rebels and takes on a succession of occupations in a struggle to weaken their hold over him.
Anthony Burgess called the work "a work of great comic power qualified with firm and unsentimental compassion."
A Bend in the River (1979)
Short-listed for the Booker Prize in 1979, the novel tells the story of Salim, a young Indian man, who accepts an offer to a small business in Central Africa. As he strives to establish himself, he becomes closely involved with the fluid and dangerous politics of the newly-dependent state.
"Always a master of fictional landscape, Naipaul here shows, in his variety of human examples and in his search for underlying social causes, a Tolstoyan spirit," John Updike wrote of the work.
Miguel Street (1959)
Set during World War II and narrated by an unnamed-but precociously observant-neighborhood boy, Miguel Street is a collection of linked short stories featuring an array of characters — from Popo the carpenter to Man-man, who goes from running for public office to staging his own crucifixion to Mrs Hereira, a man in thrall to her monstrous husband — and set in wartime Trinidad and Tobago.
"Miguel Street, by VS Naipaul, is a beguiling book about growing up in the West Indies. The sketches are written lightly, so that tragedy is understated and comedy is overstated, yet the ring of truth always prevails," noted The New York Times upon its release.
In a Free State (1971)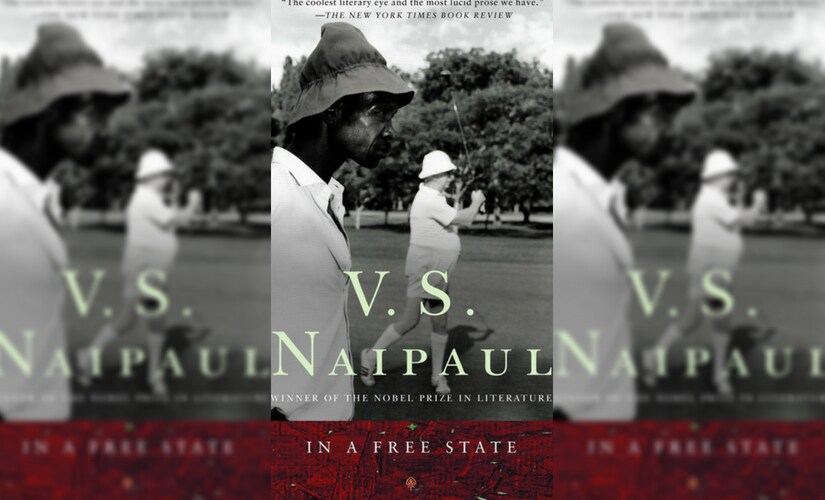 One of the first winners of the Booker Prize, the book consists of three short stories — One Out of Many, Tell Me Who to Kill, and the title story, In a Free State.
Half a Life (2001)
Set in India, England, and Africa, the novel was longlisted for the Man Booker prize.
The plot revolves around the son of a Brahmin ascetic, Willie Somerset Chandran, and his lower-caste wife. Chandran grows up sensing the hollowness at the core of his father's self-denial and vowing to live more authentically. That search takes him to the immigrant and literary bohemias of 1950s London, to a facile and unsatisfying career as a writer, and at last to a decaying Portuguese colony in East Africa, where he finds a happiness he will be compelled to betray.
Among the Believers: An Islamic Journey (1981)
The book follows Naipaul's six-month journey across the Asian continent after the Iranian Revolution. 'The believers' are the Muslims he meets on those journeys, young men, and women battling to regain the original purity of their faith in the hope of restoring order to a chaotic world.
When Naipaul won the Nobel Prize in Literature in 2001, Martin Amis noted that the author's travel writing "is perhaps the most important body of work of its kind in the second half of the century".
India: A Million Mutinies Now (1990)
The third part in the author's Indian trilogy which includes An Area of Darkness and India: A Wounded Civilization, the author takes an anti-clockwise journey around the metropolises of India – including Bombay, Madras, Calcutta, and Delhi. The book is an account of his return journey focuses on India's development since independence.
The travelogue encompasses a wide collage of religions, castes, and classes at a time when the percolating ideas of freedom threatened to shake loose the old ways.
The Mystic Masseur (1957)
In his first book, Naipaul traces the unlikely career of Ganesh Ramsumair, a failed schoolteacher and impecunious village masseur who in time becomes a revered mystic, a thriving entrepreneur, and the most beloved politician in Trinidad.
Other notable works of include, The Enigma of Arrival: A Novel in Five Sections, The Mimic Men, Guerrillas, Magic Seeds, and Beyond Belief: Islamic Excursions Among the Converted Peoples.
With inputs from Agence France Presse
Firstpost is now on WhatsApp. For the latest analysis, commentary and news updates, sign up for our WhatsApp services. Just go to Firstpost.com/Whatsapp and hit the Subscribe button.
Updated Date: Aug 17, 2018 11:02:21 IST