Volodymyr Zelenskyy presses Europe for more weapons 'as soon as possible'
As the one-year anniversary of Russia's invasion looms and Ukraine braces for a new Russian offensive in the east, Zelenskyy is pushing ever harder for friendly nations to send tanks, jets and missiles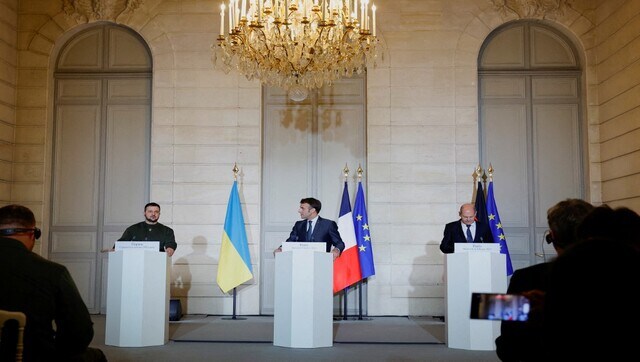 Paris: Ukraine's President Volodymyr Zelenskyy on Wednesday made his first visits to Britain and France since the Russian invasion almost one year ago, pressing his allies for more weaponry and in particular fighter jets.
Making just his second venture abroad since the invasion, Zelenskyy enjoyed a ceremony-filled day in London where he met King Charles III and addressed parliament.
King Charles greeted Volodymyr Zelensky at Buckingham Palace on Wednesday.

The monarch told the Ukrainian president: "we've all been worried about you and thinking about your country for so long". pic.twitter.com/JZb0msNAMg

— The Royal Family Channel (@RoyalFamilyITNP) February 8, 2023
His visit to France — which by contrast appeared to have been squeezed in at the last minute — saw him hold a late dinner meeting with French President Emmanuel Macron, joined by German Chancellor Olaf Scholz.
But despite the contrast in formats, Zelenskyy's demands were the same — more weapons, especially fighter jets and longer range missiles, and faster deliveries.
"The sooner Ukraine gets long-range heavy weaponry, the sooner our pilots get planes, the sooner this Russian aggression will end and we can return to peace in Europe," he said in Paris.
"There is very little time," he warned.
Macron pledged that France would help Ukraine to victory in fighting the Russian invasion and would press on with efforts to deliver arms.
France is "determined to help Ukraine to victory and the re-establishment of its legitimate rights," he said.
He added: "Ukraine can count on France, its European partners and its allies to win the war. Russia cannot and must not prevail."
Scholz said Germany and its partners had backed Ukraine "financially, with humanitarian aid and with weapons", adding: "We will continue to do so as long as necessary."
'Wings for freedom'
As the one-year anniversary of Russia's invasion looms and Ukraine braces for a new Russian offensive in the east, Zelenskyy is pushing ever harder for friendly nations to send tanks, jets and missiles.
Britain said it would consider the proposal for combat aircraft in the "long term", although the United States and other NATO allies remain wary of getting more embroiled in the conflict for fear of provoking Russia.
Britain has offered to train Ukrainian fighter pilots on top of an existing programme that has already prepared 10,000 troops for battle.
Zelenskyy — dressed in his usual green fatigues — received waves of applause as he made a historic address to both the lower and upper houses of the British parliament, on what was only his second overseas trip since the war began after his trip to the US.
"I appeal to you and the world… for combat aircrafts for Ukraine, wings for freedom," he said.
Prime Minister Rishi Sunak's office said he had tasked the defence secretary with "investigating what jets we might be able to give but, to be clear, this is a long-term solution rather than a short-term capability."
Speaking alongside Zelenskyy in front of a British tank, Sunak said that "nothing is off the table" for Ukraine — including fighter-combat aircraft.
"Of course they are part of the conversation," he said but held back from giving a concrete commitment to provide fighter planes.
Zelenskyy said that fighter jets had been discussed and reiterated his call for longer-range missiles.
Russia subsequently said that there would be a "response" from Moscow should Britain supply aircraft to Ukraine.
After the hurried meeting in Paris, which the Ukraine leader himself described as spontaneous, Zelenskyy is due to meet EU leaders in Brussels on Thursday.
'He has changed'
Zelenskyy has on occasion shown impatience with Macron, who held frequent telephone talks with President Vladimir Putin even after the invasion and even expressed concern that Russia should not be humiliated in any final settlement.
But Macron has now indicated France wants to support Ukraine until it emerges victorious in the conflict and announced it would send light tanks in a move that prompted Germany to follow suit with battle tanks.
"I believe he has changed," said Zelensky in an interview with the Le Figaro daily published ahead of the talks.
"And that he changed for real this time. After all, he (Macron) opened the door to tank deliveries."
Moscow said Tuesday that Russian forces were advancing towards Bakhmut and Vugledar — two key centres of fighting in the eastern Donetsk region of Ukraine, now the flashpoint of the war.
On Tuesday, Denmark, Germany and the Netherlands promised that Ukraine would get at least 100 tanks in the coming months, as the German defence minister visited Kyiv.
Germany recently gave the green light for Leopard battle tanks to be sent to Ukraine after a tireless campaign by Zelenskyy and allied countries.
Germany's defence minister said Berlin hoped to deliver the first tank battalion to Ukraine by April.
Putin, however, remains defiant.
Updated maps of Russia have gone on sale in Moscow book stores that include four annexed Ukrainian regions: Zaporizhzhia, Kherson, Lugansk and Donetsk. Putin regularly refers to them as "our historical lands".
Read all the Latest News, Trending News, Cricket News, Bollywood News,
India News and Entertainment News here. Follow us on Facebook, Twitter and Instagram.
World
Russian and Ukrainian forces have invested heavily in the battle for Bakhmut, even though analysts say the city carries little strategic value
World
Scholz brought six of his ministers for talks with Japanese counterparts to deepen cooperation in the economy and national security in the Indo-Pacific region, as well as other global issues, including China's assertiveness in pressing its maritime territorial claims and its closer ties with Russia
World
Netanyahu met with German leaders in Berlin the day after Israeli President Isaac Herzog unveiled a compromise proposal for overhauling the legal system, an approach that Netanyahu rejected.