Vladimir Putin's United Russia party sails through parliamentary polls amid low voter turnouts
An easy victory in parliamentary polls could pave the way for President Vladimir Putin to glide to a fourth term in 2018 elections, partial results showed.
Russia's ruling United Russia party has cruised to an easy victory in parliamentary polls that could pave the way for President Vladimir Putin to glide to a fourth term in 2018 elections, partial results showed.
It's an immense gain for the party that already held a majority in the previous parliament — soaring by more than 100 seats. The party now has enough to amend the constitution on its own.
Sunday's ballot for the 450-seat State Duma was smooth sailing for authorities desperate to avoid a repeat of mass protests last time round and eager to increase their dominance as Russia faces the longest economic crisis of Putin's rule. Anger over widespread fraud in the 2011 election sparked large protests that unsettled authorities by their size and persistence.
But a low turnout suggested that many Russians may have been turned off by a system in which the Kremlin wields near-total power, which could raise questions over legitimacy. Turnout was distinctly lower than in the last Duma election in 2011 — less than 48 percent nationwide compared with 60 percent. Moscow and St. Petersburg were among the Russian regions with the lowest turnout, which amounted to almost 20 percent in the Russian capital and 16.12 percent in St. Petersburg.
Sunday's voter turnout is "not the highest" in comparison to that of previous elections, but it is still "high", Vladimir Putin said, commenting at the end of the voting.
"We can announce already with certainty that the party secured a good result, that it won," Putin said after polls closed.
"The situation is tough and difficult but the people still voted for United Russia," he said on state television.
With 90 percent of the votes counted, the United Russia party had 54.3 percent of votes, securing it at least 338 seats in the 450-member parliament, up from 238 previously, according to results announced early on Monday.
It was followed by the Communists and the ultranationalist Liberal Democratic Party, on 13.5 percent and 13.3 percent respectively, and A Just Russia, which received 6.2 percent, results published by the election commission showed.
'Absolute majority'
Those four parties — which made up the last parliament and all back the Kremlin — were the only ones to clear the five percent threshold needed to claim a share of the one-half of seats up for grabs.
The vote comes as Putin's approval ratings remain high at around 80 percent and authorities appear to be banking on trouble-free presidential elections in two years.
Results indicated that liberal opposition groups would not make it into parliament, with neither the Yabloko party, nor the Parnas party, headed by former prime minister Mikhail Kasyanov, having secured enough votes to win a seat.
The other half of the deputies are being elected on a constituency basis after a change to the election law.
With only a fraction of the votes counted, Prime Minister Dmitry Medvedev confidently said that his party would end up with an "absolute majority" in the Duma.
Though the overall tally for United Russia was higher than the 49 percent it claimed in 2011, participation was low, particularly in Moscow and Saint Petersburg.
Only 47.8 of voters cast their ballots, against 60 percent in 2011, electoral officials said.
Sunday's election follows a tumultuous few years that have seen Russia seize the Crimea peninsula from Ukraine, plunge into its worst standoff with the West since the Cold War and start a military campaign in Syria.
But the Kremlin exerts almost complete control over the media and public discourse, and this year's election campaign was dubbed the dullest in recent memory.
Ecstatic ruling party
Russian President Vladimir Putin and Prime Minister Dmitry Medvedev arrived at the United Russia party campaign office, where the PM, who is also the chairman of Russia's ruling party, delivered a speech to party members and thanked Putin, who is the party founder, for demonstrating support for United Russia by visiting the campaign office.
Medvedev also called the election results "a victory" for the party.
Russian people support political stability, Vladimir Putin said as he visited the United Russia campaign office. "The situation is not easy and people see it - and they want the political system and society to remain stable," the president said, as quoted by TASS.
"Ordinary people know that empty promises are worth nothing," he added, commenting on preliminary election results and stressing that United Russia will continue its work aimed at Russia's development.
Violations?
Looming large was the spectre of mass protests over vote rigging that followed the last legislative polls five years ago and grew into the biggest challenge to Putin since he took charge in 2000.
Since then the Kremlin has cracked down on the right to protest while making a show of stamping out electoral manipulation.
The former scandal-tainted election chief was removed in favour of a human rights advocate who allowed more genuine opposition candidates to take part.
Despite the authorities pledging to crack down on vote-rigging, observers around the country made claims of violations including "cruise-voting" — where people are bussed to vote at multiple polling stations — and ballot stuffing.
Electoral Commission chief Ella Pamfilova admitted that there had been problems in certain regions but officials said the number of violations was way down on the last vote.
"In any case there already is full confidence that the elections are nonetheless quite legitimate," Pamfilova said.
And we did a lot for that
For the first time since Moscow seized the Black Sea peninsula of Crimea in 2014, residents there voted for Russia's parliament, in a poll slammed by Ukraine as illegal.
Voters in some areas of the vast country were also electing regional leaders.
In the North Caucasus region of Chechnya, strongman Ramzan Kadyrov looked set to win the first electoral test of his rule after rights groups said that criticism was ruthlessly silenced during the campaign.
On Sunday, Russians elected the officials to the State Duma, the lower house of parliament, as well as to dozens of municipal and regional bodies on the first nationwide Single Election Day - previously voting was held in December.
It is also the first time that the mixed principle has been used in elections to the State Duma since 2003, as in 2007 and 2011 Russians elected MPs from federal party lists only.
This time, half of the parliament's seats will be occupied by deputies included in the federal candidate lists of parties that will clear the 5 percent threshold. The other half will be taken up by candidates elected according to a first-past-the-post system in each of the 225 independent constituencies or districts that together form the Russian Federation.
Fourteen political parties took part in State Duma elections.
In Russia, each person over the age of 18 is eligible to vote, except for prisoners and legally incapable persons. The total number of Russian voters amounts to 111.6 million with about two million of them living abroad. Voter turnout in Russia's previous parliamentary elections in 2011 amounted to 60.2 percent.
With inputs from agencies
World
Joe Biden and Vladimir Putin are no friends, and neither did they make themselves out to be. But the two presidents did agree to show mutual respect and work on issues of mutual interest
India
Both the US and Russia are keen to bury the hatchet and restore a modicum of normalcy and a lot is at stake as Presidents Joe Biden and Vladimir Putin meet in Geneva soon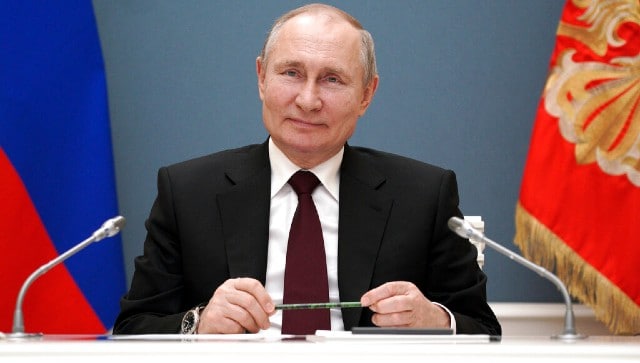 World
The treaty, which aimed to repair ties and smoothen bilateral relations between countries during and after the Cold War, was proposed in 1955 by then-US president Dwight Eisenhower