Visa woes: UK denying thousands of Indian workers right to work citing miscellaneous errors in filing tax-returns
The United Kingdom over the past few months been making certain changes to make it difficult for immigrants to obtain an Indefinite Leave to Remain (ILR) or a permanent residency status.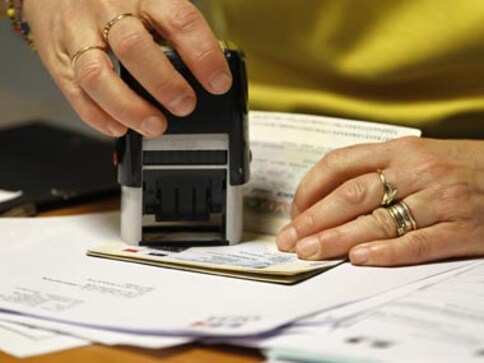 While Indian citizens settled in the United States grapple with President Donald Trump's visa restrictions, with the issue getting significant media attention, another country has been denying the right to live and work to its foreign working professionals and immigrants without much notice. The United Kingdom, over the past few months, has made certain changes to make it difficult for immigrants to obtain an Indefinite Leave to Remain (ILR) or a permanent residency status.
The rule as of now stands that, any foreign citizen can apply for permanent residency if he/she has completed a minimum of five years' lawful residency in the United Kingdom. However, according to the Hindustan Times, tax experts have noticed a pattern in the rejection of such requests by professionals from countries like India, Pakistan and Bangladesh.
As per the report, the Tier-1 (general) visa they used was discontinued in 2011 while former applicants were eligible to apply for ILR until April 2018 if they made up the required number of points on their application.
But, these "applications were turned down by home office caseworkers citing clause 322(5) of the UK Immigration Act, a discretionary rule aimed at denying convicted criminals and terrorists the right to live in the UK", the report states.
This rule was invoked by the UK government citing apparent differences in their declared earnings to the tax department and the home office, leading to a questioning of their "good character", another Hindustan Times report said.
This move led to over 30,000 people signing an online petition calling on the UK government to stop "abusing" a national security clause to deny hundreds of highly-skilled Indian professionals the right to live and work in the country.
Britain's home secretary Sajid Javid told a parliamentary committee earlier in May that he would "urgently" look into some of the cases of extreme hardship while an ongoing UK home office review into the cases is completed. "It is an important issue because if people are being turned down for their Tier-1 applications for the wrong reasons or for information not being looked at properly, it needs to be looked at properly. If it is a case of genuine error, then it should be taken into account," Javid told the House of Commons home affairs select committee (HASC) on Tuesday. The government has also put on hold any deportations.
However, he was warned by cross-party members of HASC that these developments might eventually lead to another Windrush scandal. The Windrush scandal, as exposed by The Guardian,  involved members of the Windrush generation and their children (63 migrants from the Carribean), who arrived in the UK from 1948 onwards, being wrongly targeted by the UK government's "hostile environment" policies designed to deter illegal immigrants. It led to many of them being rendered unable to claim welfare support, while others were wrongfully detained or even deported.
The scandal had resulted in the resignation of Javid's predecessor Amber Rudd in April 2018 for allegedly misleading the Parliament over the scale of the problem.
However, owing to the controversy, UK immigration minister Caroline Nokes had launched a review into the cases to distinguish between those involving "genuine fraud" and others that may have fallen victim to "overzealous" caseworkers. "A review into the specific HMRC (Her Majesty's Revenue and Customs) related Tier-1 issue raised by the Chair was commissioned immediately following the minister's appearance at HASC and is ongoing," a UK home office spokesperson was quoted a saying in The Hindustan Times report.
Immigrants denied permission to work amid staff shortage
Another startling revelation which has come post a poll conducted by YouGov on behalf of the UK campaign group '38 Degrees' is that the UK is denying overseas doctors and medical staff from countries like India to work in the country even as there is a shortage of staff in the state-funded National Health Service.
According to the poll, as many as 71 percent of the surveyed Britishers said that the UK should instead decide on visas for NHS staff "based on what the NHS needs" and to not follow the monthly quota cap on Tier-2 visas for skilled professionals while addressing the ongoing medical staffing crisis in the country.
The cap under the Tier-2 visa category to allow companies to bring in professionals from outside the European Union (EU) is set at 20,700 per year, with a monthly limit of around 1,600. Until December 2017, that limit had been exceeded only once in almost six years but since then that limit has been breached nearly every month.
According to a Times of India report, Dr Chaand Nagpaul, chairman of the British Medical Association Council (BMA), called for a "more flexible immigration system which does not end up turning away doctors desperately needed to fill staff shortages in the NHS". "The Tier-2 visa quota has been reached for the fifth month in a row, yet there are still more than 1,00,000 NHS posts unfilled, with vacancy rates rising. At a time when the NHS is under enormous strain and struggling to fill positions, the current visa restrictions and arbitrary caps for non-EU workers entering the UK are inexplicable and threatening patient care and safety," he said.
"We as an organisation have supported the Health Education England (HEE) initiative to bring doctors in from India on a learn and return basis, which addresses the acute shortage faced by the NHS. But the Home Office has been absolutely bureaucratic and are stopping these doctors from coming in," the report quoted Ramesh Mehta, president of the British Association of Physicians of Indian Origin (BAPIO) as saying. While experts warn that access to overseas professionals remains crucial for the growth and development of the UK economy.
Sarah O' Connor writes for The Financial Express, "A decent migration policy, for EU and non-EU workers, would recognise that a person's value to society is based on more than their wealth, or their salary. It would ditch fixed numerical targets, which lead to perverse outcomes. And it would reflect a truth that ministers seem to have forgotten: that skilled people have choices. The big danger for Britain on the eve of Brexit is that, as ministers debate hubristically which workers to allow in, the workers in question decide they would rather take their skills elsewhere".
Modi takes note
Meanwhile, due to the ongoing issue, Prime Minister Narendra Modi refused to sign a memorandum of understanding (MoU) with Britain agreeing to facilitate the return of thousands of illegal Indian immigrants. Sources at the Indian High Commission in London told the Times of India, that the bilateral agreement on the return of illegal Indians, which junior home minister Kiren Rijiju had pencilled in January, was not signed in April when Modi visited London because India "did not see any progress on the British side of the agreement".
The deal was supposed to be the centrepiece bilateral agreement signed during Modi's visit. According to the Times of India report, British prime minister Theresa May had told Modi in India in November 2017 that "the UK would consider further improvements to its visa offer if, at the same time, we can step up the speed and volume of returns of Indians with no right to remain in the UK". However, according to Indian officials, "we are not seeing that" happen.
also read
Explainers
Prime Minister Narendra Modi was on Monday conferred with the highest honours of Papua New Guinea and Fiji. From the United States' Legion of Merit to Russia's Order of St. Andrew, let's take a closer look at the many countries that have bestowed honours on him
World
India is not a member of the Group of Seven but has been invited by Japanese Prime Minister Fumio Kishida who has time and again expressed his own conviction in strengthening ties with the Global South
World
Prime Minister Modi left for Japan to attend the Group of Seven Leaders summit where he has been invited as a guest country