Virus spreads though Bolivia's political elite; looms over election
By Monica Machicao LA PAZ (Reuters) - Bolivia's government has been rocked by the novel coronavirus, with the president and at least seven of her Cabinet ministers testing positive, straining the interim leadership and casting a shadow over a slated election rerun in under two months. Conservative caretaker President Jeanine Anez, who is also a candidate in the planned Sept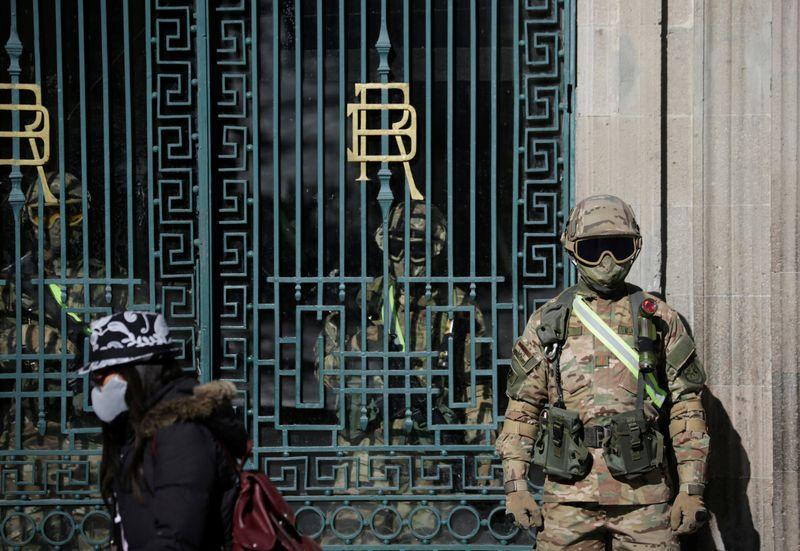 By Monica Machicao
LA PAZ (Reuters) - Bolivia's government has been rocked by the novel coronavirus
, with the president and at least seven of her Cabinet ministers testing positive, straining the interim leadership and casting a shadow over a slated election rerun in under two months.
Conservative caretaker President Jeanine Anez, who is also a candidate in the planned Sept. 6 ballot, tested positive for the virus last week, though she said she was doing well and would continue to work from isolation.
The ministers for economy, foreign affairs, mining, health, hydrocarbons and the presidency are also infected, the most recent confirmed on Tuesday. Others include Senate leader Eva Copa, who has said she was stable, and dozens of junior officials.
"I am afraid to be here, my body trembles because the contagion is circulating everywhere," Sergio Choque, the leader of the Chamber of Deputies, told lawmakers on Tuesday, adding that he had tested negative, "thank God."
"I feel sorry for each one of you who are risking your life today and the days before."
Latin America has become the epicenter for the virus with around a quarter of global cases and deaths despite only having around 8% of the world's population. Cases and fatalities are still rising fast.
A number of other political leaders in the region, including Brazil's President Jair Bolsonaro, Honduran President Juan Orlando Hernandez and Venezuelan socialist party leader Diosdado Cabello have also tested positive.
In Bolivia, confirmed cases have topped 50,000, with the lowland city of Santa Cruz the hardest hit. The death toll stands near 1,900.
ELECTION DELAYS?
The spread of the virus through Bolivia's government has rekindled questions about the coming election, a delayed rerun of a fraught poll last year which sparked widespread protests and led to the resignation of long-term leftist leader Evo Morales.
Anez took power in a political vacuum, pledging to hold quick new elections to help calm deadly clashes that had broken out around the country. She later said she would run herself, sparking criticism after she had previously ruled herself out.
The spike in coronavirus
cases in Bolivia, a landlocked nation of some 11.5 million people, has overwhelmed some hospitals, sparked protests from medical workers and, in one case in the city of Cochabamba, seen a body left lying in the street.
"We must postpone the elections," former President and rival candidate Jorge "Tuto" Quiroga said in a video statement, adding that a delay was needed to ensure voter participation and avoid contagion.
Morales' Movement for Socialism (MAS) party, whose candidate Luis Arce leads in opinion polls, wants the vote to go ahead, while the electoral tribunal has stuck by plans for a September election.
Bolivians themselves had mixed views on election plans.
La Paz resident Alejo Calle said that while people needed to be careful, it was important to take part in the elections and that he'd seen other countries move ahead with votes.
"I do not agree with going to vote in the election because of the pandemic," said Aracely Quiroz, also from the highland city. "Now it is more dangerous than before, now there are more infections than at the beginning."
(Reporting by Monica Machicao; Writing by Adam Jourdan; Editing by Jonathan Oatis)
This story has not been edited by Firstpost staff and is generated by auto-feed.
World
By Padraic Halpin DUBLIN (Reuters) -Ireland's foreign minister said he firmly believes Britain and the European Union can solve outstanding issues around post-Brexit trade in Northern Ireland, particularly if a middle ground can be found on animal and animal product checks. Trade barriers introduced between Northern Ireland and the rest of the United Kingdom have caused deep anger among many pro-British unionists in the region and were partly responsible for over a week of nightly street violence this month
World
HELSINKI (Reuters) - Talks between the five parties in Finland's centre left ruling coalition on how to restart the economy will move into a second week on Wednesday, avoiding for now the risk that the government would face imminent collapse. Fears that the Centre Party would quit the coalition had raised concerns about what would happen with the Nordic country's vote to ratify the European Union's pandemic recovery fund, due by the end of the week. The Centre Party had said it would back the government, giving the coalition the numbers it needed to pass the package, but it is unclear what would happen if the coalition collapses, with fresh elections one possibility.
World
WASHINGTON (Reuters) - The U.S. special envoy for Afghanistan Zalmay Khalilzad said on Tuesday that President Joe Biden's administration would press for "meaningful participation" for women and minorities in ongoing peace talks.