Vindman should not fear retaliation over Ukraine testimony -Pentagon's Esper
By Phil Stewart NEW YORK (Reuters) - U.S. Army Lieutenant Colonel Alexander Vindman should not fear retaliation over his testimony to the U.S.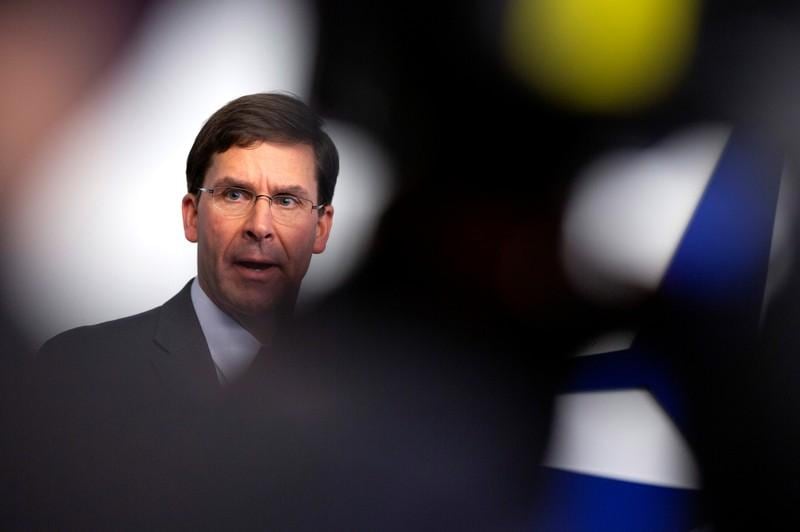 By Phil Stewart
NEW YORK (Reuters) - U.S. Army Lieutenant Colonel Alexander Vindman should not fear retaliation over his testimony to the U.S. Congress in its impeachment inquiry into President Donald Trump, Defence Secretary Mark Esper said on Monday.
Vindman, now detailed to the White House National Security Council, has been targeted by Trump following his Oct. 29 congressional testimony. Trump tweeted that Vindman was a "Never Trumper witness," raising questions about potential fallout on his military career.
"He shouldn't have any fear of retaliation," Esper told a small group of reporters during a flight to New York, adding that he had reinforced the "no retaliation" message in a conversation with the secretary of the Army.
Vindman was among the U.S. officials in the White House monitoring Trump's call on July 25 with Ukraine President Volodymyr Zelenskiy, a main focus of the impeachment probe in the Democratic-led U.S. House of Representatives.
According to a transcript of his testimony, Vindman said he had no doubt that Trump demanded that Ukraine investigate Democratic political rival Joe Biden in return for an Oval Office visit for the Ukrainian leader.
"This was about getting a White House meeting," Vindman said in his testimony. "It was a demand for him to...fulfill this particular prerequisite."
Vindman told lawmakers that he believed ties between the United States and Ukraine have been damaged by the administration's actions.
"It undercuts U.S. resolve to support Ukraine and certainly puts a question into their mind whether they in fact have U.S. support," Vindman said.
Democrats have argued that Trump abused his power in pressing a vulnerable U.S. ally to carry out investigations that would benefit Trump politically.
Biden is a leading contender for the Democratic nomination to face the Republican president in the 2020 election. His son Hunter Biden served on the board of a Ukrainian energy company called Burisma.
One U.S. official, speaking on condition of anonymity, said Vindman would not be pulled early from his previously scheduled detail to the National Security Council (NSC), after which time he would return to the military.
Esper, for his part, declined to speculate about when Vindman would return to military ranks. However, he said he supported plans by Trump's national security adviser, Robert O'Brien, to reduce the size of the National Security Council.
"He's trying to shrink the National Security Council back down to the size of what it was many, many years ago," Esper said. "I hope he does. I think the National Security Council staff needs to shrink and focus on coordinating between the departments," Esper said.
The number of NSC policy advisers has trended higher over the past 30 years. President George H.W. Bush had less than 50, Bill Clinton went up to 96, George W. Bush's grew to 136 in his second term, and Barack Obama at one point had 184, according to NSC records.
O'Brien has said he wants to bring the size of the White House agency down to 117 policy advisers from its current strength of about 178. That is about the size the NSC was under the leadership of Condoleezza Rice when she was President George W. Bush's national security adviser during Bush's first term in the early 2000s.
(Reporting by Phil Stewart; Editing by Chizu Nomiyama and Leslie Adler)
This story has not been edited by Firstpost staff and is generated by auto-feed.
Find latest and upcoming tech gadgets online on Tech2 Gadgets. Get technology news, gadgets reviews & ratings. Popular gadgets including laptop, tablet and mobile specifications, features, prices, comparison.
World
By Tim Hepher and David Ljunggren PARIS/OTTAWA (Reuters) - France said on Friday it would download the black boxes from a Ukrainian airliner downed by an Iranian missile in January, easing a stand-off over where they should be read. France's BEA crash investigation agency said it was acting at the request of Iran, which remains responsible under global rules for conducting a formal accident probe after acknowledging that the Boeing 737 was downed by its forces
World
By Brad Brooks LUBBOCK, Texas (Reuters) - With new coronavirus cases surging in Texas and Florida, officials in both states on Friday ordered bars to close again and imposed tighter restrictions on restaurants, setting back efforts to reopen their economies. Governor Greg Abbott gave bars in Texas until midday Friday to shut, while Florida's Department of Business and Professional Regulation told bars to immediately stop serving alcohol on their premises
World
By Patricia Zengerle WASHINGTON (Reuters) - The U.S. Senate passed legislation on Thursday that would impose mandatory sanctions on people or companies that back efforts by China to restrict Hong Kong's autonomy, pushing back against Beijing's new security law for the city. The measure also includes secondary sanctions on banks that do business with anyone found to be backing any crackdown on the territory's autonomy, potentially cutting them off from American counterparts and limiting access to U.S.