Vietnam's re-elected communist chief defends one-party rule, hits out at critics
Vietnam's freshly re-elected top communist party leader has hit out at critics of his country's one-party system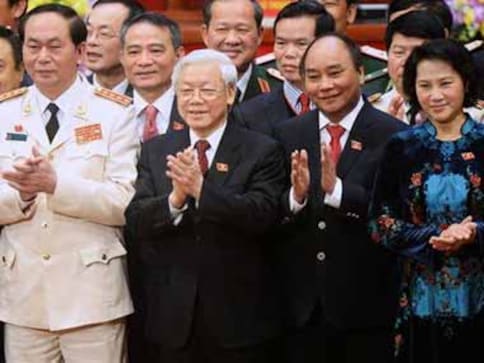 Hanoi, Vietnam: Vietnam's freshly re-elected top communist party leader has hit out at critics of his country's one-party system, arguing that collective decision-making is "more democratic" than in nations which hold popular elections.
Trong, a conservative apparatchik, made the comments after being re-elected on Wednesday for a second term as top leader, bringing the five-yearly Communist Party Congress to a close with a resounding victory for the party's old guard following weeks of infighting.
The septuagenarian official, schooled in Soviet-style economics and seen as closer to Beijing than his erstwhile rival, Prime Minister Nguyen Tan Dung, used the first remarks of his new term to defend Vietnam's authoritarian system, which tolerates little dissent.
"I don't want to name names, but some countries are nominally democracies yet the individual (leader) decides everything," he said.
"With that in mind, who is more democratic?" he asked.
Trong's rival, the reformist Prime Minister Dung who is widely credited with pushing a pro-business agenda and had been tipped for the top job, lost out in internal elections and will step down in May.
His replacement is expected to be Nguyen Xuan Phuc, currently a deputy prime minister, state media said.
Trong has been party chief since 2011 and will stay on following a compromise deal which analysts say is a break from the charismatic Dung's decade in power and a shift back towards more consensus-based decision-making.
Trong said was he was "surprised" to have been asked to stay on in the party's top job, but prepared to face the challenges ahead.
He sent a clear message in his speech that Vietnam, which is routinely criticised by rights groups and foreign governments for its intolerance of domestic dissent, will not be changing tack.
"A country without discipline, in chaos and instability, that country cannot develop. So democracy and discipline must go together," he said.
The country's new president, reported to be Tran Dai Quang by state media, is a police general who rose the ranks within the country's powerful Ministry of Public Security.
Trong's ascent -- which owes as much to Dung's divisiveness as to his own popularity -- is unlikely to mark a dramatic change of course on key issues such as a dispute with Beijing over parts of the South China Sea and participation in a series of trade deals, including the US-led Trans-Pacific Partnership.
AFP
World
Ten of the 12 zodiac signs are shared by Vietnam and neighbouring China. However, the Vietnamese revere the cat over the rabbit and the buffalo over the ox
World
Baerbock called for a 'new format' of a court to 'bring Russian leaders to justice' for their invasion of Ukraine, possibly using Ukrainian law but based abroad with international judges
World
The so-called Viet A scandal, named after the semi-private firm that supplied the tests, saw officials bribed to supply hospitals and local communities with vastly overpriced COVID-19 test kits