Venezuela's last anti-Maduro newspaper publishes final print edition
By Vivian Sequera CARACAS (Reuters) - Venezuela's El Nacional newspaper, which has been heavily critical of the ruling Socialist Party, on Friday published its last print edition after struggling for years under government pressure and a collapsing economy. The paper, which is transitioning to a web format, has found it increasingly difficult to obtain newsprint due to exchange controls that make imports nearly impossible, and has potentially massive payments in a defamation lawsuit brought by Socialist Party No. 2 Diosdado Cabello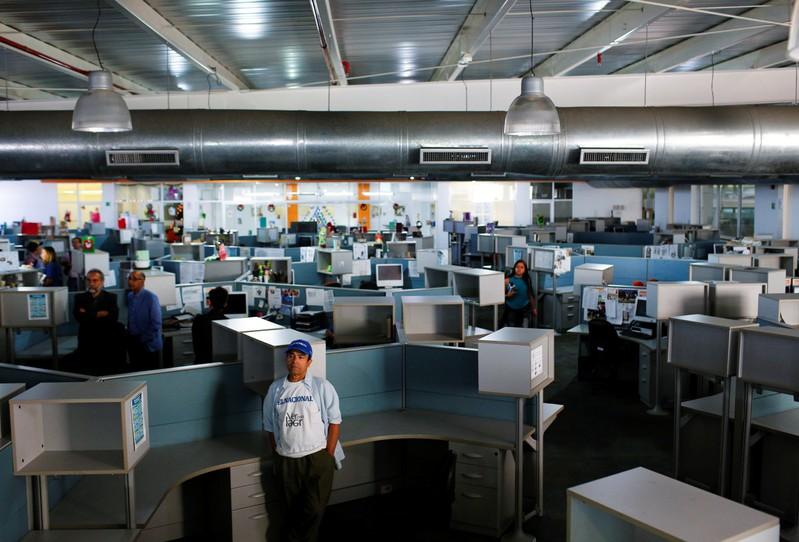 By Vivian Sequera
CARACAS (Reuters) - Venezuela's El Nacional newspaper, which has been heavily critical of the ruling Socialist Party, on Friday published its last print edition after struggling for years under government pressure and a collapsing economy.
The paper, which is transitioning to a web format, has found it increasingly difficult to obtain newsprint due to exchange controls that make imports nearly impossible, and has potentially massive payments in a defamation lawsuit brought by Socialist Party No. 2 Diosdado Cabello.
"I want to think that this is a pause," said the editor-in-chief of the newspaper, Patricia Spadaro, at a press conference in the paper's empty offices.
El Nacional said it will resume its print edition "when the country returns to democracy," a reference to growing global criticism that President Nicolas Maduro has created a dictatorship.
Marcos Ruiz, Secretary General of Venezuela's Press Workers Union, described the end of El Nacional's print edition as part the government's hostile treatment of the press.
The paper has over the years faced withering criticism, initially because it openly backed the founder of the Socialist Party, late president Hugo Chavez, in his 1998 campaign.
By 2002, after the paper's editor fell out with Chavez, El Nacional celebrated a botched coup by dissident military officers, which critics called evidence it put politics over objectivity.
It was often targeted for fuelling the country's polarized politics by ignoring government supporters and unquestioningly championing its critics.
With inflation running at 1.3 million percent currently, the paper had struggled to retain staff.
As elsewhere in the industry, El Nacional's print operation was also impacted by younger readers spurning physical newspapers for digital news.
(Reporting by Vivian Sequera, Editing by Rosalba O'Brien)
This story has not been edited by Firstpost staff and is generated by auto-feed.
Find latest and upcoming tech gadgets online on Tech2 Gadgets. Get technology news, gadgets reviews & ratings. Popular gadgets including laptop, tablet and mobile specifications, features, prices, comparison.
Business
By Uday Sampath Kumar (Reuters) - Target Corp reported a 17.2% rise in comparable sales for the holiday season on Wednesday as its online sales more than doubled, thanks to faster deliveries and higher demand for home goods, electronics and beauty products.
Business
By Medha Singh and Devik Jain (Reuters) - The S&P 500 and the Nasdaq rose in choppy trading on Wednesday as Intel shares jumped thanks to a change in management while broader sentiment was muted after a recent run to record highs. Intel said it would replace Chief Executive Officer Bob Swan with VMware Inc CEO Pat Gelsinger next month
Business
By Danny Ramos LA PAZ (Reuters) - The Bolivian government said on Wednesday it had signed a contract with India's Serum Institute for the supply of 5 million doses of AstraZeneca's COVID-19 vaccine. President Luis Arce said that combined with a recent deal to buy 5.2 million Sputnik V vaccine doses from Russia, Bolivia now expected to be able to inoculate all of its vaccinable population. Both vaccines require two doses to be given, meaning they would be used to inoculate a total of 5.1 million people from Bolivia's 11.51 million-strong population.