Venezuelan president Nicolas Maduro lashes out at Donald Trump, tells him to get his 'pig hands out of here'
Donald Trump has been severely critiqued by Venezuelan president Nicolas Maduro, who lashed out at the American president to get his 'pig hands' away.
Caracas: Venezuelan president Nicolas Maduro delivered his most scathing critique of US President Donald Trump, telling him to stop intervening and "get your pig hands out of here".
Speaking before a crowd of supporters on 19 May, a fired-up Maduro accused Trump of promoting an interventionist policy that infringes on his socialist government's sovereignty. "Go home, Donald Trump!" he said in a heavily accented English.
The remarks come a day after the Trump administration slapped sanctions against eight members of Venezuela's Supreme Court, accusing them of damaging the nation's democracy. A ruling by the court in late March stripping the opposition-controlled assembly of its remaining powers ignited a deadly wave of unrest.
While Venezuelan leaders have lashed out at US presidents frequently in the past, Maduro had largely been careful not to antagonise Trump. But Trump's repeated criticisms of the troubled South American nation appear to have struck a nerve.
Speaking alongside Colombian president Juan Manuel Santos on 18 May, Trump expressed dismay at Venezuela's crisis, asking how a country holding the nation's largest oil reserves could be stricken by so much poverty and turmoil. Trump described Venezuela's current state as a "disgrace to humanity".
Nearly two months of street protests throughout Venezuela have left at least 46 people dead.
Demonstrators are demanding new elections and blaming Maduro for the nation's triple-digit inflation, rising crimes, and vast food shortages.
Trump's comments and US sanctions against Venezuelan officials played to the government's longstanding accusations of US imperialism.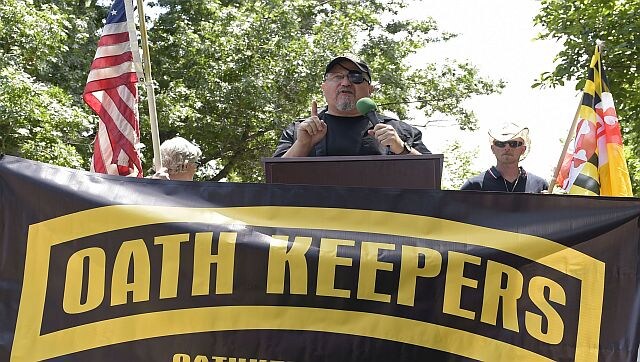 World
Members of the anti-government group, founded in 2009, have been charged with seditious conspiracy in the 6 January riot at the US Capitol. Prosecutors say the members spent weeks amassing weapons, and readying armed teams outside Washington to stop Joe Biden from becoming president
World
Donald Trump is injecting new life into the fading QAnon conspiracy cult- whose members have embraced him as a new icon
World
Malpass was nominated to the position by former President Donald Trump in 2019. His five-year term ends in April 2024