Venezuela sends 2,000 troops to state hit by lootings, protests | Reuters
By Anggy Polanco | SAN CRISTOBAL, Venezuela SAN CRISTOBAL, Venezuela Venezuela said it was sending 2,000 soldiers on Wednesday to a border state that is a hotspot of anti-government radicalism after a night of looting in which one 15-year-old died as political unrest rumbled on in the volatile nation. Most shops and businesses in San Cristobal, capital of Tachira state on the Colombian border, were closed and guarded by soldiers on Wednesday, though looting continued in some poorer sectors, residents said
By Anggy Polanco
| SAN CRISTOBAL, Venezuela
SAN CRISTOBAL, Venezuela Venezuela said it was sending 2,000 soldiers on Wednesday to a border state that is a hotspot of anti-government radicalism after a night of looting in which one 15-year-old died as political unrest rumbled on in the volatile nation. Most shops and businesses in San Cristobal, capital of Tachira state on the Colombian border, were closed and guarded by soldiers on Wednesday, though looting continued in some poorer sectors, residents said. People made off with items including coffee, diapers, and cooking oil in a country where a brutal economic crisis has made basic foods and medicine disappear from shelves. Barricades of trash, car tires, and sand littered the streets, as daily life broke down in the city that was also a hotspot during the 2014 wave of unrest against leftist President Nicolas Maduro. Hundreds of thousands of people have come onto the streets across Venezuela since early April to demand elections, freedom for jailed activists, foreign aid and autonomy for the opposition-led legislature. Maduro's government accuses them of seeking a violent coup and says many of the protesters are no more than "terrorists." State oil company PDVSA also blamed roadblocks for pockets of gasoline shortages in the country on Wednesday. In Tachira, teenager Jose Francisco Guerrero was shot dead during the spate of looting, his relatives said. "My mom sent my brother yesterday to buy flour for dinner and a little while later, we received a call saying he'd been injured by a bullet," said his sister Maria Contreras, waiting for his body to be brought to a San Cristobal morgue.
The state prosecutor's office confirmed his death, which would push the death toll in unrest to at least 43, equal to that of the 2014 protests.'21ST CENTURY JEWS'
With international pressure against Venezuela's government mounting, the United Nations Security Council turned its attention to the country's crisis for the first time on Wednesday."The intent of this briefing was to make sure everyone is aware of the situation ... we're not looking for Security Council action," U.S. Ambassador to the United Nations Nikki Haley told reporters after the session.
"The international community needs to say, 'Respect the human rights of your people or this is going to go in the direction we've seen so many others go' ... We have been down this road with Syria, with North Korea, with South Sudan, with Burundi, with Burma."Venezuela's U.N. envoy Rafael Ramirez in turn accused the United States of seeking to topple the Maduro government. "The U.S. meddling stimulates the action of violent groups in Venezuela," he said, showing photos of vandalism and violence he said was caused by opposition supporters.Venezuelans living abroad, many of whom fled the country's economic chaos, have in recent weeks accosted visiting state officials and their family members.
Maduro on Tuesday likened that harassment to the treatment of Jews under the Nazis."We are the new Jews of the 21st century that Hitler pursued," Maduro said during the cabinet meeting. "We don't carry the yellow star of David ... we carry red hearts that are filled with desire to fight for human dignity. And we are going to defeat them, these 21st century Nazis." The German Nazis and their collaborators persecuted and killed six million Jews in the Holocaust during the 1930s and 1940s.Social media has for weeks buzzed with videos of Venezuelan emigrees in countries from Australia to the United States shouting insults at public officials and in some cases family members in public places.Maduro's critics say it is outrageous for officials to spend money on foreign travel when people are struggling to obtain food and children are dying for lack of basic medicines. But some opposition sympathizers say such mob-like harassment is the wrong way to confront the government. Graphic on Venezuela's economic woes: here (Reporting by Anggy Polanco, additional reporting by Eyanir Chinea, Brian Ellsworth, Girish Gupta and Andrew Cawthorne in Caracas, Julia Symmes Cobb in Bogota and Michelle Nichols at the United Nations in New York; Writing by Girish Gupta and Alexandra Ulmer; Editing by Andrew Cawthorne and Andrew Hay)
This story has not been edited by Firstpost staff and is generated by auto-feed.
Find latest and upcoming tech gadgets online on Tech2 Gadgets. Get technology news, gadgets reviews & ratings. Popular gadgets including laptop, tablet and mobile specifications, features, prices, comparison.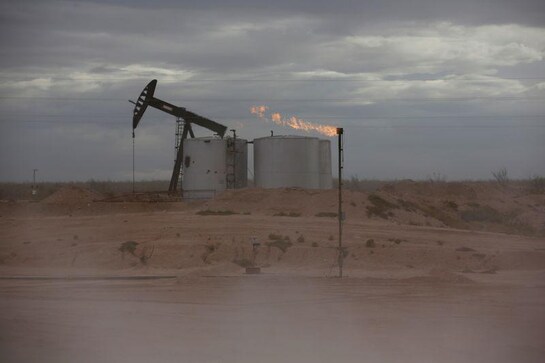 Business
By Laila Kearney NEW YORK (Reuters) - Oil prices hit 11-month highs and were on track for a weekly gain on Friday, supported by Saudi Arabia's pledge to cut output and strong gains in major equity markets.
Business
By Joshua Franklin (Reuters) - Portable toilets vendor United Site Services Inc is exploring a sale that could value it at around $4 billion, including debt, as its hand wash stations business sees strong demand during the pandemic, people familiar with the matter said on Friday. Platinum Equity LLC, the buyout firm which owns United Site Services, has hired investment bankers to advise it on a sale process, the two sources said, requesting anonymity as the matter is confidential. United Site Services was valued at just $1.15 billion when Platinum Equity acquired the Westborough, Massachusetts-based company four years ago, according to credit ratings agency Moody's Investors Service Inc
Business
By Brenna Hughes Neghaiwi and John Revill ZURICH (Reuters) - Credit Suisse said it will sink to a fourth-quarter loss after setting aside hundreds of millions of dollars more than previously expected on Friday for a legal dispute over property debt in the United States. Chief Executive Thomas Gottstein, who took the helm at Switzerland's second-biggest bank last February, said in December he wanted to start the new year with a "clean slate" on legacy matters and has set aside some $850 million to address disputes dating back to the financial crisis. The bank had already set aside $300 million in connection to a decade-long dispute with New York-based municipal bond insurer MBIA regarding a U.S.