Venezuela dialogue gives Maduro breather, angers opposition base | Reuters
By Alexandra Ulmer and Diego Oré | CARACAS CARACAS Dialogue between Venezuela's government and opposition has eased pressure on President Nicolas Maduro, angering many in the crisis-struck country who were pinning hopes on an early election to remove the unpopular socialist leader.Opposition leaders had vowed to walk away from the Vatican-backed talks if the government did not set in motion a recall referendum on Maduro or bring forward the next presidential election due in late 2018.Many grassroots supporters were surprised by a joint statement after the second round of talks on Saturday that made no mention of a vote, instead touting cooperation to improve food and medicine supplies and return powers to congress.Separately, the opposition said it reached tentative deals to free some jailed activists, possibly allow foreign aid, tap new election board heads and hold elections for legislators in Amazonas state suspended from their posts on fraud allegations.Some anti-government activists fear Maduro has hoodwinked the opposition, whose street protests were called off when talks began, and gained a respite as Venezuela's grueling economic crisis has millions going without proper food or medicine. 'What happened to Venezuelans' right to vote
By Alexandra Ulmer and Diego Oré
| CARACAS
CARACAS Dialogue between Venezuela's government and opposition has eased pressure on President Nicolas Maduro, angering many in the crisis-struck country who were pinning hopes on an early election to remove the unpopular socialist leader.Opposition leaders had vowed to walk away from the Vatican-backed talks if the government did not set in motion a recall referendum on Maduro or bring forward the next presidential election due in late 2018.Many grassroots supporters were surprised by a joint statement after the second round of talks on Saturday that made no mention of a vote, instead touting cooperation to improve food and medicine supplies and return powers to congress.Separately, the opposition said it reached tentative deals to free some jailed activists, possibly allow foreign aid, tap new election board heads and hold elections for legislators in Amazonas state suspended from their posts on fraud allegations.Some anti-government activists fear Maduro has hoodwinked the opposition, whose street protests were called off when talks began, and gained a respite as Venezuela's grueling economic crisis has millions going without proper food or medicine.
"What happened to Venezuelans' right to vote? What happened to the fight for the referendum?" jailed opposition leader Leopoldo Lopez said in a post on his Twitter account. Lopez' militant Popular Will party has spearheaded protests and did not participate in the talks.Springing into damage-control, coalition spokesmen stressed the talks had yielded some results, protests were not off the table, and they were still pushing to remove Maduro. Carlos Ocariz, one of the opposition's representatives at the talks, was grilled by angry listeners during a Monday morning radio interview and hit back by criticizing "keyboard warriors," or people who complain from the comfort of their homes without participating with constructive ideas.
There is no obvious roadmap for the opposition.Authorities have repeatedly ruled out a recall referendum this year. A compliant Supreme Court has left the new opposition-led National Assembly toothless and major marches in Caracas and the provinces have not led to change.
"Let no one get obsessed with elections that are not in the constitution. Calm down!" Maduro said on Sunday, ruling out an early presidential vote. The ruling socialists say protests are a guise for a business-backed opposition to stage a coup and get its hands back on Venezuela's oil wealth.Many Venezuelans fear that without an electoral solution, social unrest is likely in a country where many are skipping meals as triple-digit inflation and a weak bolivar currency make even basic foods unaffordable. (Additional reporting by Diego Ore; Writing by Alexandra Ulmer; Editing by Andrew Cawthorne and Bill Trott)
This story has not been edited by Firstpost staff and is generated by auto-feed.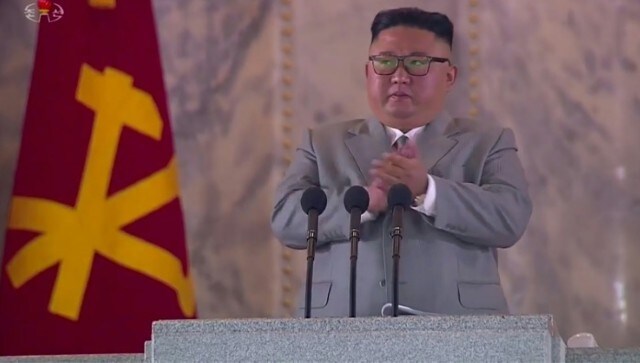 World
Kim also accused South Korea of hypocrisy because it criticises North Korea's weapons development as provocations while spending heavily to increase its own military capabilities
India
With no more than 10,000 Indians eligible for green cards a year, a vast majority of applicants have no choice but to wait for their turn
World
"Love is in the Bin" is being offered by Sotheby's in London, with a presale estimate of $5.5 million to $8.2 million