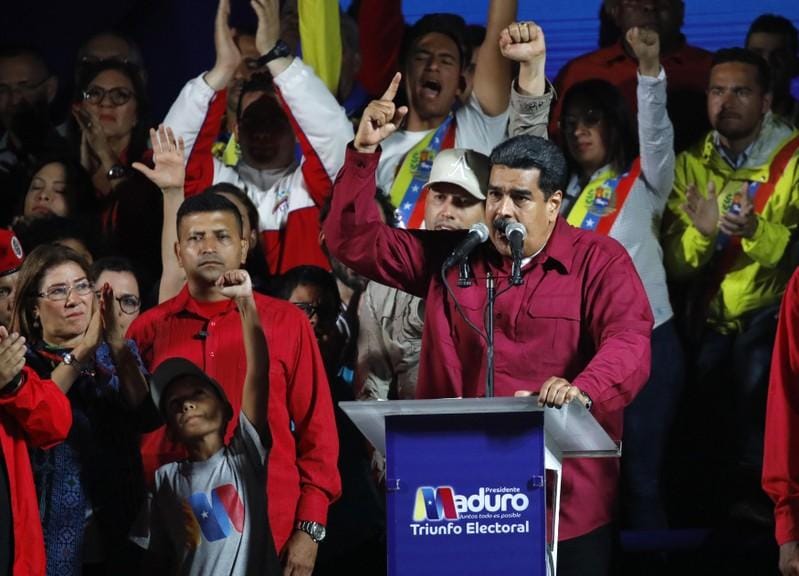 By Luc Cohen and Vivian Sequera
CARACAS (Reuters) - Venezuela on Tuesday slammed Washington's new round of sanctions following President Nicolas Maduro's disputed re-election over the weekend as "a crime against humanity."
The United States was among a string of countries that did not recognise Sunday's vote, which Maduro won easily but which critics said was riddled with irregularities, from the barring of two of his most popular opposition rivals to the offering of a government "prize" to voters.
President Donald Trump responded with an executive order on Monday limiting Venezuela's ability to sell state assets, heightening pressure on the cash-strapped government.
Maduro's socialist administration, which has long said a U.S.-led "economic war" is to blame for a deep crisis in the OPEC nation, said the new sanctions violated international law.
"Venezuela once again condemns the systematic campaign of aggression and hostility by the U.S. regime to punish the Venezuelan people for exercising their right to vote," the Foreign Ministry said in a statement. "These arbitrary and unilateral measures constitute a crime against humanity."
Venezuela's opposition has accused the Maduro government of behaving immorally and trying to hide shortcomings and corruption behind bombastic rhetoric. The mainstream opposition coalition boycotted Sunday's vote, calling it a sham aimed at legitimising Maduro's rule despite his low popularity.
Maduro, whose second term will begin next January, won 68 percent of the vote. Former state governor Henri Falcon, who broke with the boycott to challenge Maduro, said he received reports of hundreds of irregularities.
Turnout was less than 50 percent, compared to 80 percent in 2013.
Electoral council chief Tibisay Lucena, who is on individual U.S. and European Union sanctions lists, certified Maduro's victory in a presentation on Tuesday.
"Venezuela is facing a non-conventional war to try and recolonize it," said Maduro at the event in downtown Caracas at the headquarters of the election board, which is run by government loyalists.
CHINA, RUSSIA DEFIANT
Among widespread international condemnation of the election, the 14-nation "Lima Group" of countries in the Americas, from Canada to Brazil, said on Monday it did not recognise the vote and would downgrade diplomatic relations.
The latest U.S. sanctions appeared to target in part Citgo, a U.S.-based oil refiner owned by Venezuela state oil company PDVSA. More obstacles to PDVSA's ability to sell oil abroad could restrict already-dwindling foreign exchange earnings, worsening the economic crisis and pressuring Maduro.
While it only applies to U.S. citizens and residents, a U.S. official told reporters on Monday that the Trump administration has also tried to convince China and Russia to stop issuing new credit to Venezuela. The two have provided billions of dollars in funding for Venezuela in recent years.
But they appeared unlikely to heed the U.S. warnings. Beijing said on Tuesday it believed the United States and Venezuela should resolve their differences via talks, while Moscow said it would not comply with the sanctions.
In its statement on Tuesday, Venezuela's foreign ministry blamed the U.S. "blockade" of the country for "blocking the population's access to basic goods."
Most mainstream economists say the country's strict currency controls, heavy state intervention and money-printing are responsible for a crisis that has caused widespread shortages of food and medicine and led to mass emigration.
The country is in its fifth straight year of recession.
See graphic on the election results http://fingfx.thomsonreuters.com/gfx/rngs/VENEZUELA-ELECTION-RESULTS/0100705R0E1/VENEZUELA-ELECTION-RESULTS.jpg
(Reporting by Luc Cohen; Additional reporting by Deisy Buitrago in Caracas; Ben Blanchard in Beijing; Editing by Andrew Cawthorne and Rosalba O'Brien)
This story has not been edited by Firstpost staff and is generated by auto-feed.
Updated Date: May 23, 2018 00:11:31 IST