Venezuela calls post-election U.S. sanctions 'a crime against humanity'
By Luc Cohen CARACAS (Reuters) - Venezuela's foreign ministry on Tuesday slammed Washington's new round of sanctions following President Nicolas Maduro's disputed re-election over the weekend, calling them 'a crime against humanity.' The United States was among a string of countries that did not recognise Sunday's vote. President Donald Trump issued an executive order on Monday limiting Venezuela's ability to sell state assets, heightening pressure on Maduro's cash-strapped government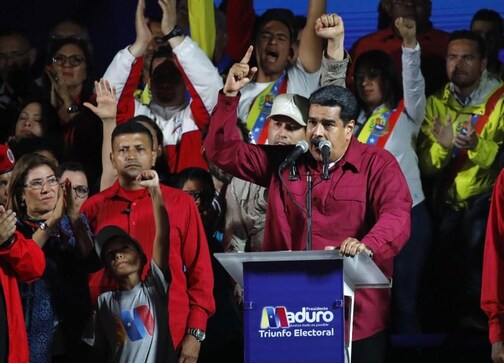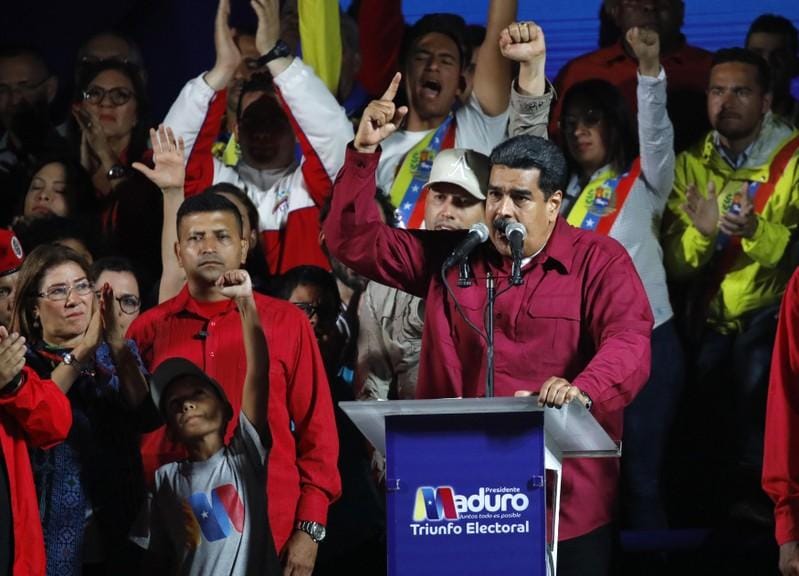 By Luc Cohen
CARACAS (Reuters) - Venezuela's foreign ministry on Tuesday slammed Washington's new round of sanctions following President Nicolas Maduro's disputed re-election over the weekend, calling them "a crime against humanity."
The United States was among a string of countries that did not recognise Sunday's vote. President Donald Trump issued an executive order on Monday limiting Venezuela's ability to sell state assets, heightening pressure on Maduro's cash-strapped government.
Maduro's socialist government, which has long said a U.S.-led "economic war" is to blame for a deep economic crisis in the OPEC nation, said the new sanctions violated international law.
"Venezuela once again condemns the systematic campaign of aggression and hostility by the U.S. regime to punish the Venezuelan people for exercising their right to vote," the foreign ministry said in a statement. "These arbitrary and unilateral measures constitute a crime against humanity."
Venezuela's opposition says it is the Maduro government that behaves immorally and that tries to hide its shortcomings and corruption behind bombastic rhetoric. The mainstream opposition coalition boycotted Sunday's vote, calling it a sham aimed at legitimizing Maduro's rule despite his low popularity.
Maduro, whose second term will begin next January, won 68 percent of the vote. Former state governor Henri Falcon, who broke with the boycott to challenge Maduro, said he received reports of hundreds of irregularities. Turnout was less than 50 percent.
Before the vote, the United States, the European Union and several Latin American countries said they would not recognise the results, while the Lima Group of 14 mostly Latin American countries called on Maduro last week to delay the vote. The group said on Monday it was considering higher-level diplomatic action.
Foreign Minister Jorge Arreaza responded to the new U.S. sanctions in a brief speech on Monday evening, calling them "illegal" and "barbaric."
In its statement on Tuesday, the foreign ministry blamed the U.S. "blockade" of Venezuela for "blocking the population's access to basic goods."
Most mainstream economists say the country's strict currency controls, heavy state intervention and money-printing are responsible for a deep economic crisis that has caused widespread shortages of food and medicine and led to mass emigration. The country is in its fifth straight year of recession.
The latest U.S. action appeared to target in part Citgo, a U.S.-based oil refiner owned by Venezuela state oil company PDVSA. More obstacles to PDVSA's ability to sell oil abroad could restrict already-dwindling foreign exchange earnings, worsening the economic crisis and pressuring Maduro.
(Reporting by Luc Cohen; Editing by Alexandra Ulmer and Frances Kerry)
This story has not been edited by Firstpost staff and is generated by auto-feed.
Business
By Laura Sanicola NEW YORK (Reuters) - Oil prices settled higher on Tuesday, with Brent hitting above $71 and trading at its highest since March, on expectations for growing fuel demand during the summer driving season in the United States as OPEC+ agreed to boost output. Brent crude futures for August settled up 93 cents, or 1.3%, to $70.25 a barrel after hitting $71 earlier in the session - its highest intra-day price since March 8. U.S.
Business
By Lewis Krauskopf, Shashank Nayar and Medha Singh (Reuters) - Wall Street's main indexes ended little changed on Tuesday, with gains in energy and financial shares countering declines in healthcare, as investors weighed the latest U.S. economic data for signs of a rebound and rising inflation. The S&P 500 financial sector hit a record high, while expected growth in fuel demand boosted oil prices and helped lift the energy sector
Business
(Reuters) - Zoom Video Communications Inc on Tuesday forecast better-than-expected revenue for the current quarter, after beating quarterly estimates, as the video-conferencing platform expects steady growth from remote work and online learning. Zoom became a household name during the pandemic as businesses and schools switched to its video conferencing platform for virtual classes, office meetings and social catch-ups