US warns Pakistan to act against terror networks supported by ISI, or else
America sent a crystal clear message on Sunday to Islamabad: Act against terrorists or we will act unilaterally to 'disrupt and destroy' terrorist underpinnings in Pakistan backed by country's spy agency, the Inter-Services Intelligence (ISI).
New York: America, which sent Navy Seals to Abbottabad to slay the world's most wanted man Osama bin Laden, sent a crystal clear message on Sunday to Islamabad: Act against terrorists or we will act unilaterally to "disrupt and destroy" terrorist underpinnings in Pakistan backed by country's spy agency, the Inter-Services Intelligence (ISI).
Adam Szubin, the US under secretary for terrorism and financial intelligence, said at a talk at the Paul H Nitze School of Advanced International Studies, in Washington that the US was running out of patience with Pakistan's spy agency over militants that attack American soldiers in Afghanistan from safe asylums within Pakistani borders.
"The problem is that there are forces within the Pakistani government — specifically in Pakistan's Inter-Services Intelligence or ISI — that refuse to take steps against all the terrorist groups active in Pakistan, tolerating some groups or even worse," Szubin said emphatically over the weekend. "This is a distinction we cannot stand for."
"We continue to urge our partners in Pakistan to go after all terrorist networks operating in their country. We stand ready to help them. But there should be no doubt that while we remain committed to working with Pakistan to confront ongoing terrorist financing and operations, the US will not hesitate to act alone, when necessary to disrupt and destroy these networks," warned Szubin.
America has poured roughly $30 billion into the war on terror ally Pakistan's coffers since 2002, but this has done nothing to stop Pakistan from aiding a rogue's gallery of India-hating Kashmir jihadists and anti-American militants. The US is particularly exasperated because the Afghan Taliban and al Qaeda-linked Haqqani network still use Pakistan as safe havens from which to regularly launch attacks on US soldiers battling to stabilise Afghanistan.
In a sign of Washington's growing frustration with Islamabad for not acting against terrorism, the Pentagon on 3 August withheld $300 million in military assistance to Pakistan. Defence Secretary Ashton B Carter decided against making a certification to Congress citing the continuing operations of the Afghan Taliban and Haqqani militants on Pakistani soil.
In a diplomatic victory for India, the world has largely seen through how Pakistan cradles the "Ivy League of terrorism." Pakistan has suffered near isolation since the Modi government responded to the Uri attack by destroying terrorist launch pads across the Kashmir border on 18 September.
According to analysts, the Obama administration is likely to keep the money tap firmly turned off till Pakistan offers the United States big terrorist scalps or cuts off the emboldened, hell-raising Afghan Taliban. Meanwhile, Pakistan's humiliation and growing isolation have been underscored with neighbours India, Bangladesh, Afghanistan and Bhutan all pulling out of the South Asian Association for Regional Cooperation (Saarc), in Islamabad, in November citing growing cross-border terrorism.
The United States, over the weekend, called out Pakistan's propensity to go after terrorists selectively and harbour several militant groups as strategic tools against India and the United States in Afghanistan.
"Pakistan has achieved success in its ongoing operations against traditional terrorist safe havens in northwest Pakistan. It has officially designated Islamic State as a terrorist organisation. And it has gone after the funding and operational capabilities of Tehrik-e-Taliban Pakistan," said Szubin.
"It has not placed adequate pressure on the Haqqani network of militants to prevent them from plotting attacks in neighbouring Afghanistan," added the US under secretary on countering the financing of terrorism.
Islamabad has put all its resources behind fighting the Tehrik-e-Taliban as the group target's the Pakistani state which it wants to topple to enforce tenets of Sharia law. The ISI, on the other hand, uses intelligence selectively to allow the Haqqani network and militant groups like the Lashkar-e-Taiba to flourish.
World
The image makeover of Taliban is for the outside world. Within, in its ideology, core principles, ideas and actions, the Taliban remains steadfast and committed as it was in its earlier brutal rule
World
The US State Department said that America is grateful to the global network of countries that have provided "critical assistance for our evacuation efforts"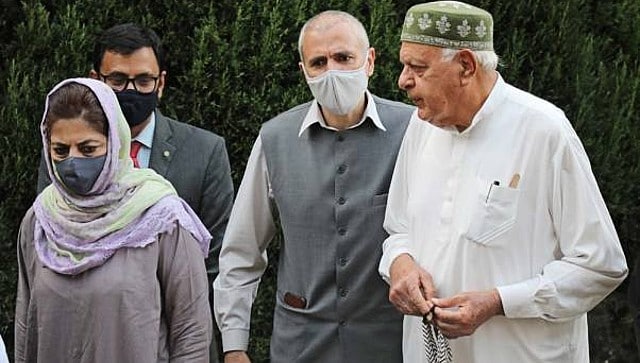 World
Both Mehbooba and Abdullah know what the Islamists have done in Kashmir over the last 30 years