US to escape catastrophic financial default states President Joe Biden
There are seven days until June 1 – the earliest probable date that the government predicts it would be unable to cover its obligations – and missed loan repayments would almost certainly trigger a recession, upsetting global markets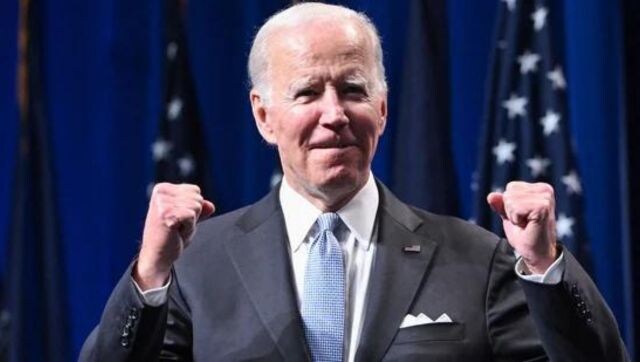 While Congress embarked on a 10-day recess without reaching an agreement to increase the country's borrowing ceiling to keep paying the bills, President Joe Biden stated on Thursday that the United States would escape a catastrophic financial default.
There are seven days until June 1 – the earliest probable date that the government predicts it would be unable to cover its obligations – and missed loan repayments would almost certainly trigger a recession, upsetting global markets.
Members of the House of Representatives, on the other hand, began travelling for the Memorial Day break following their last vote Thursday morning and are not expected to return until June 4.
"There will be no default," Biden said at the White House, adding that his negotiations with Republican Speaker Kevin McCarthy, who leads the narrow majority in the House of Representatives, had been "productive."
But Democratic minority leader Hakeem Jeffries slammed the Republicans from the House floor, accusing them of having abandoned their jobs in Washington to "risk a dangerous default in a crisis that they've created."
"And these Republicans, they're going to say that Joe Biden refused to sit down with them," he added. "That's a fake narrative that they've continued to try to put into the public domain."
House Republicans are demanding cuts of up to $130 billion, with spending next year capped to 2022 levels, in return for their votes to raise the borrowing cap. They also want tightened work requirements for benefits claimants and a clawback of unspent pandemic aid dollars.
Military readiness
Democrats reject the proposed cuts and want the Republicans to sign off on a no-strings-attached hike, as they have dozens of times in the past.
Economists have spent months raising the prospect of economic catastrophe should the government default, and top military brass added their own dire prognosis Thursday, warning that the crisis would have a "significant negative impact" on troops.
"Readiness clearly would be impacted. So our large-scale exercises that we do at various training centers would probably either slow down or come to a halt in many, many cases," Mark Milley, chairman of the Joint Chiefs of Staff, told reporters.
McCarthy has said lawmakers will get 24 hours' notice if they are required to return for a vote during the recess, with negotiators for the Republicans and the White House reportedly closing the gap on their differences.
Speaking on Fox News Thursday, the speaker rejected demands for a "clean" bill and added that he would not agree to tax increases on corporations or the rich as an alternative to cuts for reducing the nation's $31 trillion-plus debt burden.
'Manufactured crisis'
McCarthy pointed to a CNN poll out this week in which showed 60 percent support for a debt ceiling hike if accompanied by cuts, although 51 percent of respondents in a new Monmouth University survey said they wanted the two issues to be separated.
"We know where our differences are, and we will continue to be at the table to try to solve this problem," McCarthy said.
Only one other democracy — Denmark — has a formal debt ceiling, but it is managed without the political high drama that periodically grips Washington.
Raising the cap simply enables the government to make repayments on loans that have already been approved and carried out, and has no implications for future spending.
Deputy Treasury Secretary Wally Adeyemo told investors at a conference in Washington the default threat was a "manufactured crisis" that was already making borrowing more expensive and costing Americans money.
A batch of Social Security payments worth about $25 billion is scheduled to go out on June 2 and those payments could be halted if the Treasury Department is unable to cover loan repayments.
A federal judge in Boston has set a May 31 hearing for a lawsuit filed by unionists contending that the 14th Amendment requires Biden to borrow funds to pay US obligations, regardless of what Congress does.
Read all the Latest News, Trending News, Cricket News, Bollywood News,
India News and Entertainment News here. Follow us on Facebook, Twitter and Instagram.