US to accept transgender military recruits as Trump administration decides not to challenge court order
The Pentagon has said it will begin accepting transgender military recruits on Monday, after President Donald Trump's administration decided not to appeal against a court order
Washington: The Pentagon has said it will begin accepting transgender military recruits on Monday, after President Donald Trump's administration decided not to appeal against a court order blocking his ban.
The Department of Justice announced on Friday it would delay challenging the stay on President Trump's transgender ban before the Supreme Court, the Hill magazine reported.
"The Department of Defence has announced that it will be releasing an independent study of these issues in the coming weeks. So rather than litigate this interim appeal before that occurs, the administration has decided to wait for DOD's study and will continue to defend the President's and Secretary of Defence's lawful authority in district court in the meantime," the DOJ said in a statement.
Trump announced the ban in July on Twitter and followed up with a memo in August directing the Pentagon to stop accepting transgender recruits and to put in policies to deal with those already serving.
Four lawsuits were filed by groups and individuals opposing the ban. Lower court judges placed a halt on the ban while those cases worked their way through the judicial system.
The administration appealed those stays, but federal appeals courts denied their request to delay accepting transgender recruits on 1 January, 2018.
Lawyers representing currently-serving transgender service members and aspiring recruits said they had expected the administration to appeal the rulings to the Supreme Court, but were hoping that would not happen.
Pentagon spokeswoman Heather Babb said: "As mandated by the court order, the Department of Defence is prepared to begin accessing transgender applicants for military service from 1 January. All applicants must meet all accession standards."
Jennifer Levi, a lawyer with gay, lesbian and transgender advocacy group GLAD, called the decision not to appeal "great news".
The Obama administration had set a 1 July, 2017, deadline to begin allowing transgender recruits to enlist.
Trump's Defence Secretary James Mattis changed the deadline to 1 January before Trump announced his ban.
Subscribe to Moneycontrol Pro at ₹499 for the first year. Use code PRO499. Limited period offer. *T&C apply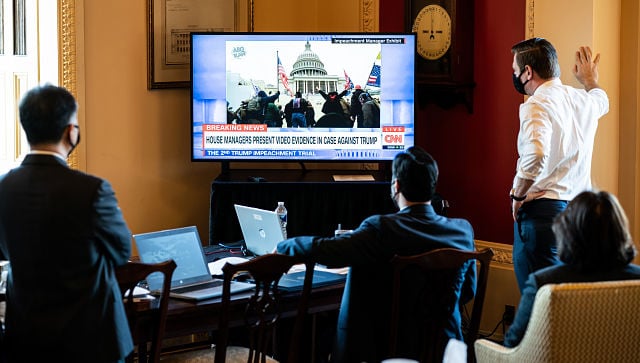 World
Even though Trump can no longer be removed from office, conviction would stand as a statement of repudiation for history and permit senators to bar him from running for federal office again
World
Seven Republicans joined all Democrats to convict the former US president, but it was far from the two-third threshold required
World
Republican senators who sat through a vivid retelling of an assault they lived through appeared unmoved from their determination to acquit Trump