US with India on Pakistan-backed terror: John Kerry at press meet with Sushma Swaraj
In a press meeting jointly addressed by External Affairs Minister Sushma Swaraj and US Secretary of State John Kerry, both the nations reiterated their commitment towards strengthening the Indo-US relationship.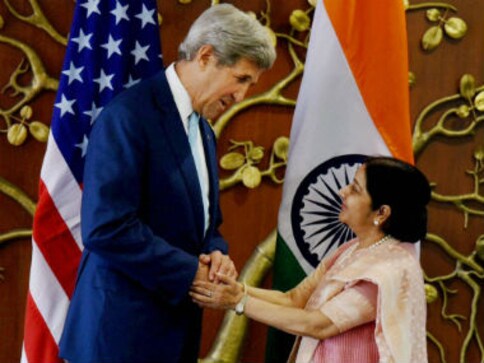 In a press meeting jointly addressed by External Affairs Minister Sushma Swaraj and US Secretary of State John Kerry, both the nations reiterated their commitment towards strengthening the Indo-US relationship.
Kerry arrived in New Delhi on Monday to participate in the second Indo-US Strategic and Commercial Dialogue.
Swaraj started her address by informing the media that she has apprised Kerry of cross-border terrorism from Pakistan. "There cannot be double standards in combating terrorism. There is no good or bad terrorism," she said.
"Pakistan should withdraw safe havens provided to Lashkar-e-Toiba, Jaish-e-Mohamad and D-company. "There was a meeting of mind between the two sides on the issue of terrorism, she added.
Both the countries also agreed that Pakistan needs to take swift action to catch the perpetrators of the 2008 Mumbai attacks and the Pathankot attack.
Kerry reiterated the US' commitment of bring the perpetrators of these attacks to justice. He also said that there should be no double standards while looking at terrorism. "Terror is terror," he said.
"I have talked to the Pakistan Prime Minister and General Raheel Sharif for the need for Pakistan to deprive any group (terrorist) of sanctuary," he said. It is well known that LeT and Haqqani network have operated from Pakistan, Kerry said.
While responding to a question by ANI on Pakistan sponsored terrorism in India, Kerry said that "US stands in strong partnership with India on Pakistan sponsored terrorism in India."
Swaraj also thanked Kerry for US' constant support to India's membership to the Nuclear Suppliers Group (NSG).
"We have agreed to scale up our collaboration in clean energy and to quickly operationalize the various initiatives that were announced during Prime Minister's visit to facilitate investments in this sector from US into India," Swaraj said.
Kerry lauded Swaraj for always living up to the reputation of being a a fierce advocate of India's interests and its citizens. He also commended the minister for "never wavering on the belief about strengthening the relationship between India and the US."
While recalling his previous trip to India as a senator, Kerry said that both the countries were struggling to build their relationship during that period. However, in recent years, "we have moved amazingly" and there has been no sense of that struggle.
He mentioned the meeting between the Defence Ministers of India and the US, who have signed a a defence logistics agreement during their meeting in the US.
Kerry and Swaraj signed a cyber framework to reduce cyber crime and improve coordination among the law enforcement agencies even as the US reaffirmed India as a major cyber partner.
The two leaders also briefed each other on the developments in Afghanistan with Kerry appreciating India's efforts in the region.
Both Kerry and Swaraj focussed on carrying the civil nuclear cooperation between the two nations to another level which will ensure clean energy to many nations. In his press briefing with his Indian counterpart, the visiting US secretary of state indicated that the US is likely to join the global climate agreement soon.
Cooperation in the field of health, particularly research and development of newer drugs was also discussed between the two leaders as both the countries intended to develop and start clinical trials of vaccines.
Both the nations have also agreed to cooperate more in space technology and making it easier for Indian travellers to enter US.
Kerry reiterated that India and the US are more deeply engaged than ever before because of the respect that we have for each other and the personal bond of President Barack Obama and Prime Minister Narendra Modi.
"We are witnessing a moment that defines a very different and renewed relationship between US and India," he said.
While talking to Swaraj on Tuesday afternoon, he realised that two democracies as big and vibrant as ours, can have a positive impact on the people.
"Overall, our meeting has contributed to our efforts to forge a closer partnership with the US in pursuit of our development goals and strategic priorities. We are certain that the India-US partnership will continue to benefit not only both our peoples but also become a factor for peace and stability in the region and the wider world, " Swaraj said while ending her address.
Ministry of External Affairs released a copy of Swaraj's address on Tuesday:
Remarks by External Affairs Minister by Firstpost on Scribd
With inputs from PTI.
World
Removal of tariffs would carry substantive political and strategic costs, without any tangible economic benefits
World
Major legislation passed and signed by Governor Gavin Newsom, aims to significantly reduce single-use plastic packaging in the state and drastically boost recycling rates for what remains
World
His sentencing comes as Islamabad prepares for on site visit by the officials from the global terror financing watchdog FATF to verify the implementation of Pakistan's relevant anti-money laundering and terrorism-financing reforms