US Sikh temple shooter was a white supremacist
Witnesses to Sunday's shooting said the gunman looked like he had a purpose and knew where he was going.
Oak Creek: The gunman who killed six people inside a Sikh temple in the US and was killed in a police shootout was a 40-year-old army veteran, officials said Monday, and a civil rights group identified him as a "frustrated neo-Nazi" who led a white supremacist band.
Police called Sunday's attack an act of domestic terrorism. The FBI said there was no reason to think anyone else was involved in the attack, and they were not aware of any past threat made against the temple.
The shooter was Wade Michael Page, said First Assistant US Attorney Greg Haanstad in Milwaukee. Page was discharged from the army in 1998 and declared ineligible to re-enlist, according to a U.S. defense official who spoke on condition of anonymity because he was not authorized to release information about the suspect.
Officials and witnesses said the gunman walked into the Sikh Temple of Wisconsin and opened fire as several dozen people prepared for Sunday morning services. Six were killed, and three were critically wounded.
The federal Bureau of Alcohol, Tobacco, Firearms and Explosives said the gunman used a legally purchased 9mm handgun and multiple magazines of ammunition. Local authorities said they had had no contact with Page before Sunday.
"We never thought this could happen to our community," said Devendar Nagra, 48, whose sister escaped injury by hiding as the gunman fired in the temple's kitchen. "We never did anything wrong to anyone."
The Washington-based Sikh Coalition has reported more than 700 incidents in the US since the 11 September 2001, terrorist attacks, which advocates blame on anti-Islamic sentiment. Sikhs are not Muslims, but their long beards and turbans often cause them to be mistaken for Muslims, advocates say.
Page was a "frustrated neo-Nazi" who led a racist white supremacist band, the Southern Poverty Law Center said Monday. Page told a white supremacist website in an interview in 2010 that he had been part of the white power music scene since 2000, when he left his native Colorado and started the band, End Apathy, in 2005, the civil rights organization said.
He told the website his "inspiration was based on frustration that we have the potential to accomplish so much more as individuals and a society in whole," according to the SPLC. He did not mention violence in the interview.
Page joined the military in 1992 and was a repairman for the Hawk missile system before switching jobs to become one of the Army's psychological operations specialists, according to the defense official.
So-called "Psy-Ops" specialists are responsible for the analysis, development and distribution of intelligence used for information and psychological effect; they research and analyze methods of influencing foreign populations.
Fort Bragg, North Carolina, was among bases where Page served.
Joseph Rackley of North Carolina told The Associated Press that Page lived with his son for about six months last year in a house on Rackley's property. Wade was bald and had tattoos all over his arms, Rackley said, but he doesn't remember what they depicted.
He said he wasn't aware of any ties Page may have had to white supremacists.
Witnesses to Sunday's shooting said the gunman looked like he had a purpose and knew where he was going.
Satpal Kaleka, wife of the temple's president, Satwant Singh Kaleka, saw the gunman enter, according to Harpreet Singh, their nephew.
"He did not speak, he just began shooting," said Singh, relaying her description.
Worshippers said they had never seen the man at the temple before.
Oak Creek Police chief John Edwards said the gunman "ambushed" one of the first officers to arrive at the temple as the officer tended to a victim outside, shooting him eight to nine times with a handgun at close range. A second officer then exchanged gunfire with the gunman, who was fatally shot.
The wounded officer was in critical condition along with two other victims Monday, authorities said.
Four people were found dead inside the temple and two outside, in addition to the shooter.
Gurpreet Kaur, 24, said her mother was among a group of about 14 women preparing a meal in the temple's kitchen when the gunman entered and started firing. Kaur said her mother felt two bullets fly by her as the group fled to the pantry.
"These are people I've grown up with," Kaur said. "They're like aunts and uncles to me. To see our community to go through something like this is numbing."
Many Sikhs in the US worship on Sundays at a temple, or gurdwara, and a typical service consists of meditation and singing in a prayer room where worshippers remove their shoes and sit on the floor. Worshippers gather afterward for a meal that is open to the entire community.
Sikhism is a monotheistic faith founded more than 500 years ago in South Asia. It has roughly 27 million followers worldwide. Observant Sikhs do not cut their hair; male followers often cover their heads with turbans—which are considered sacred—and refrain from shaving their beards. There are roughly 500,000 Sikhs in the US, according to estimates. The majority worldwide live in India.
Police in New York and Chicago issued statements saying they were giving Sikh temples in those cities additional attention as a precaution.
Valarie Kaur, who chronicled violence against Sikh Americans in the 2006 documentary "Divided We Fall," said the shootings reopened wounds in a community whose members have found themselves frequent targets of hate-based attacks since 11 September.
"We are experiencing it as a hate crime," she said. "Every Sikh American today is hurting, grieving and afraid."
AP
World
At a vigil attended by more than 200, Aasees Kaur, who represented the Sikh Coalition, spoke out alongside the city's mayor to demand action that would prevent such attacks from happening again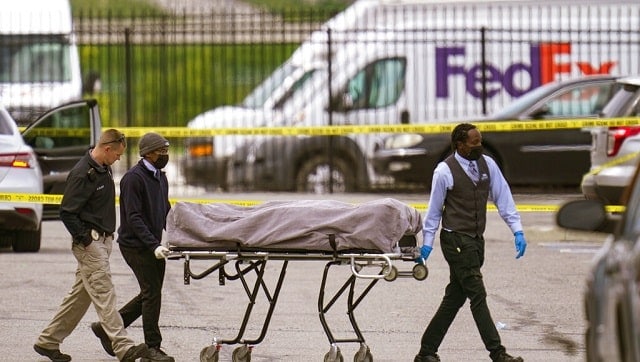 World
It wasn't clear if Sikh's were the target of the attack. The FBI said it had interviewed the shooter last year but they did not identify him as espousing a racially motivated ideology