US shutdown drags on due to vote delay, govt workers stay home without pay
Hundreds of thousands of US federal employees were forced to stay home without pay Monday after lawmakers failed to reach an agreement on ending a government shutdown before the start of the work week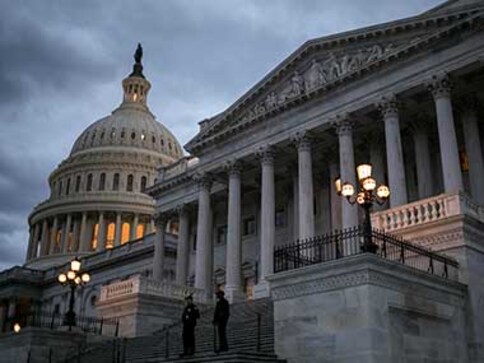 Washington: Hundreds of thousands of US federal employees were forced to stay home without pay Monday after lawmakers failed to reach an agreement on ending a government shutdown before the start of the work week.
Although leaders of president Donald Trump's Republican Party and the opposition Democrats said progress had been made in a weekend of talks, they pushed back a scheduled late-night Sunday vote on a stopgap funding measure to Monday at noon (17:00 local time).
Trump goaded Democrats from the sidelines, accusing them of placing non-citizens ahead of Americans, shutting down the government in the service of "their far left base."
Democrats have shut down our government in the interests of their far left base. They don't want to do it but are powerless!

— Donald J. Trump (@realDonaldTrump) January 22, 2018
"They don't want to do it but are powerless," he tweeted, referring to the Democratic leadership in Congress.
The impasse, the first of its kind since 2013, had already cast a huge shadow over the first anniversary of Trump's inauguration as president on Saturday.
After special weekend sessions of Congress which had seen bitter recriminations traded across the political aisle, Senate Majority Leader Mitch McConnell pledged in a speech to the chamber late Sunday to address Democrat concerns over key issues such as immigration reform.
The Senate's top Democrat Chuck Schumer responded by saying he was "happy to continue my discussion with the majority leader about reopening the government" but added that the parties were "yet to reach an agreement on a path forward."
Hopes that the shutdown, which began at midnight Friday, could be limited to the weekend were raised Sunday when a bipartisan group huddled for hours trying to end the standoff, but they ultimately failed to reach a deal.
On Monday, White House Press Secretary Sarah Sanders accused the Democrats of "playing games."
"The president's focus is making sure we get the government reopened. It's outrageous that Democrats are holding our national security hostage," she told ABC's "Good Morning America" program.
Over the weekend, Trump had encouraged the Senate's Republican leaders to invoke the "nuclear option" -- a procedural manoeuvre to change the chamber's rules to allow passage of a budget by a simple majority of 51 votes to end the shutdown.
But Senate leaders have been wary of such a move in the past, as it could come back to haunt them the next time Democrats hold a majority.
Essential services continue
At the heart of the dispute is the issue of undocumented immigration.
Democrats have accused Republicans of poisoning chances of a deal and pandering to Trump's populist base by refusing to back a program that protects an estimated 7,00,000 "Dreamers" — undocumented immigrants who arrived as children — from deportation.
Democrats have refused to go along with the temporary federal funding request unless it addresses the Deferred Action for Childhood Arrivals program in part because they fear Republican leaders will not act to protect DACA recipients before deportations would begin in large numbers in March.
But in a signal to Democrats, McConnell committed on the Senate floor to addressing immigration in a timely fashion.
"Should these issues not be resolved by the time the funding bill before us expires on 8 February, 2018, assuming that the government remains open, it would be my intention to proceed to legislation that would address DACA, border security and related issues," McConnell said.
But that commitment means little to some in McConnell's own party; some House Republicans told reporters they would not be bound by any agreement reached in the Senate to address immigration.
"I don't see any of our people interested in some half-baked idea that's produced by a self-appointed group of senators," Congressman Tom Cole said, according to Roll Call.
Essential federal services and military activity are continuing, but even active-duty troops will not be paid until a deal is reached to reopen the US government.
There have been four government shutdowns since 1990. In the last one, more than 800,000 government workers were put on temporary leave.
"We're just in a holding pattern. We just have to wait and see. It's scary," Noelle Joll, 50, a furloughed US government employee, told AFP in Washington.
New York Governor Andrew Cuomo, a Democrat, said that the state would pay for the reopening of the Statue of Liberty, the inspirational landmark that was among facilities closed under the shutdown.
Anti-Trump protests
Republicans have just a one-seat majority in the Senate, and therefore have to lure some Democrats to their side to get a 60-vote supermajority to bring the stopgap funding motion forward.
Highlighting the deep political polarization, crowds estimated in the hundreds of thousands marched through major US cities over the weekend against the president and his policies and to express support for women's rights.
Politics
Modi's oratory is proven on almost every playing field. A machine glitch at a global event won't take away much from that
Entertainment
Kanye West heads to Russia to work on new business deals with Aras Agalarov, the Azerbaijani-Russian billionaire businessman with ties to Donald Trump
World
The persistence of coronavirus, rising inflation and Congressional gridlock have exacted a bitter toll on Biden's approval rating and threatened a midterm routing for his party, but the US president sees no need for a major shift in direction