US Senate rejects slew of immigration reform proposals, leaves thousands of 'Dreamers' in lurch
The US Senate on Friday rejected a slew of immigration reform proposals,leaving hundreds of thousands of Dreamers in limbo
Washington: The US Senate on Friday rejected a slew of immigration reform proposals, including one backed by President Donald Trump, leaving hundreds of thousands of young migrants who were brought to the country illegally as children in limbo.
The Senate also shot down a bipartisan deal on immigration offered by the Trump administration which had offered to provide citizeship to some 1.8 million American's so-called "Dreamers" in exchange of $25 billion for construction of a wall along the Mexican border and other security measures.
Senators, in a series of votes, failed to muster enough votes for either of the immigration plan to move ahead. In fact, the bill backed by Trump lost 39-60 votes. If passed, the bill would have paved the way for permanent legal status to 1.8 million young legal immigrants and provided $25 billion towards building a wall along the Mexico border.
The White House supported bill would have also curbed family-based immigration and ended diversity lottery visa. But the bill fell far short of 60 votes mark required to clear a filibuster.
The Senate also rejected another bipartisan bill 54-45, which was again short of the 60 votes required to clear filibuster. Trump described the Schumer-Rounds-Collins immigration bill a "total catastrophe". The White House threatened to veto the bill.
All four proposals put forward on Thursday failed.
"Every amendment before the Senate today failed to pass because, as I have said since our effort in 2013, the more an immigration proposal tries to do at once, the less likely it is to succeed," Republican Senator Marco Rubio said.
Rubio said he intends to keep working with other Senators on a more limited proposal that would permanently codify DACA's renewable permits and provide meaningful border security and enforcement measures in the event a House-passed bill cannot pass the Senate.
The fate of the Dreamers has been uncertain since Trump scrapped the Obama-era Deferred Action for Childhood Arrivals (DACA) program last September and gave Congress six months to legislate a solution.
Some 6,90,000 Dreamers who registered under DACA - plus 1.1 million others who were eligible but did not sign up - could begin to face deportation beginning 5 March if no deal is reached.
House Democratic leader Nancy Pelosi said: "The President must stop sabotaging the bipartisan compromises he's asked for, and the Republican Congress must have the courage to pass legislation to protect Dreamers now."
The defeat of the immigration bills, also put a pause on the efforts to remove per country cap on green card, a move that could have benefited a large number of high skilled Indian professionals.
Speaking on the floor of the House, Congressman Kevin Yoder said the per-country caps on green cards for highly skilled H-1B immigrants unfairly discriminate against immigrants from a few countries, especially India.
"The caps have created a huge backlog of Indian applicants who will have to wait decades--as much as 70 years- to achieve their dream of American citizenship," he said, demanding that the per-country caps must be replaced by a merit-based system that treats everyone fairly, regardless of their country of origin.
New Jersey Senator Robert Menendez cited the case of an Indian-American to push for the immigration reform.
"When we talk about Dreamers, we are talking about kids who have grown up American in every sense of the word. We are talking about 22,000 New Jerseyans like Parthiv Patel, who came to New Jersey from India when he was 5 years old," Menendez said on the Senate floor.
"He gained DACA status in 2012. He graduated from Drexel Law School in 2016, and he became the first Dreamer admitted to the New Jersey Bar in 2018," he said.
In his remarks, Menendez, a Democratic Senator, claimed that Trump does not have a plan for merit-based immigration.
"When President Trump professes his support for merit- based immigration, he doesn't have a real plan for allowing a million engineers and inventors from around the world to come to the United States. He is talking about cutting legal immigration by nearly 50 per cent," he said.
"That is a policy with disastrous implications for the future of this country when you consider basic economic facts. Any credible economist will tell you that without steady immigration, America's global competitiveness will suffer, and we will fall far behind much larger countries like China, Pakistan, and India. According to a Forbes magazine article, even President Donald Trump is a product of chain migration," Menendez said.
Menendez said this is not the time to talk about a merit-based immigration reform.
Senator John Cornyn, Co-Chair of the Senate India Caucus, said there is an opportunity to address not only the anxiety and plight of DACA recipients but also to make the country safer and more secure.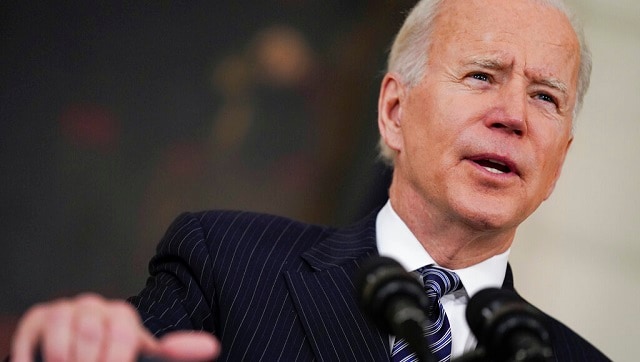 World
Biden said the US military will continue to assist Iraq in its fight against the Islamic State, and the security relationship will be focused on training and intelligence-sharing
World
Hussain, 41, is currently Director for Partnerships and Global Engagement at the National Security Council