US president Donald Trump to host Narendra Modi later this year: White House
A day after Donald Trump called Narendra Modi, the White House said the US President looked forward to hosting the Prime Minister later this year.
A day after US president Donald Trump called Narendra Modi, the White House said the president looked forward to hosting the Prime Minister later this year. US president Donald Trump had on Monday congratulated Prime Minister Narendra Modi on the outcome of recent state elections and expressed his support to the Indian leader's economic reform agenda, the White House said on Tuesday.
Monday's exchange was the third telephonic conversation between Modi and Trump after latter's electoral victory in November last year.
"President Trump expressed support for the Prime Minister's economic reform agenda and emphasised his great respect for the people of India," read the statement issued by the White House.
"President Trump also said he looks forward to hosting Prime Minister Modi in Washington later this year," it said.
Earlier, White House Press Secretary Sean Spicer told reporters that Trump congratulated Modi and German Chancellor Angela Merkel on Monday on their electoral victories.
"The president spoke with German Chancellor Merkel and Indian Prime Minister Modi earlier today to congratulate them on their parties' success in recent elections," Spicer said.
Following the elections, Modi's Bharatiya Janata Party formed the government in four states: Uttar Pradesh, Manipur, Uttarakhand and Goa. It, however, lost Punjab to main rival Congress.
Previously, Modi and Trump talked by phone on 24 January, when they had resolved to stand "shoulder-to-shoulder" in the global fight against terrorism and for defence and security.
According to a White House statement then, Trump had "emphasised that the US considers India a true friend and partner in addressing challenges around the world."
Top officials and aides of both the governments have met with each other many times since the Donald Trump's inauguration.
Only last week National Security Advisor Ajit K Doval in his US visit met US Defence Secretary General (rtd) James Mattis, Secretary of Homeland Security General (rtd) John Kelly and National Security Advisor Lt Gen H R McMaster. They had discussed expansion and deepening of India-US cooperation in collectively addressing the challenge posed by terrorism in South Asia.
Also, Foreign Secretary S Jaishankar visited the US earlier this month to discuss key bilateral issues including India's concerns over a possible clampdown on H-1B visas and safety of Indians. External Affairs Minister Sushma Swaraj also had a phone conversation with US Secretary of State Rex Tillerson.
Prime Minister Modi was the fifth foreign leader Trump spoke to on the phone after he was sworn-in as the US president on 20 January.
He had, by then, spoken to British Prime Minister Theresa May, Canada's Justin Trudeau, Mexican President Enrique Pena Nieto, Israeli Prime Minister Benjamin Netanyahu and the Egyptian President Abdel Fattah el-Sisi.
After Trump's surprise victory in the 8 November elections, Modi was among the first world leaders to congratulate him.
With inputs from PTI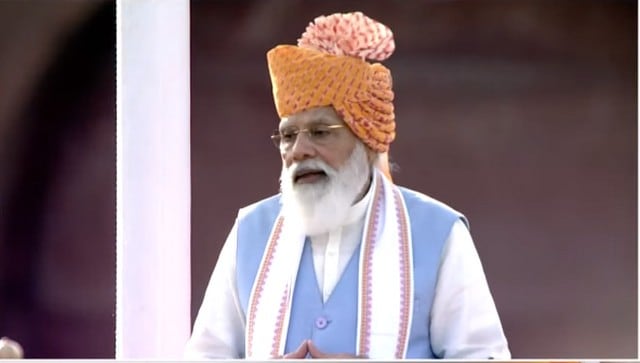 India
At the same time, Modi said, we should not forget the mantra of "Davai Bhi, Karai Bhi' (get vaccinated, strictly follow COVID protocols).'
India
The 20-day mega campaign titled 'Seva aur Samarpan Abhiyan' will begin tomorrow (17 September) and will conclude on 7 October
India
The buildings will provide modern, secure and functional working spaces, the Prime Minister's Office said