US president Donald Trump says he's 'very close' to naming an FBI director
Washington: US president Donald Trump says he is 'very close' to naming a new FBI director.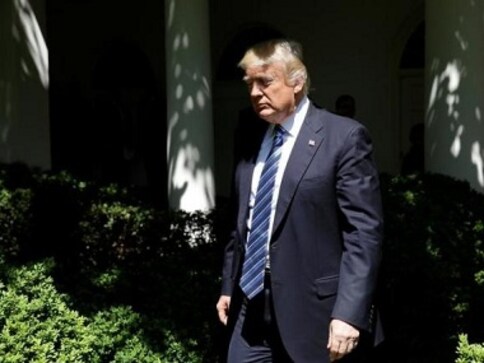 Washington: US president Donald Trump says he is "very close" to naming a new FBI director.
An announcement could come Friday, the soft deadline Trump set for himself. The president departs Friday on his inaugural overseas trip, a four-country, five-stop journey tour of West Asia and Europe that will keep him out of the country for more than a week.
"We're very close to an FBI director," Trump said Thursday when asked about the search during an Oval Office appearance with Colombian President Juan Manuel Santos. He said an announcement could come "soon" and that former senator Joe Lieberman was among his top candidates.
Lieberman was among four candidates Trump interviewed at the White House this week. The former Connecticut senator flashed a thumbs-up as he left the White House on Wednesday after meeting with Trump and said they had a "good meeting."
Trump also met with former Oklahoma governor Frank Keating; Richard McFeely, a former top FBI official; and acting FBI director Andrew McCabe.
Trump needs a new FBI director because he fired James Comey last week, an unexpected move that drew bipartisan criticism. Comey was overseeing the FBI's investigation into Russia's role in the presidential election, including ties between Russian government officials and Trump associates.
In an attempt to quell the furor over Comey's ouster, the Justice Department this week hired former FBI director Robert Mueller as a special counsel to oversee the investigation. Trump has denounced the probe as a "witch hunt." The Senate must confirm Trump's candidate for the FBI job.
Word of Lieberman's standing in the candidate search drew a mixed reaction from Capitol Hill, with Senate Republicans praising the Democrat turned independent, and Democrats seeming less than enthused about their former colleague.
Senator Lindsey Graham called Lieberman a "pillar of credibility." Senator John Cornyn of Texas, the number 2 Republican in the Senate, said Lieberman "may be the only
potential nominee that could get 100 votes that I know of. Everybody likes and respects Joe Lieberman."
But several Democratic senators said during a caucus lunch Thursday that they would not support Lieberman, according to a person familiar with the meeting who declined to be identified because the lunch was private.
Among their concerns was Lieberman's past praise of Michael Flynn, Trump's first national security adviser, who was fired in February after misleading officials about his
talks with Russian officials. Flynn has figured prominently in the FBI investigation into Russia and the election.
World
Donald Trump has announced his bid to run for the White House in 2024. With this, he joins a small club of US presidents — just four — who have sought non-consecutive terms. Of these, only Grover Cleveland has been successful in losing an election and then rising from the ashes to regain power
World
Democrats would have loved to keep the chamber. But given how the midterm picture appeared entering this year, keeping the Senate and narrowly losing the House are both huge accomplishments and an extraordinary stroke of political luck
World
Never before has a sitting US president faced 80 candles on a birthday cake -- and the milestone that Joe Biden reaches on Sunday has undeniable ramifications as he ponders running again in 2024