US opens its embassy in Jerusalem: India's no-show at inauguration due to longstanding position on Palestine
The United States opened its embassy in Jerusalem with a gala and invited 86 countries to be a part of the inauguration.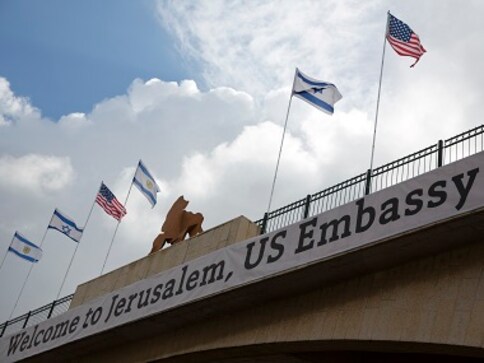 Israel elaborately planned for the opening of the United States embassy in Jerusalem and invited 86 countries to be part of the inauguration. US president Donald Trump hailed it as a 'Big Day' for Israel and touted the embassy as a "testament to the unbreakable spirit of the Jewish people."
However, the absence of several invited nations did not put a damper on Israel as Israel's prime minister Benjamin Netanyahu claimed, "We are in Jerusalem and we are here to stay."
Israel's foreign ministry said that all 86 countries having diplomatic relations with Israel were invited to the opening ceremony and 33 confirmed their presence. However, only 29 countries actually came to the event, according to Al-Jazeera.
India was also an invitee to the opening ceremony but, chose to stay away. Indian officials told The Wire that Indian ambassador to Israel will not take part in the reception hosted by the Israeli foreign ministry.
India's has had a muted response to Trump recognising Jerusalem as the capital of Israel, prompting countries to ask New Delhi to clarify its stand. After Washington's decision on Jerusalem, the Ministry of External Affairs said in a vague statement, "India's position on Palestine is independent and consistent. It is shaped by our views and interests, and not determined by any third country."
Angshuman Choudhury wrote in this Firstpost piece, "This highly-calibrated and diplomatically-measured statement encapsulates India's complex balancing act with respect to not just Israel-Palestine, but also the US and the entire West Asian region extending to the Gulf."
India was one of the earliest and vocal champions of the Palestinian cause during the days it was leading the Non-Aligned Movement while it quietly pursued ties with Israel. However, India's ties with Israel have gone more robust since Prime Minister Narendra Modi took charge.
Under Modi, New Delhi has moved to a more open relationship with Israel, lifting the curtain on thriving military ties and also homeland security cooperation.
Modi in July made a first trip to Israel by an Indian prime minister and did not go to Ramallah, the headquarters of the Palestinian Authority. Netanyahu made a reciprocal trip to New Delhi in January this year. He called Modi a 'close friend of Israel' and touted his trip as 'historic'.
'Shift' in India's position
PR Kumaraswamy, a leading Indian expert on ties with Israel at New Delhi's Jawaharlal Nehru University, told Reuters that a "major shift" on India's policy had been evident since Palestinian president Mahmoud Abbas' India visit.
"With the Palestinian president standing by his side, Prime Minister Modi reiterated India's support for Palestinian statehood but carefully avoided any direct reference to East Jerusalem," he said.
For decades, India's support for a Palestinian state was accompanied by an explicit reference to East Jerusalem being the Palestinian capital. But New Delhi has moved to a more balanced position, refusing to take sides in an explosive dispute, he said.
Even Palestine expected a clearer statement from India after Trump's announcement. "I think this is not the statement. They (India) have said that they are not connected to any third party. But, we are expecting the government of India to make statement and to announce their attitude towards Jerusalem as one of the last issues to be negotiated between the Palestinians and the Israelis," Palestinian envoy Abualhayjaa told The Wire.
He added, "Normally, Indians in all their statements recognise East Jerusalem as the capital of the Palestinian state because it is part of the 1967 occupied land."
However, India joined a majority of UN member countries to vote for a resolution criticising the United States for recognising Jerusalem as the capital of Israel. "The vote was consistent with India's past position on this issue and Palestine," a diplomatic source told Hindustan Times while adding, "where was the question of us not voting for the resolution."
India's muted response to Trump's declaration of recognising Jerusalem as Israel's capital and its vote at the UN seems to show that while it has shed its inhibitions in publicly engaging Israel, it has not abandoned its support for the Palestinian cause and the two-state solution, according to The Diplomat.
India's decision to not attend the US embassy opening in Jerusalem seems to reiterate its neutral position.
With inputs from Reuters
World
Protesters were kicking off a third day of disruption since the crisis began, with roads set to close to make way for demonstrators
World
Saudi Arabia had felt that the West's position towards Iran had weakened, the official said. Nonetheless, it would not impact Israel's bid to establish diplomatic ties with Riyadh, the official said.
World
Prime Minister Benjamin Netanyahu's coalition said it was pushing a key part of the overhaul — which would give the coalition control over who becomes a justice or a judge