US-North Korea summit: Trump gets lesson in diplomacy, Kim displays tactical nous and Xi emerges clear winner
Trump's imposition of 'toughest ever' sanctions on North Korea to bring Kim-Jong-un to the discussion table may not mean much unless China plays ball.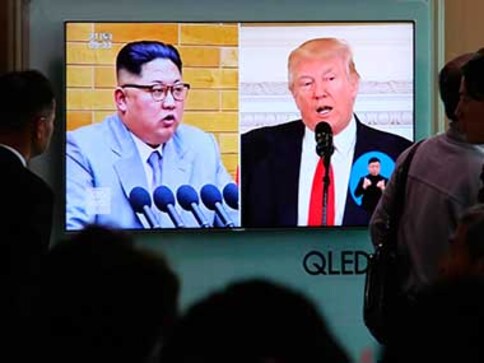 The aborted Donald Trump-Kim Jong-un summit is a test case for both the art of diplomacy and botched diplomacy. Like the good old sheriff in Wild West flicks, Trump tried to gunfight his way through the diplomatic maze and ensure 'complete denuclearisation' (and the Nobel Peace prize) before the audience can even reach for their popcorn. The script went slightly awry. At the end of a short, tumultuous yet entertaining movie, Trump's transformation from a gun-toting sheriff to a tissue-holding jilted lover was complete. Kim walked away with brownie points and Xi Jinping, the invisible puppeteer in the cancelled talks, walked away with all the leverage for the US-China trade war.
Trump's letter to Kim, announcing the cancellation of talks that were planned for 12 June in Singapore, reveals his frustration. It also reveals that he was in a race against time to pull out of the summit with a face-saver, having boxed himself into a corner with an "all or nothing approach". In the end, his insistence that the meeting was "requested by North Korea" and his citing of "tremendous anger and open hostility" as the immediate cause is not even a face-saver. It is a reflection of his lack of depth in international diplomacy against a North Korean regime that has a disingenuous history of indulging in deceit over dialogues and was clearly playing him like a flute.
The American president failed to realise the futility of his approach until very late when he was reportedly desperate to salvage a modicum of pride by being the first to fire the shot. NBC News reports, quoting White House sources, that discussions on cancellation started late Wednesday and Trump reached a conclusion by Thursday morning. He was scared that "North Koreans might beat him to the punch."
Post-cancellation, Trump has resumed a "maximum pressure" campaign on North Korea. The administration will continue with the policy of imposing tough economic sanctions and threat of military action, while the president has kept the door slightly ajar for talks. Few would bet on a renewed rapprochement, even though the North Koreans have offered Washington "time and opportunity". Pyongyang's carefully worded response suppresses an understated glee, typical of a side that realises that it has pulled off a comprehensive victory in a tough mental battle and now holds all the cards.
Well may Trump impose "toughest ever" sanctions on North Korea to force Kim to appear at the discussion table to negotiate the dismantling of its nuclear weapons program. Such a tactic will be a non-starter unless China — which accounts for almost 90 percent of Pyongynag's external trade — plays ball and implements those measures.
Though Beijing had, albeit reluctantly, agreed to implement United Nations-mandated sanctions on North Korea in the past, it may be less willing to oblige this time. China may argue that while Pyongyang has taken a series of steps, including detonation of a nuclear test site and release of three American hostages in preparation for talks, Trump has unmade his case by announcing a 'unilateral withdrawal'.
China's state-controlled media has wasted no time in putting forth the contention. "Pyongyang had shown its utmost sincerity by demolishing the nuclear test site. It was a turning point where North Korea could replace their confrontational policies with concerted efforts aimed at working with international communities to resolve Korean Peninsula issues," China's Communist party-controlled Global Times wrote in an editorial on Friday.
In contrast, "America's national image has been damaged ever since Trump announced his withdrawal from the Iran nuclear deal. The cancellation of the Singapore meeting will only enhance their negative image, regardless of any explanation provided by Washington," wrote GT.
It left little space for doubt that Beijing won't be a party to Washington's 'maximum pressure' campaign. "China will continue to improve and develop friendly relations with North Korea as they stopped testing nuclear weapons and offered assurances on denuclearization," read the editorial.
If China's backing of Pyongyang is strategic, across the Korean peninsula in the South, support for Kim and strong condemnation for Trump has become an emotional release for citizens who are clearly alarmed and fatigued at the prospect of a catastrophic war.
President Moon Jae-in, who had invested substantial political capital in setting up the summit, admitted that he was "perplexed" by the cancellation while fuming South Koreans vented their anger on Trump and hailed Kim. The tinpot dictator seems to have pulled off a diplomatic masterstroke by holding an inter-Korean summit, at least among young Koreans anyway.
"North Korea was in the process of doing everything that had been demanded of it. They even detonated their nuclear test site," news agency Reuters quoted a 29-year-old office worker in Seoul, as saying. "Trump has no interest in peace in our country. Why can't he just let us, the two Koreas, live in peace?"
One has to appreciate the way Kim has upended Trump. The Korean official response to Trump's missive appears restrained and even flattering in its praise for the American president even as Kim moved to claim the moral high ground. Suddenly, from being an immature, reckless dictator who loves to test nuclear weapons and issue vituperative rhetoric against adversaries, Kim appears to have transformed into a mature leader who, having achieved his strategic goals, now wants to sit across the table and sort out the differences.
There is huge amount of deceit hidden in this image but in diplomacy, perception is as good as reality. In reality, there is not even a remote chance of Kim agreeing to Trump's plan of "complete, verifiable, and irreversible dismantlement" (CVID) of his nuclear weapons and missile capabilities. But by taking some token steps (such as detonation of the test site, no first use) and appearing agreeable for talks, Kim has achieved his objectives of claiming moral victory, getting to keep his weapon stockpile and yet secure for his country some breathing space against American sanctions.
This becomes clear when we consider that even though CVID was perceptibly on the table, in reality it never was because Trump and Kim had completely different objectives from the discussion. While Trump wanted CVID and nothing else, Kim was never going to let go of his nuclear arsenal which he considers to be his sole insurance against US aggression. What Kim wanted from the summit, instead, was a legitimacy as a nuclear-powered state which would bestow upon it some sort of equality — a position of power — from where future negotiations would take place.
As Michael Green writes in Foreign Affairs, "What North Korea really wants from this summit… is probably not denuclearisation but the opposite—acceptance of its nuclear weapons status. This should not be surprising. In 2012, North Korea revised its constitution to pronounce itself a nuclear power, and Kim declared earlier this year that his intercontinental ballistic missile (ICBM) programme was near completion, an indication that he was ready to negotiate… This is why Kim's proposals thus far mimic the moves of a nuclear weapons state, such as pledging testing freezes, no first use, and no transfer."
Squeezed between these two stools, the summit never had a chance. Trump's hands were also tied by the hostile domestic media which predicted that the president may settle for exactly what Kim wants — legitimacy for his nuclear weapons — in exchange for a myopic assurance that America won't be targeted.
To dispel these notions, NSA John Bolton and vice-president Mike Pence upheld the 'Libya Model' where Muammar al-Qaddafi handed over his nuclear weapons in 2003 only to be lynched to death by US-backed insurgents.
In effect, these comments served to squeeze Trump's space for manouvre and amounted to waving the red flag to a dictatorial regime that considers the Libya Model as its worst nightmare and has invested in nuclear weapons precisely to take that possibility out of equation.
Apart from Kim, who would be mighty pleased at the turn of events, Chinese president Xi Jinping is the other clear winner. He showed considerable diplomatic prowess in influencing Kim and turning the course of a summit that seemed to have kept him out of the loop. Trump admitted that Xi had an impact when he claimed on 22 May that the summit could be delayed due to an attitudinal change in Kim following the North Korean leader's meeting with "world class poker player" Xi in Dalian.
The aborted summit places Xi once again at the front and centre of Trump's North Korea policy which he may use as a leverage during trade talks with the US. This was, in every sense of the term, a diplomatic coup de grace.
also read
World
The visit comes after Russia and China reacted furiously to the Group of Seven weekend's declarations that singled them out on a range of issues, including Ukraine, nuclear arms and economic coercion.
World
China has started building a new link road and helipad at different locations like Poling Jindu and Sarang -- just opposite to India's Niti Pass
World
According to recently published trade data, North Korea experienced a remarkable surge in wig exports in April, surpassing previous quarterly records within a single month