US Navy identifies all seven sailors killed in Japan collision
The navy said the bodies of the missing crew were found by the divers in flooded sleeping quarters.
Tokyo: The US Navy on Monday said it identified all seven sailors killed after their destroyer was partially flooded following a collision with a container ship off Japan's coast at the weekend, confirming their deaths for the first time.
The crew were reported missing after Saturday's predawn collision, triggering a major US-Japanese search operation, with divers scouring damaged areas of the destroyer.
On Sunday, US authorities tacitly acknowledged there were no survivors as they ended the search, but declined to say how many bodies had been found until the families were notified.
The 154-metre (500-foot) Fitzgerald — commissioned in 1995 and deployed in the Iraq war in 2003 — was pulled by a tugboat back to its base on Saturday in Yokosuka, southwest of Tokyo.
The navy said the bodies of the missing crew were found by the divers in flooded sleeping quarters.
"The remains of seven sailors previously reported missing were located in flooded berthing compartments, after divers gained access to the spaces," it said, adding that the deceased sailors ranged in age from 19 to 37.
Several other US crew members were injured in the accident and had to be evacuated by air to hospital, including the vessel's commanding officer Bryce Benson.
The accident happened 56 nautical miles (104 kilometres) southwest of Yokosuka, in a busy shipping channel that is a gateway to major container ports in Tokyo and nearby Yokohama.
There have reportedly been several collisions involving large vessels in the area over the past five years.
The container ship, the 222-metre Philippine-flagged ACX Cystal, came into port with large scrapes on its bow, but none of its 20 crew were injured, Japan's coastguard said. The accident is under investigation.
Sports
Eight days before the opening ceremony on 23 July, it was unclear if the athlete must miss their event.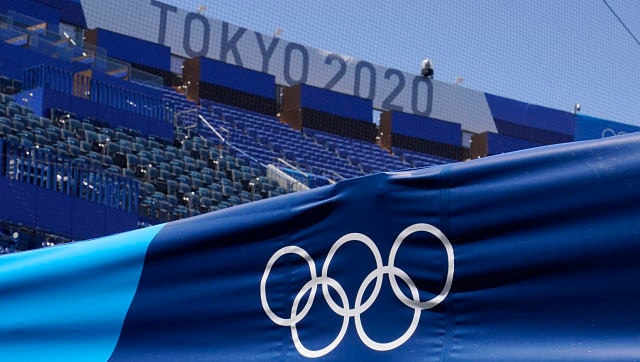 Sports
"In 1964, Japan was hoping to be embraced and welcomed by the rest of the world. And they were, very, very warmly. But in 2021, the world is hoping to be welcome and embraced by Japan. It's not going to be a warm welcome," says author and historian Roy Tomizawa.
Sports
Playing about 150 miles north of the main Olympic sites in Tokyo, the teams lined up for the national anthems in a stadium with a listed capacity of 30,000 that had about 50 spectators, presumably team and Olympic officials, plus media.