US midterm elections 2018: Voters punish Donald Trump; Democrats seize House control, Republicans keep Senate
A resounding no. America's voters young and old delivered a stinging rebuke against Donald Trump's bile-filled racist dog whistling brand of political campaigning for the midterm elections 2018 where he cast the choice as a battle against a migrant invasion which could end up putting (white) Americans at risk of violent crime versus military style border control and a threat to end birthright citizenship.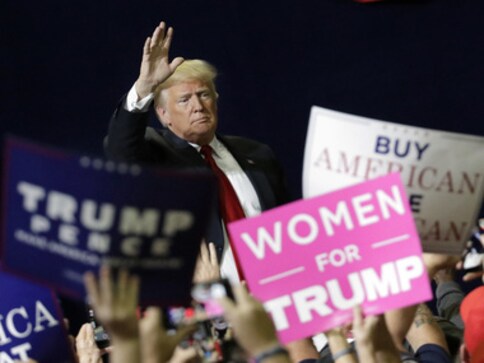 New York: A resounding no. America's voters young and old delivered a stinging rebuke against Donald Trump's bile-filled racist dog whistling brand of political campaigning for the midterm elections 2018 where he cast the choice as a battle against a migrant invasion which could end up putting (white) Americans at risk of violent crime versus military style border control and threats to end birthright citizenship. Ever since 2.30 am on 9 November 2016, America has been waiting for this Tuesday and when it arrived, the bills came due for Donald Trump using politics as blood sport.
Democrats have stormed back to power in the US House of Representatives, a result that was widely feared by the Republicans who extended their slim Senate majority. The House and Senate going in opposite directions shatter Democrats' dreams of an anti-Trump wave sweeping them into a total majority but it's the best place Democrats have been in the last eight years that they haven't held the House. This means two years of total misery for the White House aides in charge of firefighting.
"It's depressing as hell", White House insiders are saying after the suburban annihilation of Trumpism in the House elections. The House flip means leadership of every single committee in the House will change. First line of business will be to get their hands on Trump's tax returns. Gridlock and partisan acrimony will rise.
Young and old surged into voting booths across the country in record numbers. "I voted against Trump because we still have the chance to be a decent country, enjoy pleasant relationships with other people who don't look like us, who live in our neighbourhoods," a wrinkled old lady in a wheelchair told television networks in El Paso, Texas.
"He has diarrhea of the mouth and diarrhea of the brain. He's just so irresponsible," said Don Albrecht, a 75-year-old accountant and Republican who voted for Trump in 2016.
"I don't think the American public is going to put up with it. I think there's going to be a big backlash against Republicans because of this divisiveness," he said before the results came in.
In the results of the US midterms 2018, there is no middle ground. Repudiation or validation of Donald Trump were the only ways people voted. The democratic process delivered the ultimate constitutional check against Trumpism, with two years to go before Trump's re-election bid.
Despite Trump's attempts to distance himself from a result like the one we have tonight — "If we win, they'll say I had nothing to do with it; if we lose, they'll say it's all my fault" — the costs of Trump's tradecraft are now beginning to surface after the benefits have been priced in for nearly two years.
Here are the top takeaways from a historic election night in America:
The limits to immigration rhetoric
Health care and immigration were high on voters' minds as they cast ballots in the midterm elections, according to a wide-ranging survey of the American electorate conducted by The Associated Press. Yes, immigration matters a big deal but the Trump version that delivered in 2016 backfired this time. Hawks in the White House rejoiced when Trump got after the migrant caravans like it was some warzone at the border, they told him to spike his campaign with more fear mongering and Trump did it in signature style. No, voters said; we're not buying this. What worked in 2016 was swatted down in 2018. What gave? Not one but many breaking points, actually. The real violence of a synagogue attack in the week just before the election and the mail bombs both unleashed by Republican wingnuts contrasted starkly against the imagined violence from some distant dystopias created entirely by Trump. Trump called these events "distractions" from his #MAGA rallies and voters balked.
Referendum on Trump
Midterm elections in America are always seen as a referendum on the sitting president but Trump has made this one entirely about himself by fanning the fears of his base of mostly white voters with inflammatory speeches. The 2018 election represents more Senate and House races appear on their ballots. Barack Obama said the "character of the country" is on the ballot as a spate of hate crimes and politically motivated attacks rocked the country. When Trump wakes up on Wednesday morning, it will be a different American political power equation he will encounter, one where he will be held accountable and he will be hounded.
Not a blue wave but a pink surge
Stung by Trump's denigration of women both before he took office and till date, a record number of women ran for the US House this midterm and did well for themselves and their party. Nearly 100 women have been elected to the House tonight, by 11 pm. Did Trump see it coming? Yes, but the best he could muster up in response is to put a bunch of White House insiders — all women — on the stage in the fag end of the campaign and then take a cheap jab at trying to win over women voters saying "they don't want it, they don't want the migrant caravans coming into this country. They don't feel safe!" Too little too late. By then, 36 million votes had already been cast. The House is getting its first two Muslim women and Massachusetts is getting its first black congresswoman while Arizona and Tennessee stand to elect their first woman senators in Tuesday's midterm elections. Several female winners will take office as trailblazers, marking firsts for their race and gender.
The Democrats find a star
Finally, a young white man with charisma from America's south — Beto O'Rourke brings that elusive X factor to become a national Democratic phenomenon. O'Rourke has shattered fundraising records and set off whispers that he could be a credible 2020 White House contender. A Democrat hasn't won a Texas Senate seat since 1988, and no one from the party has captured any statewide office since 1994, the nation's longest political losing streak. O'Rourke lost a close race in Texas but he and other Democrats who pulled off wins tonight prove that candidates and charm matter.
Turbocharged younger voters
Typical midterm elections tend to draw out an older, whiter electorate and fewer single women than presidential years. But deep disdain for Trump among the younger generation has changed the deal. We saw strong turnout tonight from supercharged younger voters stung by the outcome in 2016, and deeply aware that their generation could have made the difference for Hillary Clinton. A new poll from Harvard Institute of Politics this week found that 18-to-29-year-olds were far more likely to vote in Tuesday's midterm election than they were in 2010 and 2014.
Healthcare matters
"They've gone local…yeah, they've gone local for this election," Trump whined as he closed out his arguments to voters across key battlegrounds. That's right. As Trump manufactured conspiracy theories in closing weeks about a socialist takeover by the resistance the Democrats stayed laser-focused on health care at a time when insurance premiums and the price of prescription drugs is at risk of going through the roof. Their big message: Vote for us and pre-existing conditions will be covered in your insurance. It worked. "Understand why you won", strategists are telling Democrats, back from a prolonged stint in political wilderness.
World
White House deputy press secretary Andrew Bates said that it wasn't surprising that Jeff Bezos' tweet came after US president Joe Biden met with labour organisers, including Amazon employees
World
The seven-day average percentage of positive COVID-19 test results rose to 5.18 per cent in New York City on Monday with daily new COVID-19 cases in the United States on the rise since early April
World
The protocol approved for use in the United States includes two medications. The first one, mifepristone, blocks a hormone called progesterone that is necessary for a pregnancy to continue. The second, misoprostol, brings on uterine contractions