US lawmaker Mike Noel blames 'tree hugger' environmentalists for wildfire in Utah that displaced 1,500
A Republican state lawmaker blamed federal mismanagement and lawsuits by 'tree hugger' environmentalists for the blaze that has burned 13 homes and forced the evacuation of 1,500 people
Salt Lake City: Insisting that logging could have cleaned up dead, bug-infested trees that are fueling a Utah wildfire, a Republican state lawmaker blamed federal mismanagement and lawsuits by "tree hugger" environmentalists for the blaze that has burned 13 homes and forced the evacuation of 1,500 people.
A conservation group called that contention "shameful" and misleading, saying it fails to take into account climate change and drought.
In addition, a US Forest Service researcher said logging probably would not have made a big difference in the high-altitude fire that is sending embers from tree-to-tree over long distances — normal for the ecosystem.
Utah state representative Mike Noel said on Tuesday that he wants to use the fire near the ski town of Brian Head and a popular fishing lake to highlight the imbalance of power afforded environmental groups under previous presidents and to ease bureaucratic and legal blockades for logging companies. He believes the Trump administration will provide a more receptive audience for his plea.
The blaze is one of several in the West. Crews in California were making gains against two new fires that spread quickly, and firefighters in Idaho battled five lightning-sparked wildfires burning in grass and brush.
Crews dealt with windy conditions as they battled a northern Arizona wildfire that has burned nearly 7 square miles (18 square kilometers).
Authorities say the Utah fire was started on 17 June by someone using a torch tool to burn weeds on private land.
Noel contends it wouldn't have spread as fast if federal forest lands had been cleared of dead trees.
A video of his Monday rant against environmentalists generated social media buzz and sparked new debate about whether logging could help prevent Western wildfires. He joined several other state and county officials in speaking out.
"When we turn the Forest Service over to the bird and bunny lovers and the tree huggers and the rock lickers, we've turned our history over", Noel said. "We are going to lose our wildlife and we are going to lose our scenery, the very thing you people wanted to try to protect. It's just plain stupidity".
Steve Bloch, legal director of the Southern Utah Wilderness Alliance, said Noel's assertion is an over-simplification of wildfires that are the result of fire suppression, climate change, drought and unpredictable winds.
"It's shameful that Noel has chosen to exploit the fire and mislead the public by saying that conservationists are to blame for this event", Bloch said.
Stiff winds and hot temperatures have made the Utah blaze the largest in the nation at 78 square miles (201 square kilometers). The estimated cost of fighting the blaze has reached $11 million.
Finney said logging companies generally can't make money in operations at high elevations because the trees don't grow back quickly enough and logistics are difficult.
Bloch said his group hasn't challenged logging in the area of the Utah fire in two decades. But Noel says the lawsuit in the early 1990s delayed a Forest Service plan to get rid of an emerging cluster of bark beetles before it spread.
Meanwhile in California, firefighters had two major blazes under enough control to allow evacuated residents to return to their homes.
Mandatory evacuations for dozens of homes were called for in a wildfire in rugged foothills east of Los Angeles that broke out Tuesday, but residents there were allowed back home within a few hours.
The blaze erupted and quickly surged in hot, dry, windy weather.
A half-square-mile (1.4 square kilometer) wildfire erupted and quickly surged in hot, dry, windy weather near Highland in San Bernardino County. It was climbing ridges and moving away from homes but came frighteningly close to a subdivision, prompting the evacuations, US Forest Service spokeswoman Gerrelaine Alcordo said.
In Central California, a 2.5-square-mile (6.5 square kilometer) wildfire that burned at least one building was 60 percent contained. About 250 residents were ordered from their homes in the area of Santa Margarita after the blaze erupted Monday, but on Tuesday night they were told they could return home.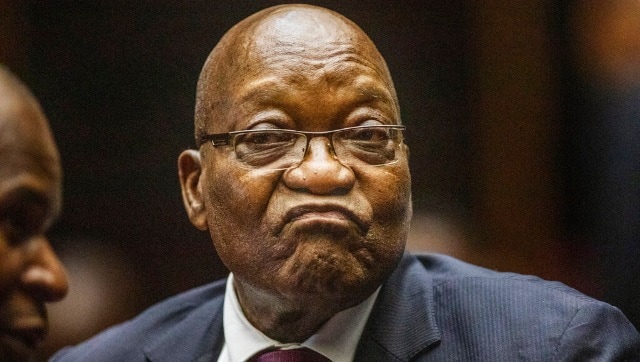 World
The violence broke out after Zuma began serving a 15-month after he refused to comply with a court order to testify at a anti-corruption probe
World
Antony-blinken News: Antony Blinken's India visit, US Secretary Of State Antony Blinken Arrives In Delhi On A Two-day Visit To India,will meet Indian Prime Minister Narendra Modi and Foreign Minister S Jaishanka, and Doval Today, Security High on Agenda as Blinken Meets Jaishankar,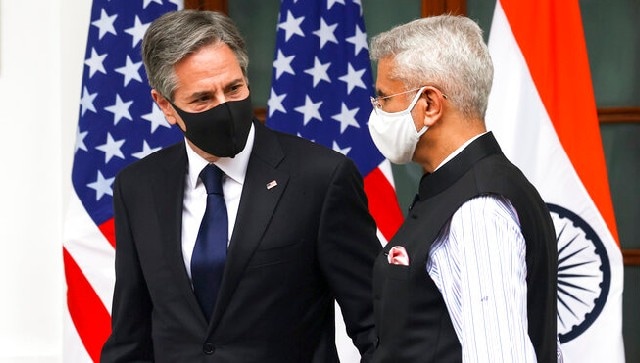 World
At a joint presser held after the meeting, Antony Blinken expressed the Biden administration's intent to grow stronger bilateral ties with New Delhi and stressed on the importance of cooperation on various regional and global issues