India-US 2+2 talks: US defence official says America 'bullish' on high level meet even as concerns rise over S-400 deal
The upcoming India - US - India 2+2 talks - an apex bilateral meetup in New Delhi next week - is not just 'historic' but will throw up a set of 'very concrete outcomes' which will serve as enablers for the India US relationship well beyond the high optics of September 6 and 7, a top official of the US Defence Department in Washington DC Wednesday.
The upcoming India-US 2+2 talks — an apex bilateral meet in New Delhi next week — is not just 'historic' but will throw up a set of 'very concrete outcomes' which will serve as "enablers" for the India-US relationship well beyond the high optics of 6 and 7 September, a US Defence Department official familiar with the preparations said in Washington DC Wednesday. Headlining the US approach to the India-US talks are two words: "operationalising" and "enabling" the relationships that already exist on the basis of years of work by multiple governments on both sides.
Randall Schriver, Assistant Secretary of Defence for Asian and Pacific Security Affairs at the US Department of Defense, made these comments during an hour-long fireside with Ashley Tellis at the Carnegie Endowment for International Peace focussed specifically on the India-US 2+2 scheduled for next week in New Delhi.
US defence secretary James Mattis and Secretary of State Mike Pompeo are scheduled to meet India's foreign minister Sushma Swaraj and defence minister Nirmala Sitharaman on 6 September. Mattis and Pompeo will also call on Prime Minister Narendra Modi.
The US team gearing up for the talks, according to Shriver, is plotting the dots on the basis of the speeches that  Modi and Mattis gave at the Shangri La dialogue. Schriver said the upcoming talks will be very different from bilaterals where the energy and enthusiasm dissipates after the actual meeting itself and instead be one that "enables" a more substantive and continuing relationship between the countries' top bureaucrats well after the apex level talks. "There are times when we talk, meet and go away, this is not going to be one of those," Shriver said.
Even as Shriver spoke for the US agenda on a wide range of issues, analysts warn about the threat of US sanctions on India if its purchase of Russia's S-400 strategic surface-to-air missile (SAM) system goes through. India has plans to invest close to $6 billion for five complete Russian S-400 systems. Yet, Schriver's comments leaned heavily on the brighter side of India-US relations. Highlights are summarised below:
'We are not anti-anybody or counter-anybody'
"At the core is our belief that we're promoting a positive, affirmative vision for the region. It's not necessarily anti-anybody or counter-anybody. It's just affirming the principle of a free and open Indo-Pacific. The core of that is we believe countries should have sovereign control to make decisions free from coercion, pressure... and have free, open, reciprocal trade relationships. We mean commerce, navigation, broad participation economically. We know there are threats to that from predatory economics but we don't seek influence or control."
'We're quite bullish'
"Our interests are very compelling on the defence side. We're quite bullish at the US Department of Defense. We're really the beneficiaries of decades of great work, the Bush administration, working through the civil nuclear deal, the creation of a major defence partner label during the Obama administration — it's been evolutionary in nature. We benefit from leadership on both sides willing to take some risks. We'll be able to navigate this and come out on the other side and be able to say we were able to build on all that came before.
US taking cues from Modi speech at Shangri-La Dialogue
"I would suggest lay side by side Secretary Mattis' speech at Shangri La and Prime Minister Modi's speech at Shangri La. We are not searching for common ground and convergence — there's a lot of that already. Our goal is really to operationalise that with India as a partner. The specifics will take form, some of that will be in the defence area, development assistance area. That's what we are working on.
Resistance coalescing around China is an upside
"If you're against free and/or open, then there's an onus there to explain what you don't like about it. It's not so much about countering any particular country but China's behaviour, things they've articulated…. They're very clear. They're articulating a very different vision and that's obvious in their economic strategy, in their Belt and Road Initiative — the coercive approach to influencing the politics of others. The world we live in, it's allowing others to coalesce around the resistance to this and that's an upside. We are more dependable partner in the Indo-Pacific — that's what we'd rather say than saying don't do this or that with China. That's unrealistic, given China's size, influence and geography. China will certainly be a factor in whatever we do going forward.
'US-India relationship has matured'
"The relationship has matured to the extent that we can think of how we can together address problems of third parties. We will talk of developmental assistance and common effort for third parties. That is where our relationship is. True in the security area as well. We exercise to improve readiness and real world possibilities. Multilateralising those opportunities is part of the 2 + 2 talks.
'The Quad was born in reality before it was born as a concept'
"In my opinion, the Quad began on 26 December, 2004 — which was the day of the great tsunami in Southeast Asia when the four countries that responded were India, Australia, Japan and the US. We responded because we are like minded and felt the compelling need to help and had the willingness to cooperate. In a way, the Quad was born in reality before it was born as a concept. Now, we're looking at this as a potential vehicle to see how it could promote a range of our interests in the Indo-Pacific. It'll move at a pace and scope that all four are comfortable with and that's been the constraint historically, right. So, it's not at the pace we may like but we'll get to it, eventually.
'We note that India has a better relationship with China this year'
"We note that India has a better relationship with China this year than the last… The last year was pretty bad. We want a good relationship with China too. We have some clear areas of disagreement on the South China Sea, on Taiwan... but we want a better relationship with China. So we'll work with our friends in India and try to navigate all that."
World
Xi Jinping has said he is "concerned" about the virus situation in the Chinese countryside, state media reported, as millions of people head to rural hometowns ahead of upcoming Lunar New Year celebrations.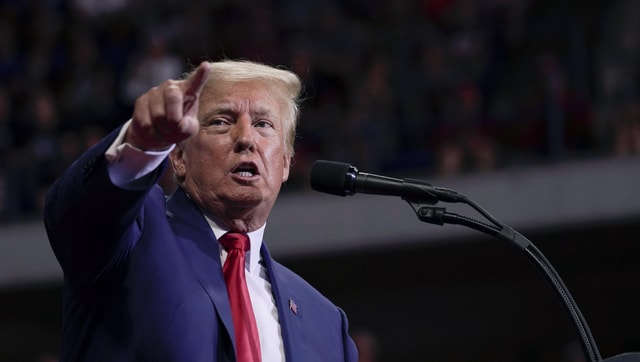 World
Former US President Donald Trump relied heavily on support from evangelical voters during his 2016 campaign.
Opinion
With Egypt being the 'Gateway to Africa' for India and a vital partner in the region, it is perhaps the right time to add Egypt to the very privileged list of nations to forge a 'comprehensive strategic partnership'