US imposes new sanctions on Russia over action in Ukraine
The move by the Trump administration came days after US Senate passed new sanctions on Russia.
Washington: The US imposed additional sanctions on Russia over its actions in Ukraine, blacklisting 38 individuals and entities, the US Treasury Department said.
The targeted individuals and entities include an entity that has engaged in the evasion of existing sanctions, two Russian government officials and two individuals acting for or on behalf of a government official, the Treasury Department said in a statement on Tuesday.
The blacklist also includes two entities that are owned or controlled by an individual previously designated, and 11 individuals and entities that operate in the Crimea region, Xinhua news agency reported.
As a result of the move, any property or interest of the designated persons in the US will be blocked and transactions by Americans involving these persons are generally prohibited.
"These designations will maintain pressure on Russia to work toward a diplomatic solution," said Treasury Secretary Steven Mnuchin.
"This administration is committed to a diplomatic process that guarantees Ukrainian sovereignty, and there should be no sanctions relief until Russia meets its obligations under the Minsk agreements," he said.
The move by the Trump administration came days after US Senate passed new sanctions on Russia, a strong congressional response to alleged Russian meddling of the 2016 US presidential election.
On Saturday, Russian President Vladimir Putin said new US sanctions against Russia, if implemented, will harm bilateral relations between the two countries.
"This will not lead to a deadlock and a collapse ... but will certainly complicate Russia-US relations. I think this is harmful," Putin was quoted by Russian news agency Tass as saying.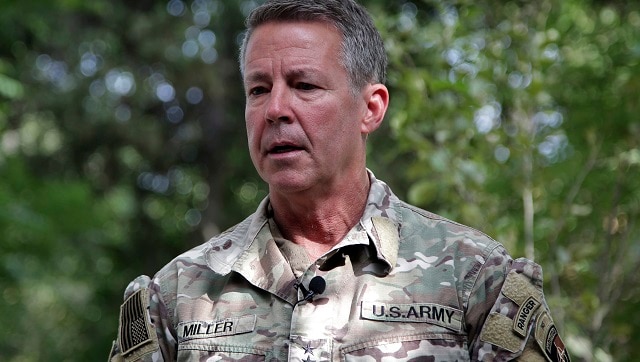 World
General Scott Miller has served as America's top commander in Afghanistan since 2018. He handed over command of what has become known as America's 'forever war' to Marine General Frank McKenzie
Sports
The Ukrainian gymnast tested positive for the banned substance meldonium in August 2020 and was banned after a ruling by the Gymnastics Ethics Foundation, which hears disciplinary cases in the sport.
World
The World Health Organisation in no uncertain terms makes it clear that masks should be used as part of a comprehensive strategy of measures to suppress transmission and save lives.