US-EU debate if trade pact's private arbitration system stops nations from legislating in public interest
The Investor-State Dispute Settlement (ISDS) clauses in trade agreements, or such private arbitration mechanisms, have seen a "runaway" proliferation in recent decades.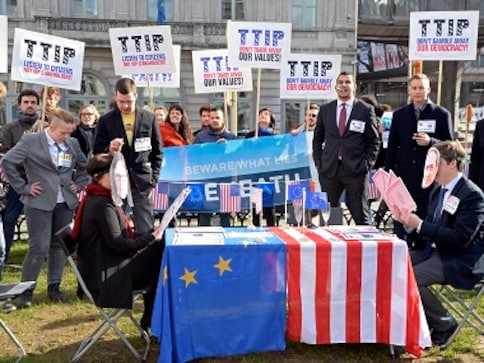 The Parliamentary Assembly of the Council of Europe held a hearing on 19 April to debate the compatibility of privatised dispute settlement mechanisms in trade agreements, particularly in the context of the ongoing negotiations under Trans-Atlantic Trade and Investment Partnership (TTIP), and their compatibility with human rights.
A document accessed by Firstpost reveals that a report is being compiled based in part on a hearing on the 'Human rights compatibility of investor–State arbitration in international investment protection agreements', an initiative led by Parliamentary Assembly member Pieter Omzigt, which is to be submitted to the Council of Europe in 2017. The report will explore the following topics: a proliferation of arbitration clauses in bilateral and multilateral trade deals; effect of investors' activities on health, environment protection and labour rights; fair and equal (FET) clauses in trade deals; the usefulness of human rights impact assessment; achieving a balance between concerns of investors and the host State; and compliance of arbitration procedures with basic fair trial requirements.
The Parliamentary Assembly of the Council of Europe (PACE) — made up of more than 300 parliamentarians drawn from the national parliaments of 47 member states — focuses on upholding human rights, democracy and the rule of law. It oversees the European Court of Human Rights (ECHR) and meets in Strasbourg.
The hearing is particularly relevant because the TTIP — currently being negotiated by the US and the 28-member EU— contains a proposal for an Investment Court System which is a private arbitration system that bypasses national courts in cases of disputes.
One of the three members invited to debate the matter was Alfred de Zayas, the UN special rapporteur on the promotion of a democratic and equitable international order, who argued that secret trade deals adversely impact countries, particularly developing countries.
In a hard-hitting statement to the Parliamentary Assembly, de Zayas stated, "It is States, particularly developing States, and their populations that need protection from predatory investors, speculators and transnational corporations, who do not hesitate to engage in frivolous and vexatious litigation, which are extremely expensive and have resulted in awards in the billions of dollars and millions in legal costs."
The Investor-State Dispute Settlement (ISDS) clauses in trade agreements, or such private arbitration mechanisms, have seen a "runaway" proliferation in recent decades. They have been the subject of much polemical and dramatic debates in the European continent with proponents of such deals highlighting opportunities for growth and job creation while its opponents state that such deals ignore legitimate concerns of impact on human rights, including social rights, and the rule of law.
Pieter Omzigt from the European People's Party was the rapporteur appointed by the Committee on Legal Affairs and Human Rights of the Council of Europe to compile a report to be submitted to the Council in 2017. He states in a concept note, "In my view, human rights, democracy and rule of law, the Council of Europe's core values, are also central to any discussion on ISDS/OCS".
International investment treaties are agreements between host States that define the rights of investors in each other's territories. A European report titled Profiting from Injustice reveals that investment arbitration cases have surged in the last two decades from 38 cases in 1996 to 450 known investor-state cases in 2011. By the end of 2011, 3,000 international investment treaties had been signed that led to a surge in arbitration industry.
"The boom in arbitration has created bonanza profits for the investment lawyers paid for by the tax payers,"states the report, and with the average cost for each arbitration case per investor-state dispute costing US$8 million and sometimes exceeding US$30 million, governments have to cough up significant amounts of money for fighting such disputes. For instance, the Philippine government spent US$58 million defending two cases against German airport operator Fraport, and tobacco giant Philip Morris sued Australia and Uruguay for anti-smoking measures that the governments had adopted. Many countries such as Bolivia, Ecuador and Argentina have terminated several investment treaties that bind them to arbitration decisions by the International Centre for Settlement of Investment Disputes (ICSID), while countries like South Africa are overhauling their investment policies to better align with their development priorities.
De Zayas emphasised that ISDS had created a "regulatory chill" forcing back social legislation and preventing environmental protection measures out of fear of being sued for billions of dollars before ISDS tribunals. He outlined cases in Canada, Germany, the United States and Colombia.
"Existing ISDS should be phased out and no new investment treaty should contain any provision for privatised or semi-privatised dispute settlement. It is wholly unnecessary in countries that are party to the International Covenant on Civil and Political Rights, which commits States to due process and the rule of law," said de Zayas.
Most of these arbitrators are drawn from the Northern hemisphere with just 15 arbitrators from Europe, the US and Canada having decided 55 percent of these international arbitration cases. "Several prominent arbitrators have been members of the board of major multinational corporations, including those which have filed cases against developing nations," states the report and calls for "a switch to independent, transparent, adjucative bodies" in such disputes.
Such arbitrations are usually shrouded in mystery and take place outside public scrutiny. Neither are the decisions available publicly nor is there a body of case laws to predict outcomes. All of this stand in sharp contrast to judicial proceedings.
These massive multilateral and bilateral trade deals have increasingly come under public scrutiny for the opacity of their terms and conditions, their potential violations of international human rights laws and the desirability of establishing "dual court systems" that bypass national courts who the investors have termed as being increasingly "nationalistic" and often corrupt and inefficient.
According to a report called ISDS in TTIP: The Devil is in the Details, EU member states have ISDS clauses in 1,365 international investment agreements (IIAs) with non-EU states and additionally, about 190 among themselves.
A chapter on IP protection, leaked by US-based NGO Knowledge Ecology International (KEI), shows that Regional Comprehensive Economic Partnership (RCEP) — a multilateral trade deal of ASEAN countries — could restrict the access of generic medicines from India to millions of poor across the world.
"Proposals in the RCEP negotiations are trying to introduce the IP measures far tougher on access to medicines than what is required under international trade rules," Leena Menghaney, South Asia head of Medecins Sans Frontieres' Access Campaign, told International Business Times.
"It will bind India and China, two countries left out of the TPP," said Jamie Love, director of KEI. He said that many of the worst features of the TPP have been proposed to be added to RCEP like damages provisions.
"There are proposals for patent extensions, restrictive rules on exceptions to copyright, and dozens of other anti-consumer measures, illustrating the power of right-holder groups to use secret trade negotiations to limit democratic decisions that impact access to knowledge, the freedom to innovate and the right to health, in negative ways," Love said.
Another area of concern are abusive "stabilisation clauses" through which large MNCs negotiate terms and conditions that tie down a government and its subsequent successors through bilateral and multilateral IIAs for a long stretches of time precluding any public welfare move that the host government may want to make in terms of labour rights, environmental standards, health welfare etc.
"Two ontologies seem to have been lost in the ideologically-driven corporate narrative," de Zayas stressed. "Firstly, the ontology of the State, its raison d'être to legislate in the public interest, including preventative measures to avert potential harm to the population. Secondly, the ontology of business, which is to take calculated risks for profit."
The final report that the Parliamentary Assembly will submit to the Council of Europe will also examine Fair and Equal treatment clauses in the IIAs with a "novel" approach of balancing interests of the investor and that of the State, while also the possibility of doing "human rights impact assessment" in IIAs.
"The time has come to abolish ISDS and ICS and to ensure that henceforth, trade works for human rights and not against them," de Zayas added.
Business
Commerce and Industry Minister Piyush Goyal said on Monday that the government will protect the interest of domestic industry before entering into the proposed mega free-trade pact RCEP, which is in the last phase of negotiations
World
Singapore's prime minister on Thursday said he hoped to complete by the end of the year a massive China-backed regional trade pact that has taken centre stage as Washington embarks on a unilateral, protectionist agenda.
World
Regional Comprehensive Economic Partnership meet in Tokyo witnessed 16 Asian countries' trade leaders agreeing to speed up the agreement on regional trade pact amid rising US protectionism