US election 2016: Eight things common between Narendra Modi and Donald Trump
Even though poles apart in their personalities, both Narendra Modi and US President-elect Donald Trump had many commonalities during the run-up to their respective campaigns to office
Narendra Modi is not India's Donald Trump. Nor is Trump the American version of Modi. As their personalities go, both are the polar opposite of each other. While Modi whispers, Trump bugles across oceans. And unlike Modi who packs in subtle metaphors to make a point, Trump has no qualms about mouthing vulgar words (f**k and p***y). While Trump was an electoral greenhorn and a businessman, Modi had seen and won elections before and had been an ideologue, even though his ideology raises the hackles of many.
But there were many commonalities — I see at least eight — during the run-up to their respective campaigns for the office of the prime minister of India and the White House.
Both had a message
Unlike their rivals, both Narendra Modi in 2014 and Donald Trump in 2016 had a message to deliver and an agenda to unravel to the voters. Democratic candidate Hillary Clinton was so busy rebutting Trump that she forgot to offer a meaningful to-do list of her own for the Americans. Likewise, the leaders of the Congress and Modi's other rivals spent most of their time painting him as a communalist who could only divide the nation. But undaunted, both Modi and Trump dished out what mattered to the voters: jobs for instance. They persuaded voters to give them a chance.
Both hated status quo
That's what the voters adored about them. The Indian voters had no doubt that the Congress, if elected again, would offer them nothing more than the status quo as prevailed during UPA-1 and UPA-2 which, to them, largely meant scams. And Hillary looked to be no more than the continuation of the Barack Obama legacy which left large sections craving for more. Trump and Modi vowed to shake up the status quo, promising a change and a better tomorrow, which was what voters in both countries wanted.
Even their victory tweets stuck to this theme of change:
India has won! भारत की विजय। अच्छे दिन आने वाले हैं।

— Narendra Modi (@narendramodi) May 16, 2014
Such a beautiful and important evening! The forgotten man and woman will never be forgotten again. We will all come together as never before

— Donald J. Trump (@realDonaldTrump) November 9, 2016
They spoke against corruption
During the 2014 poll campaign, one of Narendra Modi's main chants was corruption, which he described as a termite that was eating away the Indian system. He said the BJP "is for a mission and the Congress is for a commission". By repatriating black money stashed abroad, by simplifying tax regime and by expanding e-governance, Modi promised to reduce corruption. This seemed to make sense to many voters. Now they know they weren't wrong.
As for Trump, he thundered at a rally: "Real change also means draining the swamp of corruption in Washington... If we want to make America great again, we must clean up this corruption."
For the blue-collar white workers who think of the Washington-driven system as an epitome of corruption and wheeling-dealing, Trump seemed to be the man with a large broom to tidy up things.
Both are considered "outsiders"
A billionaire property tycoon who had never held an office, Trump is deemed to be an "outsider" to the system. So was Dwight Eisenhower who became the President in 1953. Washington Post writer EJ Dionne Jr said: "...Insiderism is unpopular this year. But, because of who Trump really is, his phoney outsider-ism is a far bigger threat to our country."
Considering that Trump's own financial reputation was not lily-white, many wonder whether he really is an "outsider" to the corruption that oils the American political machine. But the voters — at least half of them — thought he was. Better still for Trump, they thought he was an "anti-establishment rebel".
Modi too is an outsider, at least to Lutyen's Delhi. In an interview to Network18 Group Editor Rahul Joshi on 2 September, Modi said: "In Delhi's power corridors, there's an active group of people, which is dedicated to only a few. It could be because of their own reasons or personal gains..."
Dividers and disrupters
Modi was accused of having an agenda against minorities which his rivals said would divide India horribly. All that Modi spoke up against was the appeasement of minorities which, of course, was interpreted by rivals as the rattling of the communal sabre.
On the other hand, Trump openly spoke not only against Muslims but also included in his sweep of razor-sharp comments the immigrants, the LGBT community and even women in a way that stunned the US and the world. Trump also promised to be a disrupter when he raved against trade and other agreements starting with NAFTA (North American Free Trade Agreement). Whatever the reason why each was called a disrupter and a divider, both Modi and Trump picked up votes.
Media didn't get along with both
The media didn't get along with both Trump and Modi in their respective countries. Forget the "liberals" who populate the American media, the press there has a lot against the President-elect: Xenophobia, misogyny, gropings, cuss words, tax evasion, financial wrongdoing in his real-estate business. But the Indian media hadn't proven any allegations against Modi, at least as yet.
If Modi got away with the Indian media, it's also partly because the hostility is more or less confined to some English newspapers and channels. And Trump got away with a bad press because voters apparently didn't care much for it.
Branding of voters
All those who voted for Modi were branded as communal. Similarly, all those who plumped for Trump are being called racist. The American liberals, be they in media or politics, are making the mistake of not investigating the real reasons why Trump got votes.
In the case of Modi, India's liberals never asked themselves why so many people voted for a man whom they had portrayed as the personification of evil.
The ticking of doomsday clock
Trump-baiters were quick to announce after his election that the doomsday clock was ticking, as did the anti-Modi lobbies. Well, Modi is halfway into his term, and India is still in one piece. Though the man himself maintains a sphinx-like silence, the Hindu voice, both of the sane and insane kinds, is louder now, but India is not doing badly. He has just scrapped Rs 500 and Rs 1,000 notes.
As for Trump, wait and watch.
Views are personal. The author tweets @sprasadindia
World
Merkel is to relinquish power after German elections on 26 September, bringing an end to her 16 years in office that has seen her work with four different French leaders
India
Modi has been deemed to be one of the biggest supporters and proponents of Yoga.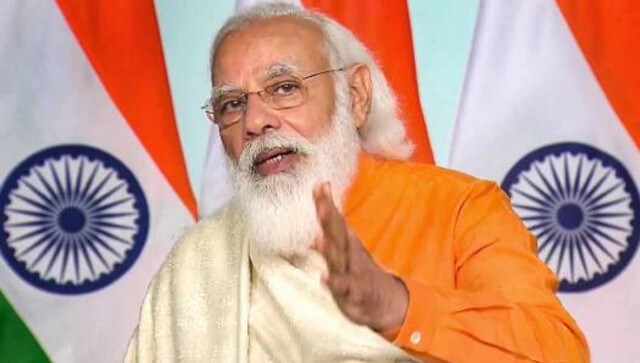 India
Huge celebrations have been planned for the occasion, with over 71,000 diyas to be lit at Varanasi's Bharat Mata temple