Five sailors injured, 10 missing after US Navy destroyer collides with merchant ship near Singapore
A US destroyer collided with a merchant vessel east of Singapore on Monday and initial reports indicate it has sustained damage, the US Navy said
Singapore: Ten sailors are missing and five injured after a United States destroyer collided on Monday with a tanker east of Singapore, the United States Navy said, adding search and rescue efforts were under way.
"There are currently 10 sailors missing and five injured," said the navy in an update on the collision between the guided-missile destroyer USS John S McCain and merchant vessel Alnic MC in the early hours.
"The guided-missile destroyer USS John S McCain (DDG 56) was involved in a collision with the merchant vessel Alnic MC while underway east of the Straits of Malacca and Singapore on 21 August," said a statement.
"Initial reports indicate John S McCain sustained damage to her port side aft. Search and rescue efforts are underway in coordination with local authorities."
The statement did not give further details.
Senator John McCain, after whom the destroyer is named, took to Twitter to express his concern.
Cindy & I are keeping America's sailors aboard the USS John S McCain in our prayers tonight - appreciate the work of search & rescue crews https://t.co/jzk9giXbfg

— John McCain (@SenJohnMcCain) August 21, 2017
The collision was reported at 5.24 am (9.24 pm GMT Sunday) while the ship was heading for a routine port visit in Singapore, the statement said.
World
The two-headed turtle was found during a routine inventory of sea turtle nests and the park's sea turtle patrols eventually released it into the ocean
World
Posted by South Carolina State Parks on Facebook, the intriguing image has gone viral. As per the park, it might be the result of a genetic mutation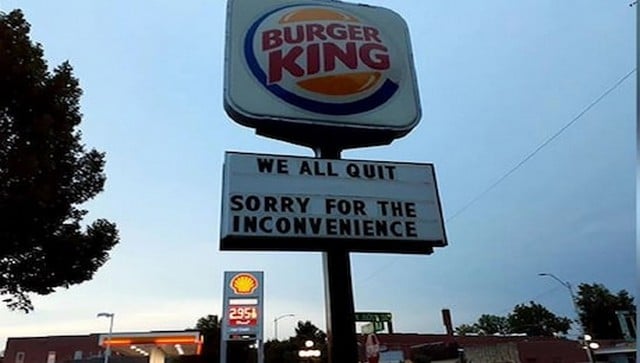 World
Put up by disappointed workers trying to send a message to the management, the sign reads "we all quit" and "sorry for the inconvenience"