US Deputy Attorney General Rod Rosenstein is leaving; sparks intense buzz that Mueller bombshell report is ready to land
US Deputy Attorney General Rod Rosenstein, the most dogged human guardrail for the Robert Mueller probe into alleged Russian collusion with the 2016 Donald Trump election campaign is reportedly on his way out of the Justice Department.
New York: US Deputy Attorney General Rod Rosenstein, the most dogged human guardrail for the Robert Mueller probe into alleged Russian collusion with the 2016 Donald Trump election campaign is reportedly on his way out of the Justice Department after weathering two years of nonstop threats by the US president to fire him. One of the most fascinating characters in the Trump era bureaucracy, Rosenstein is the man who appointed Robert Mueller, protected the Russia probe every inch of the way and knows every detail of the probe that is sucking the oxygen out of the Trump White House. Trump has made it clear for long that he wants Rosenstein out, now he will get it but Rosenstein may have stayed long enough that his exit doesn't make life any easier for Trump.
Endgame time?
So, what does a Rosenstein exit mean? Is this that moment when the Mueller - Trump confrontation becomes real? The air is thick with the smell of a looming bombshell, we just don't know what form it will take. We don't know what all Mueller is looking for and what he has found but now, there's a big neon sign that if Mueller's looking for Russia-Trump campaign collusion, there's something close to a smoking gun in the latest redacted filings by the special counsel.
Until a few months ago, the question was always about who would make sure Mueller's work could continue if Rosenstein is booted out. Now, after the torrent of Mueller filings before Christmas 2018, that question is less of an issue. Mueller, by all available accounts so far, is almost through with his work. His final report, the ultimate firestorm, is likely to drop soon, even if a lot of his work is already out there in court filings. Even as the Rosenstein exit story got fleshed out all of Wednesday, Rosenstein has has whispered to confidantes that he's not leaving without ensuring a safe landing for the Mueller report.
Rosenstein as witness?
It's also possible that Rosenstein knows he's needed as a witness after the Mueller report lands and wants to leave to avoid conflict of interest issues. How dangerous is that for Trump? Immensely. In addition to every word of the Mueller report, Rosenstein can testify on conversations he has had with the US president and if he, like fired FBI chief James Comey, has ever been pressurized to do illegal things to protect White House occupants or their cronies.
"One step before treason"
Meanwhile, news is tricking in that Trump's AG pick William Barr has pledged not to interfere in the Mueller probe. All this comes less than 24 hours after the latest batch of stunning revelations that Trump's former campaign chief Paul Manafort passed on sensitive polling data to a Russian operative. Is this the final piece in a giant puzzle that comes tantalizingly close to Trump campaign "collusion" with the Russians? Yes, say analysts picking through the trove of Mueller memos already in public domain. If Mueller connects the dots from here and comes to the conclusion that this is the data that Russians used to rig election results in key swing states, then we're looking at wrongs that are "one step before treason", said Malcolm Nance, terrorism analyst, on prime time telly today.
New York prosecutors scare Trump more than Mueller does
Although the Robert Mueller probe has more name recognition in the public domain, the real peril for Donald Trump comes from the way the Mueller probe and New York investigators are collaborating across a total of 17 different investigations into Trumpworld. The raid on Trump's former fixer Michael Cohen that blew the lid off the Trump storyline on hush payments to women was the work of New York investigators; they are a powerhouse team going after all the actors in the now famous Trump Tower meeting. Early on in his presidency, Trump has tried often to bend New York prosecutors to his will but his strong-arming tactics bombed.
Why hasn't Trump fired Rosenstein?
As for Rosenstein, if anyone is wondering why Rosenstein is heading towards the exit, the real question is how he is still working at the Justice Department and why Trump hasn't fired him yet. Even Rosenstein believed he was about to be canned last September but that did not happen. That likely has something to do with terrific poll numbers for Mueller. If Trump fires Rosenstein or had fired him, it will be widely viewed as an indication that he is preparing to shut down the Mueller investigation. Data even from Trump's favorite network Fox say that public reaction to this will be a huge negative.
The revolving door
A new name will soon be injected into this complex web: William Barr. Barr, Trump's pick to replace former AG Jeff Sessions who was fired soon after the November midterm congressional elections, is set to appear for a confirmation hearing next week before the Senate Judiciary Committee, which must weigh his nomination before the full Senate considers his approval. If confirmed, Barr, who was U.S. Attorney General under the late President George H.W. Bush from 1991 to 1993, would oversee the investigation led by Mueller, a fellow Republican chosen by Rosenstein.
Barr's nomination is likely to meet heavy scrutiny regarding the ongoing investigation, particularly from Democrats, following reports he had written a memo in June questioning the probe. Rosenstein has said the memo had no impact on the department's work. What Trump has either ignored or brushed aside is this: The US Justice Department works like a big family. There may be bickering but it all stays within the family. Trump is the outsider here, his family is in the crosshairs and with Trump's firing of Comey began the revenge of the career bureaucrat against the US president. Rosenstein is part of the resistance, so is Mueller and so are the New York prosecutors.
Just in: House Democrats are going to subpoena Donald Trump's eldest son Donald Trump Jr over the infamous Trump Tower meeting with Russian operatives offering dirt on Hillary Clinton during the 2016 campaign. The White House is lawyering up for what promises to be a terrible year.
Find latest and upcoming tech gadgets online on Tech2 Gadgets. Get technology news, gadgets reviews & ratings. Popular gadgets including laptop, tablet and mobile specifications, features, prices, comparison.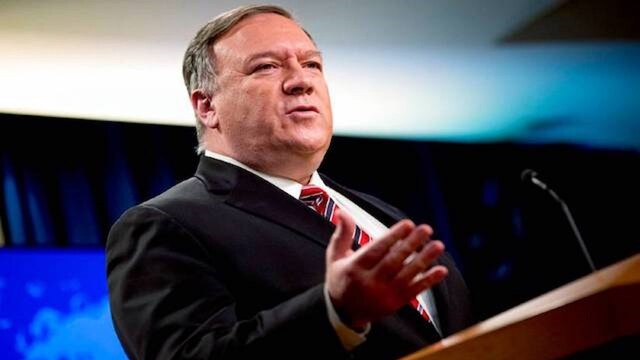 World
This decision, coming in the final weeks of the Donald Trump administration, is certain to anger China. Beijing has been stepping up its threats to bring the self-governing island under its control by military force
World
Chansley describes himself as a "digital soldier" of the far-right QAnon conspiracy theory that claims Trump is waging a secret war against a global liberal cult of Satan-worshipping pedophiles.
World
In the House, the number three Republican Liz Cheney said she would be voting to impeach, and called Trump's actions "a betrayal" of his office