US defence secretary Jim Mattis says US seeks to maintain balance of power in Indo-Pacific region
The Trump administration's first defence strategy seeks to maintain a balance of power in the Indo-Pacific region and prepare America for a power competition with Russia and China, US Defence Secretary Jim Mattis has said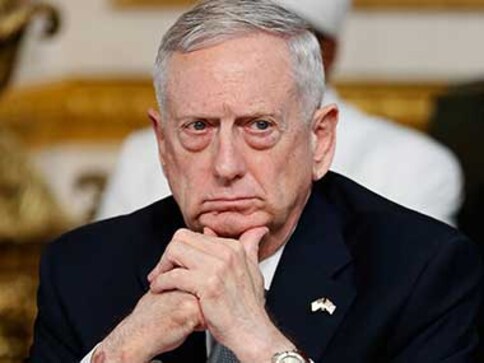 Washington: The Trump administration's first defence strategy seeks to maintain a balance of power in the Indo-Pacific region and prepare America for a power competition with Russia and China, US Defence Secretary Jim Mattis has said.
Unveiling the new defence strategy, Mattis told a Washington audience great power competition — not terrorism — is now the primary focus of America's national security.
As a result, he sought to increase the lethality of the American military.
In an apparent reference to Russia, he warned against "threaten[ing] America's experiment in democracy".
"If you challenge us, it will be your longest and worst day," he warned during his speech at the John Hopkins.
"We will continue to prosecute the campaign against terrorists, but great power competition — not terrorism — is now the primary focus of US national security," he said.
"This strategy is fit for our time — providing the American people military required to protect our way of life, stand with our allies, and live up to our responsibility to pass intact to the next generation those freedoms we enjoy today," he said.
Rogue regimes like North Korea and Iran persist in taking outlaw actions that threaten regional and even global stability, he said, adding that oppressing their own people and shredding their dignity and human rights, they push their warped views outward.
And despite the defeat of the Islamic State's physical caliphate, violent extremist organisations – like the Lebanese Hezbollah, IS, and Al Qaeda – continue to sow hatred, destroying peace and murdering innocents across the globe, the defence secretary asserted.
"We face growing threats from revisionist powers as different as China and Russia, nations that seek to create a world consistent with their authoritarian models — pursuing veto authority over other nation's economic, diplomatic, and security decisions," he said.
As part of the defence strategy, he said the US is going to build a more lethal force, will strengthen traditional alliances while building new partnerships with other nations.
Asserting that "everything we do must contribute to the lethality of our military", Mattis said changing US forces' posture will prioritise readiness for war fighting for major combat, making it strategically predictable for the allies and operationally unpredictable for any adversary.
The 14-page unclassified version of the national defence strategy said that one of its objectives is maintaining favourable regional balances of power in the Indo-Pacific, Europe, the Middle East, and the Western Hemisphere.
"A free and open Indo-Pacific region provides prosperity and security for all. We will strengthen our alliances and partnerships in the Indo-Pacific to a networked security architecture capable of deterring aggression, maintaining stability, and ensuring free access to common domains," the strategy said.
Without specifically mentioning India, Japan or other countries in the region, the strategy says with key countries in the region, the US will bring together bilateral and multilateral security relationships to preserve the free and open international system.
China, it said, is leveraging military modernisation, influence operations, and "predatory economics to coerce neighbouring countries" to reorder the Indo-Pacific region to their advantage.
As China continues its economic and military ascendancy, asserting power through an all-of-nation long-term strategy, it will continue to pursue a military modernisation program that seeks Indo-Pacific regional hegemony in the near-term and displacement of the United States to achieve global preeminence in the future.
The most far-reaching objective of this defence strategy is to set the military relationship between our two countries on a path of transparency and non-aggression, the strategy said.
"Concurrently, Russia seeks veto authority over nations on its periphery in terms of their governmental, economic, and diplomatic decisions, to shatter the North Atlantic Treaty Organisation and change European and Middle East security and economic structures to its favour," it said.
The use of emerging technologies to discredit and subvert democratic processes in Georgia, Crimea, and eastern Ukraine is concern enough, but when coupled with its expanding and modernising nuclear arsenal the challenge is clear, the strategy said.
World
Early this week the HRW released a report that documents the summary execution or enforced disappearance of 47 former members of the Afghan security forces
World
Government officials and politicians arrested since the 25 October coup will also be released as part of the deal
World
While Taiwan is invited for the summit, China isn't — a move likely to irk Beijing.