US-Canadian family rescued: Washington must not put up with Pakistan's pretence of 'co-operation' in hostage releases
The US administration does not seem to be too enthused by the Pakistani cooperation in the hostage release drama. Pakistan has played this game far too often.
The release of a US-Canadian family from the Afghanistan-Pakistan border after a grueling five years in captivity has drawn praise from the expected quarters on the co-operation that Pakistan has shown. Though this is largely confined to social media analysts, some expressions of gratitude are also emanating from sections of the US government. The public story is that the movements of the convoy carrying the American family were tracked by US intelligence, and the US intelligence informed the Pakistanis as it entered their territory. Thereafter the Americans were told that the hostages had been rescued in a shootout by the Pakistani Army.
The details of this dramatic rescue are unclear, but the whole operation was later described by the US as a "transfer of custody" rather than a rescue. The only other details known are that the criminal group was part of the Haqqani network and had entered Pakistani territory at Kurram Agency. The Haqqani's stamping ground is further down in the North Waziristan area. The Kurram border is home to Shia tribes who violently opposed the Taliban and their cohorts for years. However, Pakistan army operations virtually starved out these tribes by laying a siege to the only road passing into the plains. Subsequently, a peace accord was signed which virtually gave control of the area to the Haqqanis and the Taliban. Kurram is the shortest route from Pakistan to Kabul and has been considered a highly strategic area by the myriad groups who have infiltrated into Afghanistan over the last thirty years.
There is no doubt that kidnapping forms an important part of Taliban finances. The group's annual budget has been variously valued at between one to two billion dollars, which includes narcotics trading, taxation of smuggled goods of all kinds, mining and lumber among other sources. Kidnapping is assessed to provide around $500 million, with foreigners providing easy prey to roving bands of militants. Though western countries ostensibly refuse to pay a ransom, various countries have succumbed, and paid up. For instance, South Korea reportedly paid more than $20 million to release 19 missionaries that the Taliban were holding hostage. A construction engineer was similarly released reportedly after payment of $40,000 in ransom. The list goes on. Reliable research however indicates, that some portion of Taliban income goes not just to into the hands of various criminal groups who assist the Taliban with movement of hostages to Pakistan, but also to Pakistan intelligence operatives in the area. Some part is also said to be paid to the Frontier Corps who man the border regions.
The indisputable fact is not just that most important kidnapping incidents are linked to Pakistan, or Pakistan-based groups, but that dramatic "releases" happen when the Pakistan Army is under pressure. US Army Sargent Bowe Bergdahl for instance, was kidnapped by the Haqqanis in 2009 and was moved between Afghanistan and Pakistan for the five years that he was held in captivity. A reporter with the New Yorker spoke of an interview with a Haqqani leader in Islamabad, who had detailed knowledge of Bergdahl's whereabouts. That Pakistani intelligence was unaware of the kidnapping and frequent movements is to strain credibility. Bergdahl was finally released in May 2014 in a highly controversial exchange for five high profile Taliban prisoners in Guantanamo. In June, US drone strikes began again targeting the Tehreek-e-Taliban Pakistan, who have been the main perpetrators of attacks against the Pakistan army. One such strike narrowly missed Mullah Fazlullah, the bane of Pakistani counter-terrorism forces. In fact, the second half of 2014 marked an upswing of relations, after the serious rift following the killing of Osama bin Laden in Pakistan in 2011. This is how the game is played, and Pakistan is far better at playing this than the US.
Over time, terse reporting has indicated release of hostages of various nationalities including Swiss, Australian and British on Pakistani soil. Unsurprisingly, embassies are reluctant to share details of a release, and equally unsurprisingly, all want to keep the Pakistani intelligence "engaged". Pakistan has also been used by China in the very rare instances when its nationals have been kidnapped. This is however in an entirely different category. When Beijing orders, Pakistan obeys. Pakistan has been all eagerness to send back arrested Uighur militants to China, on one occasion at least by a military aircraft. There are however suspicions among Chinese officials that at least some of these are allowed into Pakistan territory after bribing Pakistani border forces. Even in this "all weather" relationship, the return of Uighurs from Afghanistan or Pakistan, provides Pakistan with an important counter to show its cooperation credentials.
This time round, the US administration does not seem to be too enthused by the Pakistani cooperation in the hostage release drama. However, more Americans are understood to be in Taliban captivity. One is Paul Overby who disappeared in North Waziristan, the area under control of the Haqqani network. He had been on his way to interview Sirajuddin Haqqani, the leader of the network, and now second in command in the Taliban. Another dramatic rescue can be expected in a few months, after which Islamabad will obviously ask for a payback. This has to be resisted strongly if the US administration wants a closure to this endless war. Pakistan has played this game far too often, as former CIA operatives will testify. The Pakistan Army's Afghan addiction has to end, and this requires a sustained use of forceful persuasion, not acquiescence to a profitable business of kidnapping.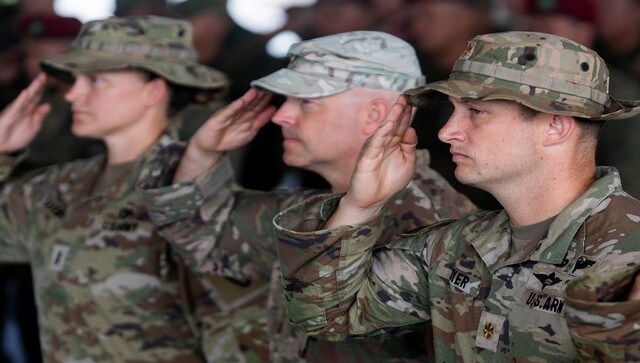 World
A 20-year-old Army private, Ana Basaldua Ruiz, was found dead in her quarters at Fort Hood, the huge Texas military base where she served, on March 13, the army press office at the base said in a statement
World
South Korean president Yoon Suk Yeol will meet Japan's PM Fumio Kishida today to hold high-level talks on several issues. The summit is important as it comes amid the historical feud between the two countries and the growing regional threat of China and North Korea
Explainers
The trilateral security partnership between Australia, the UK and the US aims at countering Chinese aggression in the Indo-Pacific. Experts say the deal could alter the balance of power in the region and that deterrence seems to be the best course of action against Beijing