US border 'detention centres' added to Wikipedia's list of concentration camps, sets off debate
As part of the 2018 Trump administration's family separation policy, nearly 2,000 minors were separated from their parents while trying to illegally cross the US-Mexico border and placed in detention centers.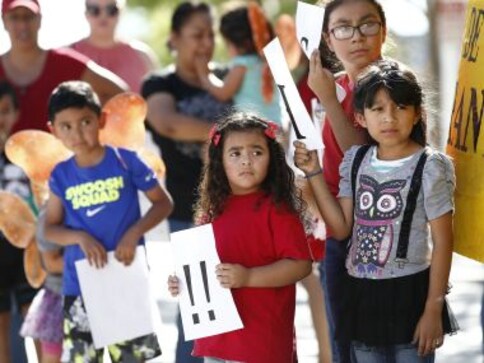 While US president Donald Trump remained defiantly unapologetic about his administration's border-protection policies in the face of rising national outrage over the forced separation of migrant children from their parents, Wikipedia has added "this shameful chapter of American history" to its list of concentration camps.
The new addition to the page titled "List of concentration and internment camps", says:
"As part of the 2018 Trump administration's family separation policy, nearly 2,000 minors were separated from their parents while trying to illegally cross the US-Mexico border and placed in detention centers. Rolling Stone likened these centers to "prisons" while The Houston Chronicle reported that a movement swelled online to call them "concentration camps." Similarly, former First Lady of the United States Laura Bush compared the images of the centers to US Japanese internment camps during the Second World War. 16 out of 34 of the centers located in Texas had previously been cited by Texas officials for more than 150 health violations. The former head of US Immigration and Customs Enforcement, John Sandweg, was critical of child separation telling NBC News, "You could easily end up in a situation where the gap between a parent's deportation and a child's deportation is years."
The Wikipedia page on list of concentration and internment camps has catalogued history's worst incidents, which includes gulags of the Soviet Union, the British military's South African camps during the Boer War, and America's internment of Japanese-Americans during World War II.
The latest addition has started a string of debate on the page, among the editors of the online encyclopaedia whether the addition of the new is appropriate.
"People crossing the border ports of entry are doing so against US law, and their imprisonment is legal, though morally and ethically bankrupt. Our laws also say that children cannot be imprisoned. Therefore, the children must be held somewhere for processing and release to a guardian."
"But this not a concentration camp and should not be in this list. The existing article on Trump administration family separation policy sufficient covers this situation without further politicizing it by associating them with Nazism."
"No comparison with extermination camps or the Holocaust is being made here. But this is a list of concentration and internment camps, and these are very clearly internment camps. For children. In America. In 2018. For shame."
The detention centres along the US-Mexico border currently has hundreds of migrant children who have been separated from their parents in the last six weeks. From 19 April to 31 May, nearly 2,000 children were separated from the migrants' families while trying to seek asylum in the US by crossing the border, TIME reported quoting officials. But the situation, as horrifying as it may already seem, could get worse — a senior official with the Department of Health and Human Services told The Washington Examiner that 11,500 children were already being held in detention centres, and the number could rise to 30,000 by August.
Prior procedure had limited prosecution for many family entrants, in part because regulations prohibit detaining children with their parents since the children are not charged with a crime and the parents are. The policy change was meant to deter unlawful crossings — and Attorney-General Jeff Sessions issued a warning last month to those entering the US illegally that their children "inevitably for a period of time might be in different conditions".
The current holding areas have drawn widespread attention after journalists gained access to one site Sunday. At a McAllen, Texas detention centre, hundreds of immigrant children wait in a series of cages created by metal fencing. One cage had 20 children inside. Scattered about are bottles of water, bags of chips and large foil sheets intended to serve as blankets.
With inputs from agencies
World
Ms Carroll, now 79, has sued Trump for sexual assault and defamation after he said in a 2019 interview with 'The Hill' that she was 'totally lying' and simply trying to market her book
World
Former US President Donald Trump's campaign team for 2024's US Presidential polls is trying to get him reinstated on Facebook. Sources close to the campaign said he would also be making his Twitter comeback in a big way.
World
Republicans have sought to compare the Biden documents case with that of former President Donald Trump, who faces a federal criminal probe of how he handled classified documents after he left the White House in 2021