US-Bangla Airlines crash: Did communication gap bring down aircraft? Pilot-ATC confusion must be probed
The crash of the US-Bangla Airlines flight BS211, that killed 49 people on Monday near Tribhuvan International Airport in Nepal's capital city Kathmandu, raises questions that must be scrutinised and studied by the established investigation committee
Kathmandu: The crash of the US-Bangla Airlines flight BS211, that killed 49 people on Monday near Tribhuvan International Airport in Nepal's capital city Kathmandu, raises questions that must be scrutinised and studied by the established investigation committee. A passenger on the ill-fated flight, Annie Almun, says, "I remember the plane breaking into two. We saw a crack and my husband asked me to jump. I did so. My two-year-old daughter held onto my husband. I just want to know what happened to them." She is in the Kathmandu Medical Hospital and undergoing a surgery on her right hand.
The names of her husband, well-known photographer from Bangladesh, FH Priok, and daughter, Tamarra, cannot be found on the treatment list issued at the press conference by the Civil Aviation Authority of Nepal (CAAN). Priok's brother and his wife, Mehadi Hasan and Shworna, who were on the same flight, have undergone operations and are out of danger. They, however, still are unconscious.
The Director General (DG) of CAAN, Sanjiv Gautam, said the Nepal government has established an investigation committee under the chairmanship of a former DG and civil aviation secretary Yagya Prashad Gautam. Refusing to comment on the leaked radio transmission between the air traffic control and cockpit, Gautam said conclusions cannot be made without establishing all facts. "We will provide all the necessary information to the investigation committee and all employees will be interviewed by them."
He said the plane had gone through all technical supervision, the crew was professional and "the weather was quite good". "It does not seem that the weather could be the reason here. However, all will be established by the investigation committee". "We will advise the airline to compensate the family members of victims. We will advise the government of Nepal to provide all necessary assistance and medical treatment to the victims and their families," said Raj Kumar Chhetri, general manager of Tribhuvan International Airport.
Shahreen Ahmad, 29, an academic supervisor at Scholastica School in Dhaka, was reaching Kathmandu for a holiday on the BS211 . "They tried to land the first time and it did not work. Then they took a second round. I remember the right side of the plane tilting dangerously. And then there was a slam and the right wing went up in flames. I thought I was going to burn in that fire. But when I woke up, I was in my chair and firmly on the ground. There was a woman screaming for help behind me. I started to call for help as well. The fire brigades came really quickly and took us out. The rescuers have done a really good job."
The rescue operation, undertaken by a total of 200 professionals, including from the army, police force and CAAN, was over at 5:30pm on Monday.
The BS211 flight was carrying 33 Nepalese, 32 Bangladeshi nationals, one Maldivian, one Chinese passenger and 4 crew members. A total of 22 passengers have been rushed to hospitals around the city. The five admitted to Kathmandu Medical College And Teaching Hospital are in critical condition. "They've suffered multiple fractures, haemorrhage and burns," said Dr Sangam Giri.
The author is a Kathmandu-based journalist and a member of 101reporters.com, a network of grassroots reporters.
Find latest and upcoming tech gadgets online on Tech2 Gadgets. Get technology news, gadgets reviews & ratings. Popular gadgets including laptop, tablet and mobile specifications, features, prices, comparison.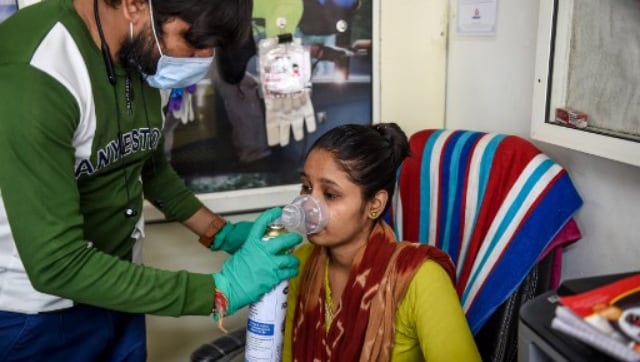 India
With India consistently reporting over 90,000 daily cases of COVID-19 in the past few days, shortages of oxygen are becoming increasingly apparent
World
The Chinese Communist Party has rejected international criticism of the internment camps in Xinjiang and has described them as job-training centres that are necessary to fight Islamic extremism
India
Despite subsidies offered by state government, the capital cost requirement involved in alternatives to crop burning remains high, say experts