US asks UN Security Council members to impose sanctions on Iran for 'malign behaviour' in West Asia
US asked its fellow members of UN Security Council for slapping sanctions on Iran for its 'malign behaviour' in West Asia at a meeting that discussed the implementation of 2015 nuclear deal with Tehran
United Nations: The US urged fellow UN Security Council members on Thursday to punish Iran for "malign behaviour" in West Asia, at a meeting on implementation of the 2015 nuclear deal with Tehran.
"When confronted with a country that continually violates this council's resolutions, it is imperative that we pursue meaningful consequences," said Jonathan Cohen, the US deputy ambassador to the UN.
"That is why we urge members of this Council to join us in the imposition of sanctions that target Iran's malign behaviour in the region," he stressed.
It was the first meeting of the Security Council since US President Donald Trump announced on 8 May that the US was withdrawing from the nuclear agreement with Tehran. On 24 May, the International Atomic Energy Agency (IAEA) concluded for the eleventh time Tehran had met its commitments. In his remarks, Cohen once again accused Iran of supplying missiles to the Houthi rebels in Yemen in violation of an international arms embargo.
In a recent report, the UN said that missile components fired at Saudi Arabia had been manufactured in Iran, but that UN officials were unable to determine if they had been delivered before or after the July 2016 imposition of an arms embargo on Yemen.
"Dismantling a nuclear deal that is working would certainly not put us in a better position to discuss other issues," said EU ambassador to the UN Joao Vale de Almeida, referring to Tehran's ballistic activities and its influence in West Asia. "The collapse of this major achievement would mark a serious step backwards for the region, for the non-proliferation regime but also for our security for all, which would potentially have serious consequences," said French ambassador Francois Delattre.
World
Spokesman of the Atomic Energy Organization of Iran said the IAEA were 'under the influence of powerful countries' which 'finance them and in exchange apply pressure on them'
World
The lira has lost more than 40 percent of its value against the dollar since the start of the year and the annual inflation rate has reached nearly 20 percent, quadruple the government's target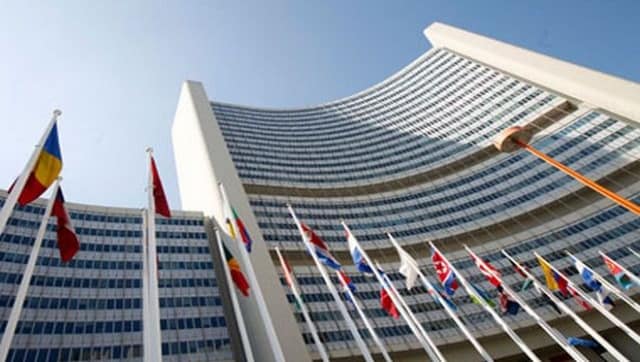 World
The man, who appeared to be in his 60s, was taken into custody without incident at around 1:40 p.m., about three hours after police said he was first spotted outside a security checkpoint on Manhattan's First Avenue.