US air strike kills 'Islamic State's number two'
The second-in-command of the Islamic State jihadist group has been killed in a US air strike in northern Iraq, the White House said Friday.
Washington: The second-in-command of the Islamic State jihadist group has been killed in a US air strike in northern Iraq, the White House said Friday.
The National Security Council identified the slain militant as Fadhil Ahmad al-Hayali, also known as Haji Mutaz, and said he was IS leader Abu Bakr al-Baghdadi's senior deputy. This is not the first time that US officials have announced Hayali's death. In December, US defense officials, speaking to reporters on condition of anonymity, said he was one of several senior figures killed in coalition strikes, giving another of his pseudonyms, Abu Muslim al-Turkmani.
But US forces now say they were able to kill him, along with an IS "media operative" known as Abu Abdullah, on August 18 in a strike on a vehicle near the city of Mosul. The White House described Hayali as a member of the Islamic State's ruling council, and "a primary coordinator for moving large amounts of weapons, explosives, vehicles and people between Iraq and Syria".
"He supported ISIL operations in both countries and was in charge of ISIL operations in Iraq, where he was instrumental in planning operations over the past two years, including the ISIL offensive in Mosul in June 2014," it said, using another name for Islamic State.
Like many senior Iraqi jihadists, before joining the IS group, Hayali had been a member of Al-Qaeda's Iraqi faction. He was reportedly a former Iraqi officer from the era of Saddam Hussein.
IS militants launched a devastating offensive in Iraq in June 2014. Beginning in Mosul, the country's second city and capital of Nineveh province, they swept security forces aside and eventually overran around a third of the country. A parliamentary inquiry said this week that Iraqi officials had disastrously mismanaged the Mosul crisis, ignoring ample warnings of an impending attack.
Officials said earlier this month that more than 2,000 people had been executed in and around the city since the jihadists took it over, accused by the militants of "promoting ideas that distort Islam."
Their names were posted on a list compiled by IS along with an order for health ministry staff to deliver death certificates. The names included policemen, former army officers, local officials, journalists, doctors and rights activists. The Iraqi army, which the United States spent billions of dollars to train and equip, performed dismally in the early days of the IS offensive.
Baghdad's forces have since regained significant ground north of the capital from IS, but Mosul remains under jihadist control, as does much of western Iraq. The group also holds significant territory inside Syria, and has drawn in thousands of foreign recruits, including from Europe and the United States.
AFP
Find latest and upcoming tech gadgets online on Tech2 Gadgets. Get technology news, gadgets reviews & ratings. Popular gadgets including laptop, tablet and mobile specifications, features, prices, comparison.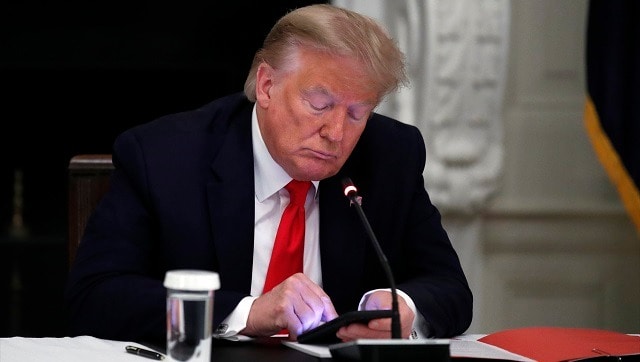 World
Trump kept out of sight in White House as impeachment proceedings played out at the US Capitol. There, the damage from last week's riots provided a reminder of the insurrection that Trump was accused of inciting
Sports
At the insistence of prosecutors, Magistrate Judge Michael E. Hegarty said Keller could not travel to Washington before 21 January.
India
Munde has claimed that he is being blackmailed by the complainant and her sister, with whom he was in a relationship and has two children