Termed as one of the deadliest attacks on the army base in Kashmir since militant attacks began in 1989, the recent Uri attack – which claimed lives of 18 soldiers – and cross-border terrorism became the central topic of debate at the United Nations General Assembly.
Government won't sleep over terror being pushed from across border: Parrikar
Responding to questions about what India's response to the attack will be, Defence Minister Manohar Parrikar had on Wednesday said the government is "serious" about punishing those responsible for the deadly attack as it will "not sleep over" terror being pushed into India from across the border, reported PTI.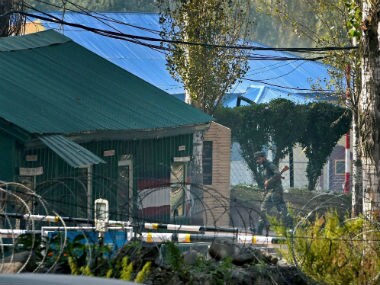 He also dismissed reports about Pakistan's threat of use of tactical nukes, saying that "An empty vessel makes the most noise" and asserted that steps will be taken to ensure that incidents like Uri strike are not repeated.
"We take a proper reading of everything and I don't think Prime Minister's initial words that 'those responsible will be punished', will go as a mere statement. How to punish, that is for us to work out. We are quite serious about it," Parrikar said.
"When something goes wrong, while you try to correct it, you should also ensure that it does not happen again. We will definitely find out what went wrong and also take steps to ensure it does not go wrong again. The country needs to ensure that repetition of wrong does not repeat again and again," he said.
Despicable attack will not go unpunished: Prime Minister Narendra Modi
Taking a tough stand, Prime Minister Narendra Modi assured the nation that those behind the "despicable" strike won't go unpunished. Modi held a nearly two-hour meeting with Home Minister Rajnath Singh, Defence Minister Manohar Parrikar, Finance Minister Arun Jaitley, NSA Ajit Doval, Army Chief General Dalbir Singh Suhag and other top officials to discuss India's response.
Modi saluted the soldiers who were martyred in the attack and said their service to the nation will always be remembered.
"We strongly condemn the cowardly terror attack in Uri. I assure the nation that those behind this despicable attack will not go unpunished," Modi had tweeted.
We strongly condemn the cowardly terror attack in Uri. I assure the nation that those behind this despicable attack will not go unpunished.

— Narendra Modi (@narendramodi) September 18, 2016
As part of the plans discussed in the meeting, the Director General of Military Operations will hand over all the evidence linking Pakistan's involvement – of the four terrorists using Pakistani-marked weapons, food, energy drinks and GPS trackers which they carried to enter Jammu and Kashmir from across the Line of Control – in Uri attack to his Pakistani counterpart.
Pakistan's take on attacks on Kashmir and terrorism
On Wednesday, during the United Nations General Assembly debate, Pakistan Prime Minister Nawaz brought up Kashmir topic and hailed Hizbul commander Burhan Wani as a "young leader" even as he expressed readiness for a "serious and sustained dialogue" with India for peaceful resolution of all outstanding disputes, especially Jammu and Kashmir.
Sharif devoted much of his 20-minute speech to Kashmir and the current situation in the Valley and said Pakistan "fully supports the demand of the Kashmiri people for self-determination".
"This indigenous uprising of the Kashmiris has been met, as usual, with brutal repression by India's occupation force of over half a million soldiers. Over a hundred Kashmiris have been killed, hundreds, including children and infants, blinded by shotgun pellets and over six thousand unarmed civilians injured over the past two months," Sharif said.
He said a "new generation" of Kashmiris has risen spontaneously against India's "illegal occupation - demanding freedom from occupation".
Sharif also urged the US to help resolve issues between Islamabad and New Delhi as he met US Secretary of State John Kerry in New York on Monday. However, Kerry "reiterated the need for Pakistan to prevent all terrorists from using Pakistani territory as safe havens". Furthermore, the  US has asked Pakistan to cooperate with India in probing the Uri attack.
Kerry also "stressed the need for restraint in nuclear weapons programs".
However, in an outright denial to curtail its atomic activities, Pakistan's UN envoy Maleeha Lodhi said that the country won't limit its nuclear programme.
"Pakistan's nuclear programme cannot be limited," Lodhi said at the joint press conference with Foreign Secretary Aizaz Chaudhry.
"The world should first put an end to nuclear activities undertaken by India."
However, she said it had been conveyed to the US Secretary of State that the proposals which were expected from Pakistan should also be implemented by India.
On Pakistan Prime Minister's Adviser on Foreign Affairs Sartaj Aziz's meetings with the foreign ministers of Austria, Switzerland, and Japan, Lodhi said, "Pakistan's inclusion in the Nuclear Suppliers Group was discussed during the meeting."
Chaudhry claimed that no other state had acted against terrorism as much as Pakistan.
Stand on Balochistan
On the 70th Indian Independence Day, Prime Minister Narendra Modi in his 93-minute speech made clear references to Pakistan's mistreatment of Balochistan and the atrocities meted out in the region and in Pakistan-occupied-Kashmir.
Modi's words did not just appease the Indian masses but have also been celebrated by leaders from Balochistan.
Brahumdagh Bugti of Balochistan Republican Party, quoted by ANI, said that he thanks "Prime Minister Narendra Modi sahab on behalf of the whole Baloch nation. And we hope that the Indian government and Indian media and whole nation will not only raise voices for the Baloch nation but also strive to help practically the Baloch independence movement."
Baloch activists protested outside the UN General Assembly headquarters in New York on Wednesday during Prime Minister Nawaz Sharif's address to the General Debate, to highlight "atrocities" and human rights violations by Pakistani forces in Balochistan. However, there was no mention of Balochistan in Sharif's UN speech.
The 'Coalition of American Friends of Balochistan' and Indian-American Organisations said they will hold a "peaceful protest" against Pakistan for "its state-sponsored atrocities and terrorism on the people of Balochistan, Pakistan Occupied Kashmir, Jammu and Kashmir and minorities".
Grateful for the support extended by PM Narendra Modi, the Baloch National Movement of North America said that, "Baloch people have welcomed and are grateful for the support extended by Indian Prime Minister Narendra Modi at such a critical juncture when our nation is struggling to be free from the illegal military occupation of Pakistan since 1948."
The group said that since 2003, more than 20,000 Baloch political activists have gone missing, "illegally abducted" by the Pakistani state security forces and victims of enforced disappearances are being "tortured and executed" in custody.
With inputs from agencies
Updated Date: Sep 22, 2016 12:55 PM