United against China: Can India-US-Japan become the new power trio?
When Chinese President Xi Jinping met Prime Minister Narendra Modi earlier this year on the sidelines of the BRICS summit un Brazil, Sino-Indian relations appeared to have taken a giant stride.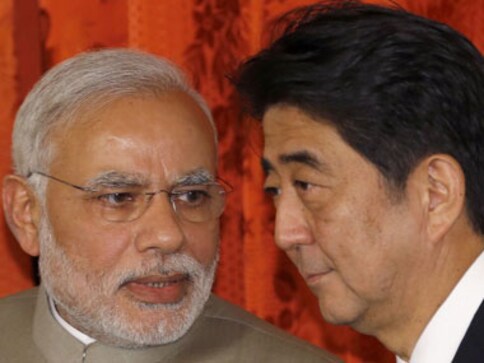 When Chinese President Xi Jinping met Prime Minister Narendra Modi earlier this year on the sidelines of the BRICS summit in Brazil, Sino-Indian relations appeared to have taken a giant stride. The two leaders discussed the border dispute, economic cooperation and more. Xi even invited India to attend the APEC (Asia-Pacific Economic Cooperation) summit in November this year, which was taken as a sign of China courting India on the global stage.
That's why, barely two months down the line, Modi's apparent reference to China's territorial aggressions during his Japan visit are doubly significant. Made ahead of the Chinese president's visit to India, the diplomatic and personal equations seem fairly clear now.
Sino- Japanese relations have deteriorated over the past few years, and is likely to be exacerbated by the Shinzo Abe-Modi chemistry that has grown over the years -- and far outshadows the apparent warmth between Modi and Xi Jinping in Brazil. This greater closeness is at least partly driven by the shared fears about a rising China.
A PEW research in July this year quizzed people in Asian countries how they viewed China, the region's biggest economic and military powerhouse, and the results were striking.
Seventy-two percent of Indians believed China's territorial ambitions could lead to war in the region, a view shared by 83 percent of South Koreans, 84 percent of Vietnamese, 85 percent of Japanese and 93 percent of Filipino respondents. What's more, Japan, the Philippines and Vietnam saw China as their greatest threat.
The report said:
"In particular, there are strong concerns in Asia that territorial disputes between China and its neighbors will lead to military conflict. More than seven-in-ten in the Philippines, Japan, Vietnam, South Korea and India say this is a concern. And two-thirds of Americans agree, as do 62% in China itself."
In fact, Chinese territorial disputes, which Modi referred to as "some countries' expansionist tendencies", have led to an escalation of geo-political tensions in recent times. The Arunachal Pradesh border row is decades old, but there are now also disputes over the Diaoyu-Senkaku Islands in the East China Sea, the superpower's oil explorations off the Vietnamese coast and with Philippines over the Scarborough Shoal. China's oil explorations in the south China and East China seas in a region believed to be rich in hydrocarbons have most countries in the region unnerved, including India.
It is this anxiety that Modi referenced when he said, "Some — democracies such as India and Japan — believe in growing following the path of peace, the path of Buddha. But there are some other countries that are still pursuing the expansionist policies of the 18th century, encroaching on the land and in the waters of other nations."
Apart from worries about the big Dragon in their midst, and the Abe-Modi mutual admiration society, India and Japan are also drawn together by affinities in governance.
As an analysis by Kunal Singh in The Diplomat observes:
"The two countries share a basic commitment to liberal democratic governance, unlike authoritarian China. China also opposes India and Japan being given permanent seats on the United Nations Security Council. In light of these reasons, a joint statement in the upcoming visit has to be high on rhetoric. The statement will do well to recognise India as a "friend" of Japan, which will be eligible to reap the benefits of the reinterpretation of Article 9 of the Japanese Constitution."
The 'reinterpretation of Article 9' was Abe's hugely controversial amendment of the Constitution in July this year, making it possible for Japan to use its military strength to protect itself and its allies for the first time since World War II. In fact the joint statement by India and Japan following the Abe-Modi meeting mentioned cooperation in defence, which was possibly a hint at technology exchange.
And there was more. In a joint statement issued, the two leaders declared their commitment to Japan's continued participation in the annual Indo-US maritime exercises, something China has in the past opposed vigorously. "We have a deep, shared interest in ensuring maritime security," Modi said in a separate statement.
Seen in that light, Modi's single-line swipe at China more or less puts to rest any doubts about his intentions -- business with China is welcome regardless of what the Swadeshi Jagran Manch says, but there will be no compromise on internal security, sovereignty and on Chinese incursions.
Taken together with theupcoming  Obama summit, is there an India-Japan-US axis in the making? If so, what would
The Telegraph notes that the United States has been encouraging such a trilateral alignment:
The US "pivot" to the Pacific Ocean in 2011, coupled with New Delhi's greater cooperation with Washington and Tokyo under former Prime Minister Manmohan Singh, had triggered concerns in Beijing about the emergence of a US-India-Japan axis to contain its growth. Washington has since 2011 nudged India towards an alliance that includes Japan.
The paper notes that while the previous UPA regime tried to play neutral in China's territorial disputes with its neighbours,  the joint statement crafted by Modi-Abe broke new ground by calling the two countries' partnership "indispensable" for peace and stability, "in particular, in the interconnected Asia, Pacific and Indian Ocean regions".
Modi's statement in Tokyo and his signals at exploring an elevation in the US-India-Japan trilateral alliance are likely to worry Beijing, which has blamed Abe for the region's heightened tensions.
It's little wonder then that China has reacted to the Tokyo developments appearing not just a little hot under the collar. Accusing Japanese Prime Minister Shinzo Abe of "dividing" China and India, a state-run Chinese daily today said Indo-Japan ties face "huge uncertainty" in view of rise of BRICS and emerging Sino-Indian cooperation.
"BRICS (Brazil, Russia, India, China and South Africa) agreed establish their own development bank, ushering Sino-Indian strategic cooperation into a new historical era," said an article in the state-run Global Times' web edition on the current visit of Prime Minister Narendra Modi to Japan.
"Beijing's improving maritime strategies and the development of China-India strategic relations will inevitably exert far-reaching influence upon Japan's strategic resources, channels and markets. Consequently, dividing China and India has become a key issue for Abe," said the ruling Communist Party-run newspaper known for its usually nationalistic views.
"Tokyo and New Delhi must consider the coexistence of China, Japan and the US in the region when promoting their security cooperation," it said.
"As two Asian powers, how the growing intimacy between Japan and India coordinates with US "rebalancing to Asia" strategy and cooperates with BRICS member states will wield direct influence upon regional architecture. Therefore this solicits plenty of attention," it said.
Arts & Culture
One of the suggestions of PM Modi was to make it engaging for the younger generation and highlight how different Prime Ministers have risen despite being from humble and regular backgrounds.
Opinion
Prime Minister Narendra Modi's recent visit to three European countries — Germany, Denmark and France — and participation in the Indo-Nordic Summit at Copenhagen have prompted much celebration and speculation
Politics
The home minister said that Prime Minister Narendra Modi thinks about the result and this thinking has brought a big change in the country