UN slams 'monstrous indifference' to children suffering in Syria, expresses concern for kids trapped in Eastern Ghouta
Flouting demands for Syria ceasefires shows 'monstrous indifference' to the suffering of millions of children needing a respite from violence, a top UN rights official said
Geneva: Flouting demands for Syria ceasefires shows a "monstrous indifference" to the suffering of millions of children needing a respite from violence, a top UN rights official said Tuesday.
A resolution adopted by the United Nations Security Council two weeks ago calling for a 30-day ceasefire across Syria has been broadly ignored, with attacks increasing on the rebel enclave of Eastern Ghouta.
Kate Gilmore, the UN Deputy High Commissioner for Human Rights, called for immediate action to help children caught in the fighting.
In an address to the UN Human Rights Council, she voiced particular concern for some 1,25,000 children trapped in Eastern Ghouta, "many acutely malnourished, most profoundly traumatised."
"What is happening to those children is too graphic for our TV screens, but not graphic enough it seems to motivate those who can stop the senseless violence to do so," she said.
"Is it not tantamount to a monstrous indifference to the suffering of children that Security Council resolutions for ceasefires are flouted?" she asked.
More than 3,50,000 people have been killed in Syria's devastating seven-year conflict, according to fresh figures released from the Syrian Observatory for Human Rights Monday.
Panos Moumtzis, the UN's top humanitarian official for Syria, said Tuesday that 2017 was "the deadliest year of the Syrian war for children."
"Sadly, 2018 started really in a terrible way as well," he told reporters, adding that in the first two months of the year, "more than 1,000 children were either reported killed or injured through the violence in multiple locations."
A full two-thirds of Syria's 8.4 million children need humanitarian assistance, while one million of them live in areas that are difficult to reach by aid convoys and 1,70,000 in besieged areas, according to UN figures.
"The scope, the scale, the gravity of the crimes against the children of Syria are just shocking," Gilmore told reporters, lamenting that the international community had "failed by every known measure and that should shake us to the core of our humanity."
Asked what hope there was the situation in Syria would improve, she answered with a shaking voice that "hope has long left."
"This is a story no longer of hope. This is a story now of accountability and responsibility," she said.
"Those responsible should know that we do not stand idly by, only wringing passive hands," she said, stressing that "those responsible for these war crimes and crimes against humanity are being identified, the chain of evidence is being preserved, dossiers are being built up for their prosecution."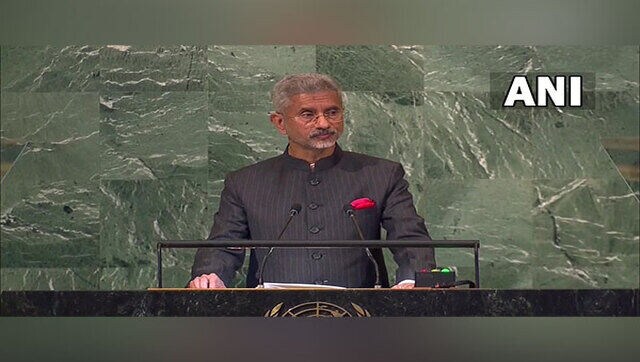 India
On UNSC matters, Jaishankar's public utterances were confined mostly to India's permanent seat on the Security Council. On larger ideas of UN reforms, he spoke for the Global South. This, he did, in his separate addresses at the UNSC and the UNGA
World
From 19 to 21 September, MEPs from the European Parliament's subcommittee on Human Rights (DROI) visited Pakistan
World
The high-level meeting opens with a summit on education, whose thorough disruption during the coronavirus pandemic will reverberate for decades to come. Speeches from the scores of attending leaders begin Tuesday and run through Monday, 26 September