United Nations:  The UN Security Council met in an emergency session on Tuesday for discussions on possible new sanctions against North Korea in retaliation for its third nuclear weapons test, an act Secretary-General Ban Ki-moon condemned as deplorable.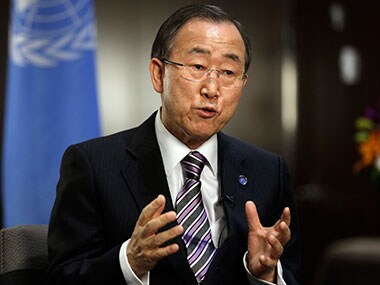 Council diplomats said they hoped the council would agree on a swift condemnation of the North Korean atomic detonation on Tuesday but negotiations on new sanctions could take weeks.
The United States, Britain, France, Russia and China - the five permanent members of the 15-nation council - all condemned Pyongyang's latest nuclear test, which an international nuclear test monitoring agency in Vienna said was roughly twice as large as that of North Korea's 2009 nuclear test.
US President Obama said "the danger posed by North Korea's threatening activities warrants further swift and credible action by the international community.
Obama will be giving his annual State of the Union address later on Tuesday. Several diplomats said it was possible that was why North Korea chose this day to detonate an atomic device, since Pyongyang traditionally makes such moves on important days in the US calendar.
Several council diplomats said the United States and its allies - including this month's Security Council president, South Korea - would push for tough new sanctions rather than merely expanding existing measures imposed after Pyongyang's 2006 and 2009 atomic tests.
South Korea's UN mission convened Tuesday's emergency council meeting. It also said in an emailed statement that South Korean Foreign Minister Kim Sung-hwan, who is in New York to chair a council session on protecting civilians in armed conflict, would address the media in New York after the meeting.
"We certainly hope that the council will be able to send a clear message of strong condemnation," Britain's Deputy UN Ambassador Philip Parham told reporters ahead of the meeting.
"In the resolution last month ... the council said that if North Korea were to do something like this then the council would take significant new action, so that's what we expect the council to do," he said.
In January the council passed a resolution expanding existing UN sanctions against North Korea due to its December rocket launch and warned Pyongyang against further launches or nuclear tests. North Korea responded by threatening a new atomic detonation.
Ban, a former South Korean foreign minister, said through his spokesman that he hoped the Security Council would take appropriate action.
"It is deplorable that Pyongyang defied the strong and unequivocal call from the international community to refrain from any further provocative measures," he said in the statement.
Ban spokesman Martin Nesirky said in a statement the test was a "clear and grave violation of the relevant Security Council resolutions."
"The secretary-general is gravely concerned about the negative impact of this deeply destabilizing act on regional stability as well as the global efforts for nuclear non-proliferation," the UN statement said.
North Korea's previous nuclear tests prompted the Security Council to impose sanctions - including a ban on the import of nuclear and missile technology, an arms embargo and a ban on luxury goods imports - on the impoverished authoritarian state.
While China had long made clear its opposition to a new North Korean nuclear test, council diplomats say Beijing could be expected to put up some initial resistance to tough new sanctions to avoid angering North Korea.
In Beijing, Chinese Foreign Minister Yang Jiechi on Tuesday summoned the North Korean ambassador to China and to protest sternly against the North's third nuclear test. Yang said China was "strongly dissatisfied and resolutely opposed" to the test.
Eventually, UN diplomats predicted, China will most likely approve some form of sanctions against North Korea, although it is not clear how tough Beijing will permit the measures to be.
Reuters
Updated Date: Feb 12, 2013 21:21 PM