UN rights chief deplores India's move to deport Rohingya refugees amid ongoing Myanmar violence
India's Minister of State for Home Affairs, Kiren Rijiju, on 5 September said Rohingyas were illegal immigrants and stand to be deported to Myanmar.
Describing the situation of Myanmar's Rohingya minority as a "textbook example of ethnic cleansing", the United Nations' high commissioner for human rights, Zeid Ra'ad Al Hussein, on Monday criticised the Indian government for planning to deport Rohingyas from the country.
"I deplore current measures in India to deport Rohingyas at a time of such violence against them in their country," said Al Hussein in its opening statement at the 36th session of the Human Rights Council in Geneva.
Al Hussein expressed dismay at growing intolerance towards minorities in India, and said mob attacks under the garb of cow protection is "alarming". He also mentioned the murder of senior journalist Gauri Lankesh and said people who speak out for the fundamental human rights are threatened in the country.
"People who speak out for the fundamental human rights are also threatened. Gauri Lankesh, a journalist who tirelessly addressed the corrosive effect of sectarianism and hatred, was assassinated last week," he said.
Targeting the central government, the UN high commissioner further said that human rights defenders in India who work for the rights of the country's most vulnerable groups are not given protection by the state.
Al Hussein said he was "heartened by the subsequent marches calling for protection of the right to freedom of expression, and by demonstrations in 12 cities to protest the lynchings".
In its opening statement, Al Hussein came down heavily against the Myanmar government saying that its denial on the Rohingya issue was doing great damage to the international standing of a government which had until recently, he said, benefited from immense goodwill.
"Because Myanmar has refused access to human rights investigators, the current situation cannot yet be fully assessed, but the situation seems a textbook example of ethnic cleansing," he said.
In its critical observation towards India's role on the issue of Rohingya refugees, said: "The minister of state for home affairs has reportedly said that because India is not a signatory to the Refugee Convention, the country can dispense with international law on the matter, together with basic human compassion.
"However, by virtue of customary law, its ratification of the International Covenant on Civil and Political Rights, the obligations of due process and the universal principle of non-refoulement, India cannot carry out collective expulsions, or return people to a place where they risk torture or other serious violations."
More than 300,000 Rohingya Muslims have fled to Bangladesh since then while some 40,000 Rohingyas have settled in India, and 16,000 of them have received refugee documentation, the UN estimates.
The violence in Myanmar began in August when Rohingya militants attacked police posts in Rakhine, killing 12 security personnel. The military said it responded to the attacks and denies it is targeting civilians.
Al Hussein also criticised New Delhi and Islamabad for not engaging with the UN office for human rights on matters involving the two countries including a "failure to grant access to Kashmir on both sides of the Line of Control to verify the worrying developments that continue to be reported there", he said in his address.
He said in the absence of access to Kashmir from both the South Asian countries, the UN office is undertaking a remote monitoring of the human rights situation in Kashmir on both sides of the Line of Control.
With inputs from PTI
Find latest and upcoming tech gadgets online on Tech2 Gadgets. Get technology news, gadgets reviews & ratings. Popular gadgets including laptop, tablet and mobile specifications, features, prices, comparison.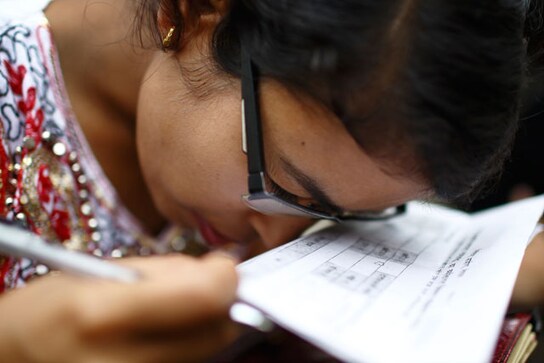 World
Braille is a code consisting of symbols and is written in the form of raised dots.
World
UNICEF defines an orphan as 'a child under 18 years of age who has lost one or both parents to any cause of death'
India
In October 2018, India had signed a $5 billion deal with Russia to buy five units of the S-400 air defence missile systems