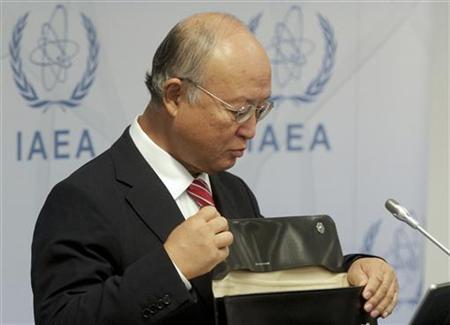 VIENNA (Reuters) - The 35-nation board of the U.N. nuclear watchdog passed a resolution on Thursday rebuking Iran for defying demands to curb uranium enrichment and failing to clarify mounting concerns about its suspected research into atomic bombs.
Two days after Israel ramped up threats to attack its arch-enemy Iran, the board overwhelmingly adopted the measure voicing "serious concern" about Tehran's nuclear advances but also making clear its desire for a peaceful resolution of the row.
Only Cuba voted against the resolution. Three countries, including Egypt, abstained, according to diplomats who took part in the closed-door meeting at International Atomic Energy Agency headquarters in Vienna.
The resolution faults Iran for disregarding U.N. resolutions calling on it to suspend uranium enrichment - a conduit to producing fuel for nuclear power stations or bombs - and open up to investigations of signs that it wants nuclear arms know-how.
Six world powers had tabled a resolution text on Wednesday, aiming to raise pressure on Iran to relent, a day after Israel signalled it was almost out of patience with the use of diplomacy and sanctions to try to rein in the Islamic Republic.
World powers are keen for a diplomatic breakthrough that would avert another, potentially devastating Middle East war.
South Africa earlier on Thursday threw the meeting into confusion by putting forward an amendment which some Western diplomats said might have weakened the language towards Iran.
But a compromise was hammered out during a three-hour adjournment of the meeting, the diplomats said, satisfying the United States, Russia, France, China, Britain and Germany.
South Africa's proposal was a nod to some in the Non-Aligned Movement of mainly developing nations (NAM) who do not regard Iran's nuclear programme necessarily as a bomb risk.
The amendment concerned a section of the text demanding that Iran immediately implement a yet-to-be agreed framework accord with the IAEA on how the agency should conduct its investigation into suspected nuclear explosives research in the Islamic state.
The compromise changed the original text but not as far as the South African proposal, easing Western fears that it could lower the heat on Tehran to cooperate with IAEA sleuths.
STYMIED INVESTIGATION
The IAEA has tried in a series of high-profile meetings with Iran that began in January to agree a "Structured Approach" on how to carry out its inquiry. IAEA Director-General Yukiya Amano said this week that no concrete results had been achieved, calling the lack of progress "frustrating".
"Iran has not engaged seriously and without preconditions in talks aimed at restoring international confidence in the exclusively peaceful nature of its nuclear programme," the 27-nation European Union said in a statement to the board.
"Iran's procrastination is unacceptable," the bloc said.
A U.S. envoy at the meeting accused Iran of "systematically demolishing" a facility at the Parchin military site that IAEA inspectors want to visit as part of their investigation.
"Iran has been taking measures that appear consistent with an effort to remove evidence of its past activities at Parchin," senior U.S. diplomat Robert Wood told the board gathering.
The resolution could have been approved by the board even of governors without South Africa's support, but the global powers were keen to ensure near-unanimous backing.
Iran says it wants to produce electricity from enriched uranium and not bombs. Refined uranium can be used to fuel nuclear power plants. If enriched to a high degree, it can provide the explosive core for a nuclear warhead.
Israel, believed to be the Middle East's only nuclear-armed state, sees the danger of Iran developing an atom bomb as a threat to its existence and has stepped up hints of air strikes on Iranian nuclear installations.
U.S. President Barack Obama's administration says there is still time for diplomacy and sanctions to make Tehran change course.
(Editing by Mark Heinrich)
Updated Date: Sep 13, 2012 23:45 PM