UN expert urges EU countries for referenda on CETA, calls it 'fundamentally flawed treaty'
Just a day before EU-Canada were to sign a major trade deal, an independent expert at the United Nations labeleld it a 'fundamentally flawed treaty', and urged EU members to file referendum in their countries.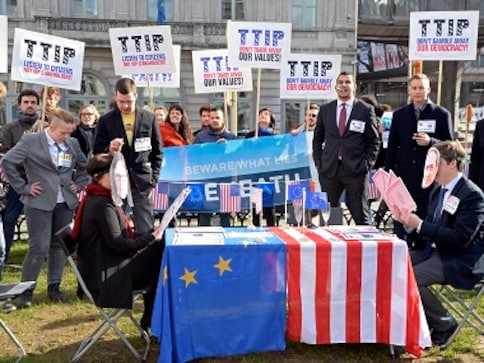 Geneva: Just a day before EU-Canada were to sign a major trade deal, an independent expert at the United Nations labeleld it a "fundamentally flawed treaty", and urged EU members to file referendum in their countries.
"The danger of CETA (Comprehensive Economic and Trade Agreement) and TTIP (the Trans-Atlantic Trade and Investment Partnership) is so serious that every stakeholder, especially parliamentarians from EU member-states, should now be given the opportunity to articulate the pros and cons. The corporate-driven agenda gravely endangers labour, health and other social legislation, and there is no justification to fast-track it," Alfred de Zayas, the UN Independent Expert on the promotion of a democratic and equitable international order, said on Friday.
"A dangerous culture of bullying and intimidation has emerged in the context of trade treaties, and a corrosive competition among States," Zayas told Firstpost.
The treaty, that has been touted as a model for post-Brexit negotiations by UK's Conservative politicians like Boris Johnson, however, has tripped near the finishing line in the face of a strong opposition by Belgian's Socialist-led regional parliament of Wallonia.
Though the federal government of Belgium supported the trade deal — negotiations have been going on for the past seven years — its regional parliaments in Wallonia and Brussels were uneasy about the agreement. The treaty needs a nod from all the 28 EU governments to come into force.
The CETA complications may be an ominous sign for Brexit negotiations — to be reached within a short time frame of two years after Article 50 is triggered — that has to neutralise many potential spoilers in the form of national referendums, regional parliaments and national courts before it can be signed, sealed and delivered.
"Striking a trade deal with a friendly partner like Canada should have been about as easy as it gets for the EU," wrote The Economist.
Paul Magnette, Wallonia's minister-president, who led the fierce opposition to the deal was worried about Walloon farmers facing stiff competition from Canada, and also about a proposed special court to settle disputes between investors and governments.
"Investor-state dispute settlement arbitrations and the proposed investment court system are both one-way streets that contravene the centuries-old development toward independent, transparent and accountable public courts. A parallel system of dispute settlement that is not independent, transparent or accountable is a frontal attack on the rule of law," Zayas told this reporter.
CETA's exclusive trade court has proved so controversial that the EU Commission that decides on foreign trade with the EU has said that such a court won't be set up immediately.
A compromise with the Walloons came in the form of a four-page addendum to the 1,600-page CETA text that among other things enables the Belgian government to go to the European court of justice to ascertain the compatibility of investor-state tribunal system with EU law and also a guarantee that the government will do a socio-economic and environmental assessment of CETA.
Backers of the trade deal say that bilateral trade will boost by 20 percent through CETA and 98 percent of the tariffs will be scrapped.
"The propaganda in favour of mega trade treaties — that entering into such agreements will effectively bring more foreign direct investment, or, for that matter that FDI will bring more benefits than disadvantages to the country — is not backed up by any empirical evidence," the American human rights lawyer argued.
Additionally, associations of German and Spanish judges have slammed investor-State dispute settlement systems and have questioned the necessity of having such systems when all participating states are signatories to the International Covenant on Civil and Political Rights with public courts that are independent, transparent and accountable.
The emergence of a large number of trade agreements like CETA, Trans-Pacific Partnership (TPP), TTIP and Trade in Services Agreement (TiSA) that lie beyond the purview of multilateral rules of the WTO or national courts has been a point of concern for activists as well as national governments in recent decades. Having signed a trade deal, governments have found themselves being dragged to court in some instances when they have legislated in public interest that has eaten into the profits of corporations.
"It is not for the State to guarantee the profits of an investor," Zayas said.
The UN Human Rights Council has established an inter-governmental working group on transnational corporations to discuss the possibility of a legally binding instrument obliging TNCs not to interfere in the internal affairs of States, imposing sanctions on pollution or shifting profits into tax havens. It is holding its second session this week.
The hue and cry comes at the same time when India resumed trade talks in the European city of Geneva with a bloc of four European nations, including Switzerland, on a free trade agreement.
The India-EFTA (the European Free Trade Association) talks that started in 2008 were frozen three years back after about 12 rounds of negotiations due to issues related with intellectual property rights (IPR) and data exclusivity. The EFTA states were insistent on more IPR, especially in the pharmaceutical sector.
The Indian government — the largest producer of generic medicines for the poor — has had a long running battle with global pharmaceutical companies, particularly with American and European ones. Swiss giant Novartis lost a case in an Indian court in 2013 to get a patent approved while India's Intellectual Property Appellate Board had revoked a patent on a Hepatitis C drug held by Roche, among other cases. Access to cheap medicines is a particularly sensitive issue in India where a single health episode can push a poor family into deeper recesses of poverty.
The trade pact talks were announced to be re-opened in June this year when Prime Minister Narendra Modi visited Geneva to get a Swiss nod for India's entry into the Nuclear Suppliers Group. A high-level trade delegation had visited the New Delhi later that month.
The level of ambition for IPR remains the same, Swiss president Johann Schneider-Ammann had told reporters in Germany after the announcement of re-opening of the EFTA-India trade talks.
World
Finland shares a 1,300-km border with Russia and is located close to the Baltic states, which fear an escalation of the war in Ukraine could lead to the use of nuclear weapons or to a nuclear accident
Hockey
In the second Pool B match played at Kalinga stadium, no goal was scored till the half time. Grambusch Mats gave the lead to world number four Germans in the 35th minute through a penalty corner conversion before Ruhr Christopher struck a field goal five minutes later.
World
The Turkish foreign ministry's first travel advisory warned of 'dangerous levels of religious intolerance and hatred in Europe'