UK's four nations will relax COVID restrictions to save Christmas
By Costas Pitas LONDON (Reuters) - The four nations of the United Kingdom have agreed to relax COVID-19 restrictions for Christmas to allow up to three households to meet at home for five days. England, Scotland, Wales and Northern Ireland have taken differing approaches to handling the pandemic so far but the leaders of the devolved nations reached agreement with London on Tuesday on rules governing the festive period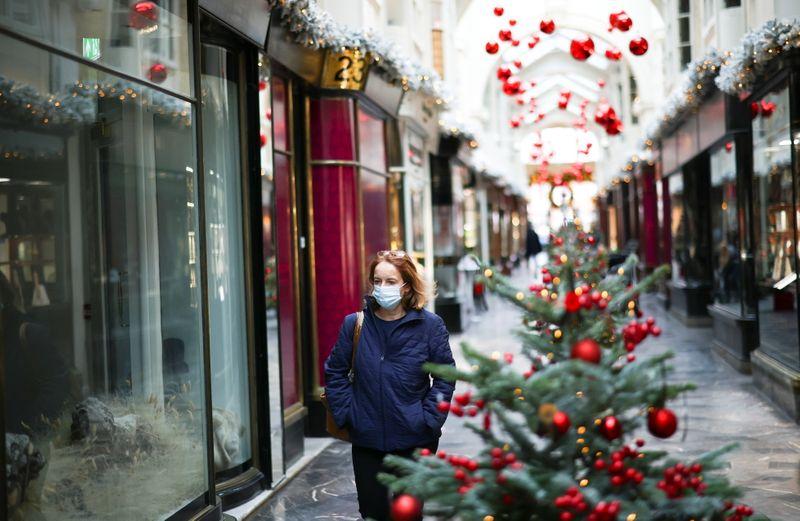 By Costas Pitas
LONDON (Reuters) - The four nations of the United Kingdom have agreed to relax COVID-19
restrictions for Christmas to allow up to three households to meet at home for five days.
England, Scotland, Wales and Northern Ireland have taken differing approaches to handling the pandemic so far but the leaders of the devolved nations reached agreement with London on Tuesday on rules governing the festive period.
Three households will be able to form a "Christmas bubble", allowing them to meet up at home, places of worship and in outdoor public places but not at indoor hospitality or entertainment venues from Dec. 23 until Dec. 27 under the plans.
"People want to be with their loved-ones and those close to them for what is the most important holiday of the year," senior minister Michael Gove said on Tuesday.
Limits on travel will also be scrapped so that people can meet up, with an additional day on either side for those going to and from Northern Ireland.
A national lockdown in England is due to end next week after which different parts of the country will face varying restrictions as part of a tiered system announced by Prime Minister Boris Johnson.
A decision is expected later this week on which areas will fall into the different categories.
The United Kingdom has one of the highest tolls from the coronavirus
pandemic, reaching 55,838 deaths within 28 days of a positive test, according to government data published on Tuesday.
"The virus won't take time off, so please be cautious," said Scotland's First Minister Nicola Sturgeon. "If you can, stay at home with your own household."
(Additional reporting by William James; editing by Stephen Addison)
This story has not been edited by Firstpost staff and is generated by auto-feed.
Find latest and upcoming tech gadgets online on Tech2 Gadgets. Get technology news, gadgets reviews & ratings. Popular gadgets including laptop, tablet and mobile specifications, features, prices, comparison.
World
By Kate Holton LONDON (Reuters) - The post-Brexit woes facing Scotland's fishing industry deepened on Saturday as its biggest logistics provider, DFDS Scotland, said it would halt exports to the European Union through one of its main services until at least Wednesday. Previously the company had said it would take until Monday to resume its "groupage" export service - which allows exporters to ship multiple products in a single consignment - while it tries to fix IT issues, paperwork errors and a backlog of goods. DFDS's move represents another blow for Scottish fishermen who this week warned that their businesses could become unviable after Britain shifted to a less integrated trade deal with the EU at the turn of the year
World
VATICAN CITY (Reuters) - Pope Francis said on Saturday he planned to be vaccinated against COVID-19 as early as next week and urged everyone to get a shot, to protect not only their own lives but those of others.
World
By Rich McKay (Reuters) - A man photographed carrying off the Speaker's lectern during the Capitol Hill riots was arrested late Friday, while a top Democratic lawmaker on Saturday called on mobile carriers to preserve social media content related to the riots. Dozens of people have been charged following the storming of the Capitol on Wednesday, with the FBI asking the public for help identifying participants, given the proliferation of images of the riots on the internet.