Ukraine vows to take 'advantage of Russian fatigue in Bakhmut very soon'
The head of the Wagner group, Yevgeny Prigozhin, said this week that his forces were in control of around 70 percent of the city, and a Russian aide in the wider Donetsk region said the city was 'practically surrounded'
A senior Ukrainian military commander said Thursday that a counter-attack could be launched soon against "exhausted" Russian forces near Bakhmut in eastern Ukraine, the stage for the longest battle of Moscow's invasion.
"The aggressor has not given up hope of taking Bakhmut at all costs despite losses in manpower and equipment. Russia's main fighting force on this front is the Wagner mercenary group," said the commander of Ukraine's ground forces, Oleksandr Syrsky.
"Sparing nothing, they are losing significant strength and becoming exhausted. Very soon we will take advantage of this opportunity, like we did near Kyiv, Kharkiv, Balakliya, and Kupiansk," he added, referring to successful counter-offensives last year.
Bakhmut, which once had an estimated population of around 70,000 people, has virtually emptied of civilians over months of fierce fighting between Russian and Ukrainian forces for the town.
Syrsky's assessment of the fighting comes one day after Ukraine President Volodymyr Zelenskyy announced he had visited Ukrainian forces near the Bakhmut frontline.
Kyiv says Bakhmut is key to holding back Russian forces along the entire eastern front.
Both sides have invested heavily in the fight, even though analysts say the city has little strategic value.
The head of the Wagner group, Yevgeny Prigozhin, said this week that his forces were in control of around 70 percent of the city, and a Russian aide in the wider Donetsk region said the city was "practically surrounded".
Zelenskyy visits military positions near Bakhmut
Zelenskyy on said Wednesday that he visited military positions near the frontline town of Bakhmut in eastern Ukraine, as a Russian strike battered a residential building, injuring dozens.
At least one person was killed and 32 more injured in the block of flats in Zaporizhzhia, a city near the frontline, just before Zelenskyy announced his visit to the front, an official said.
With inputs from AFP
Read all the Latest News, Trending News, Cricket News, Bollywood News,
India News and Entertainment News here. Follow us on Facebook, Twitter and Instagram.
also read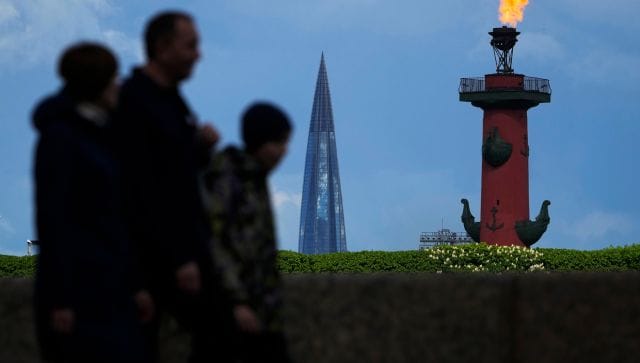 World
Gazprom has established security firms that initially recruited people on the pretext of defending Russia on the natural gas front. However, recruits found themselves in the battlefield days later
World
Belarusian President Alexander Lukashenko was taken to a hospital in Moscow after meeting his Russian counterpart Vladimir Putin, according to a report citing the Belarusian opposition leader
World
Negotiations over the EU's 11th package of sanctions on Russia have stalled due to opposition from Greece and Hungary, which want their companies removed from a list of 'war sponsors' compiled by Kyiv, according to a report