Ukraine Live: Norway suspends all joint activities with Russia
The European Union slapped travel bans and asset freezes on 12 more people, closing in on President Vladimir Putin's inner circle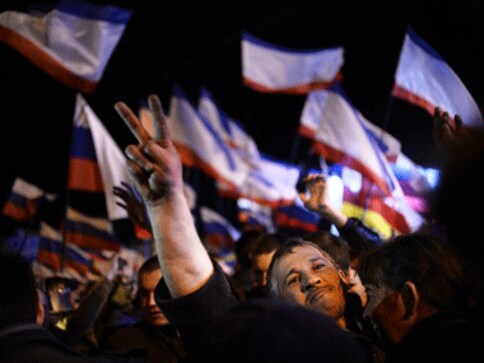 7.35 pm: Norway suspends all joint activities with Russian military
NATO member Norway has suspended all joint activities with the Russian military through May because of Moscow's annexation of Crimea.
The Defense Ministry on Tuesday scrapped a series of plans, including visits to Norway by Russia's navy chief and defense minister, Russian warships coming to Oslo for the Norwegian navy's bicentenary celebrations, and Russian participation in a Norwegian military festival.
Norway had already cancelled a naval exercise with Russia and the US set for May.
Defense Minister Ine Eriksen Soereide said Norway will re-evaluate its military cooperation with Russia at the end of May "in light of the development of the situation in Ukraine," and discuss the issue with NATO allies.
Norway and Russia share land and sea borders in the Arctic.
4.27 pm: Defence minister resigns as Ukraine exits Crimea
Lawmakers in Ukraine have accepted the resignation of the defence minister as thousands of troops withdraw from the Crimean Peninsula, now controlled by Russia, The Associated Press reported.
In address to parliament, Igor Tenyukh said on Tuesday that he rejected criticism that he had failed to issue clear instructions to troops, but that he reserved the right to step down. Lawmakers initially refused his resignation but then accepted it.
--End of updates for 24 March--
9.20 pm: Russian forces storm one of Ukraine's last Crimea ships
Russian forces on Monday stormed a Ukrainian navy ship that they had earlier blocked in a lake in western Crimea and which had been one of the last vessels to avoid falling under Kremlin control.
An AFP correspondent saw plumes of smoke rise over the Kostyantyn Olshanskiy moments after the Russian forces launched their Donuzlav Lake assault. A Ukrainian defence spokesman said the ship's crew had fired smoke grenades in self-defence. (AFP)
8.28 pm: Russia sanctions Canadian lawmakers
Russia bans entry to 13 Canadian lawmakers and officials in retaliation for Canadian sanctions.
4.01 pm: Ukraine orders troop pull-out from Crimea
Ukraine's acting president says the country's troops stationed in Crimea will be pulled from the region after it was annexed by Russia.
Oleksandr Turchnynov said Monday that the Defense Ministry has been instructed to redeploy Ukrainian servicemen from the Black Sea peninsula to Ukraine's mainland, in remarks confirmed by his office, The Associated Press reported.
Russian troops stormed and seized one of the remaining Ukrainian military bases in the region, capturing two servicemen.
The new pro-Western government in Kiev has been criticized for its indecision with regard to Ukrainian troops in Crimea, who have been besieged by Russian forces for weeks.
2.11 pm: Two Ukrainian soldiers taken captive by Russian forces
Ukraine's Defense Ministry says Russian forces have stormed yet another Ukrainian military base on the Crimean Peninsula and taken two servicemen captive, Associated Press reported.
The Ukrainian Defense Ministry said when Russian troops seized the marine base in the port of Feodosia on Monday they detained up to 80 Ukrainian servicemen on-site and took two injured Ukrainians away by helicopter.
Over the weekend, Russian forces had stormed the Belbek air force base near Sevastopol and detained the commander.
1:37 pm: Russian troops take over last Ukrainian marine base in Crimea
Russian troops took over a Ukrainian marine base in Feodosia early on Monday, one of the few military facilities that was still flying a Ukrainian flag in Crimea after Russia's annexation, a Ukrainian serviceman said.
First Lieutenant Anatoly Mozgovoy told Reuters on the phone from inside the base that there were shots fired and that the Ukrainian soldiers were unarmed. Asked if the base had been taken over, he said: "Yes".
Vladislav Seleznyov, a Ukrainian military spokesman in Crimea, earlier said Russian forces had been forcing their way in and were assisted by helicopters.
Russian forces captured part of the base of the 1st Separate Marine Battalion, Ukraine's top military unit, earlier this month, as Russia was seizing all of the Black Sea peninsula.
But Ukrainians had previously appeared to be in control of the armoury, the barracks and other facilities within the compound.
--End of updates for 22 March--
8.02 pm: Pro-Russia protesters attack Ukranian military base in Crimea
A Ukrainian military base in Crimea was today attacked by pro-Russian protesters.
BBC reports, "Several hundred unarmed protesters attacked the base at Novofedorivka, which is now under almost complete control of Russian forces."
3.35 pm: Norway sanctions Russia over Ukraine crisis
Norway has decided to follow the European Union (EU) in imposing sanctions on Russia over the Ukraine crisis, the Norwegian foreign ministry said.
IANS reported Norway would do exactly the same as the EU when it came to financial sanctions against Russia, said Norwegian Foreign Minister Boerge Brende Friday, according to Xinhua.
"This means that a number of key Russian politicians and officials are no longer welcome in Norway, either visiting or passing through. They will not have access to the assets they may have in Norway," said Brende.
The sanctions will be implemented very quickly, the Norwegian foreign minister said.
2.21: Ukraine, Russia hit, international financial markets safe from impact of ongoing crisis
The Ukraine crisis has not had very much impact on international financial markets so far, although it has hit Ukraine and Russia, said European Central Bank Governing Council member Erkki Liikanen.
Reuters reported that when asked about the impact of the crisis in a TV interview on Finnish national broadcaster Yle, Liikanen said: "For international, European financial markets, its impact has not been large. It has been very large for Ukraine, large for Russia, but on average it has been limited internationally."
2.16pm: EU sanctions divorced from reality says Russian Foreign Minister
The Russian Foreign Ministry said sanctions imposed by the European Union on 12 Russians and Ukrainians on Friday over Crimea were "divorced from reality", Reuters reported.
"It's a pity that the European Council made a decision that is divorced from reality," the ministry's spokesman Alexander said in a statement on the ministry's website.
In a separate statement, the ministry said Moscow hoped the decision to send to Ukraine a monitoring mission of the Organisation for Security and Co-operation in Europe would help resolve what it called an "internal Ukrainian crisis".
--End of updates for 21 March--
6.55 pm: EU, Ukraine sign deal as Putin formally gets Crimea
President Vladimir Putin completed his annexation of Crimea on Friday, signing the Black Sea peninsula into Russia just as Ukraine itself sealed a deal pulling the country closer into Europe's orbit.
Putin said he saw no need to further retaliate against U.S. sanctions, a newly conciliatory tone apparently aiming to contain one of the worst crises in Russia's relations with the West since the Cold War. His spokesman, however, later kept the Kremlin's warning open that it could consider various options.
At Ukrainian bases on the peninsula, troops hesitated, besieged by Russian forces and awaiting orders. Russia claimed some had already switched sides and agreed to join the Russian military. Friday had been the deadline for Ukrainian troops to leave Crimea, join the Russian military or demobilize.
Russia rushed the annexation of the strategic peninsula after Sunday's hastily called referendum in which its residents overwhelmingly backed leaving Ukraine and joining Russia. Ukraine and the West have rejected the vote, held two weeks after Russian troops had seized control of Crimea. The US and EU have responded to the crisis by slapping sanctions on Russia.
Putin hailed the incorporation of Crimea into Russia as a "remarkable event" before he signed the parliament bills into law Friday in the Kremlin. He also ordered fireworks in Moscow and Crimea.
At nearly the same time in a ceremony in Brussels, Ukraine's new prime minister pulled his nation closer to Europe by signing a political association agreement with the European Union. It was the same deal that touched off Ukraine's political crisis, the deal that President Viktor Yanukovych rejected in November, igniting the months of protests that drove him from office and sent him fleeing to Russia.
"Russia decided to actually impose a new post-Cold War order and revise the results of the Second World War," Ukrainian Prime Minister Arseniy Yatsenyuk said in Brussels. "The best way to contain Russia is to impose real economic leverage over them."
President Barack Obama on Thursday ordered a second round of sanctions against nearly two dozen members of Putin's inner circle and a major bank supporting them.
Moscow retaliated by banning nine U.S. officials and lawmakers from entering Russia, but Putin indicated that Russia would likely refrain from curtailing cooperation in areas such as Afghanistan. Moscow appears to hope to limit the damage.
But the latest US sanctions, which targeted Putin's chief of staff along with other senior Kremlin aides and four businessmen considered to be his lifelong friends, dealt a painful blow to Russia. Obama also warned that more sweeping penalties against Russia's economy, including its robust energy sector, could follow.
International rating agencies downgraded Russia's outlook and Russian stocks tumbled Friday.
"The economic impact of the sanctions is already visible — on the stock exchange, the value of the Ruble, the investment climate," EU President Herman Van Rompuy told VRT network.
Putin tried to play down the sanctions' toll on Russia at Friday's televised session of the presidential Security Council.
"We should keep our distance from those people who compromise us," he said, a jocular reference to the officials on the sanctions list, some of whom attended the meeting.
Putin added sardonically that he would open an account to keep his salary in the targeted Bank Rossiya, a private bank that is owned by Yuri Kovalchuk, considered to be Putin's longtime friend and banker. With about $10 billion in assets, Rossiya ranks as the 17th-largest bank in Russia and maintains numerous ties to banks in the United States, Europe and elsewhere.
At the same time, Putin said he sees no immediate need for further Russian retaliation to the US sanction.
"We must refrain from retaliatory steps for now," Putin said.
But Putin's spokesman, Dmitry Peskov, later said that Russia would retaliate to the latest US sanctions.
"We will react every time. We responded to the first round of sanctions, and we will respond to those too," he said, according to the ITAR-Tass news agency. He did not elaborate.
Russia is expected to play a major role in the planned withdrawal of US and other Nato forces from Afghanistan later this year by providing transit corridors via its territory, and Putin seemed to indicate that the Kremlin at this stage has no intentions of shutting the route.
Moscow also appeared to be warming to the deployment of monitors from the Organization for Security and Cooperation in Europe, the top trans-Atlantic security and rights group.
Foreign Minister Sergey Lavrov said that Russia would welcome sending the OSCE observers to Russian-speaking regions in eastern Ukraine on condition that their number and locations are clearly set, but he made it clear that they wouldn't be let into Crimea.
In Crimea, heavily armed Russian forces and pro-Russia militia have blocked Ukrainian military at their bases for weeks. Following Sunday's referendum they have moved aggressively to flush the Ukrainians out, storming some ships and military facilities.
The Ukrainian government said it was drawing up plans to evacuate its outnumbered troops from Crimea, but many soldiers still remained. At the Ukrainian military air base in Belbek, outside Sevastopol, Col. Yuly Mamchur told reporters Friday he was still waiting for orders from his commanders on whether to vacate.
Russian Defense Minister Sergei Shoigu on Friday told Putin that 72 Ukrainian military units in Crimea have decided to join the Russian military. His claim couldn't be independently confirmed.
Amid its political crisis, Ukraine is teetering on the verge of bankruptcy, struggling to pay off billions of dollars in debts in the coming months. The US and the European Union have pledged to quickly offer a bailout.
It owes Russia $2 billion in overdue payments for natural gas supplies. Putin made it clear that Russia will further raise the heat on Ukraine by urging it to pay back a $3 billion bailout loan granted to Yanukovych in December.
In addition, Russian Prime Minister Dmitry Medvedev suggested that Russia should reclaim $11 billion in gas rebates it gave Ukraine in exchange for a deal extending Russia's lease on its navy base in Crimea until 2042. Medvedev argued that since Crimea is part of Russia now, the deal is void.
4.58 pm: Russia's annexation of Crimea completed 
Russian President Vladimir Putin signs bills completing Russia's annexation of Crimea, the Associated Press reports.
4.24 pm: France offers to send warplanes to help with air patrols in the Baltic region 
A defense ministry official says France is offering to send warplanes to help provide air patrols over the Baltic states and Poland amid growing tensions between the West and Russia.
The ministry official says France was "available — if NATO requests it — to contribute to air policing patrols" in the former Soviet republics and Poland, now members of the Atlantic alliance. The comments came as French Defense Minister Jean-Yves Le Drian visiting Estonia, Lithuania and Poland on Friday.
The United States and Britain have already provided such support.
A French contribution could include warplanes, AWACs surveillance aircraft and radar. The official spoke on condition of anonymity because he was not authorized to speak publicly on the matter.
2:50 pm: After US sanctions, Russia says it won't do any more
After US and EU have imposed wide ranging sanctions on Russia, the nation's president Vladmir Putin has said that Russia will not retaliate further to US sanctions.
Other ministers had earlier spoken of 'mirror sanctions' but it isn't clear what will happen given Putin's already opposed it.
2:40 pm: Russian parliament's upper house ratifies decision to annex Crimea
It's done. The Upper House of Russia's Parliament has on expected lines cleared the annexation of Crimea into the Russian federation.
The Federation Council voted unanimously to incorporate Crimea after Sunday's hastily called Crimean referendum, in which residents of the Black Sea peninsula overwhelmingly backed breaking off from Ukraine and joining Russia. Ukraine and the West have rejected the vote, held two weeks after Russian troops had taken over Crimea.
The move, already approved by the lower house, is set to be completed with Russian President Vladimir Putin's signature.
2.10 pm: Lavrov says West's sanctions 'unlawful' during Parliament session discussing approval of Crimea's accession
Russian Foreign Minister Sergei Lavrov says international sanctions imposed on Russian officials and businessmen over the Crimea crisis were "absolutely unlawful" and would create artificial barriers with the West, Reuters reported.
Lavrov made the remarks in a speech to the upper house of parliament in which he urged the chamber to approve a treaty signed by President Vladimir Putin on Tuesday to make Ukraine's Crimea region part of Russia.
1.59: Visa and MasterCard stop payment services for Russia's SMP bank
Visa Inc and MasterCard Inc have stopped, without notification, providing services for payment transactions for clients at Russia's SMP bank, whose main shareholders were hit by US sanctions, the bank said.
Co-owners of SMP Bank Boris Rotenberg and his older brother Arkady, who received large contracts for the Sochi Winter Olympics were two of the 20 sanctioned by the Obama government, reported Reuters.
"Due to the fact that the sanctions were imposed on shareholders and not on the bank, we consider the moves by the payment systems unlawful and we are confident that we can resolve the encountered difficulties in the near future," the bank said in a statement. The bank added it has no assets in the United States.
1.22: Russia says sanctions will have no immediate or major impact on economy
Russian Deputy Finance Minister Alexei Moiseev said he expected no big immediate impact from sanctions announced by the West on Russia's financial sector over the Crimea crisis.
"For now, I see no severe consequences for the financial sector," Moiseev told journalists on the sidelines of a business conference, Reuters reported.
1.17 pm: Russia thinking of mirroring West's sanctions
Reuters reported that Russia is considering a "mirror response" to sanctions imposed by the West over the Crimea crisis, Russia's state-run RIA news agency quoted Deputy Foreign Minister Grigory Karasin as saying.
"There is such a thing as 'reciprocity' in English and in Russian it is a 'mirror response'," Karasin said. "It should be comparable, and I will not deny that we are thinking about it."
--End of updates for 20 March--
11:40 pm: EU slaps sanctions on Russia, says more to follow 
The European Union slapped travel bans and asset freezes on 12 more people, closing in on President Vladimir Putin's inner circle to punish him in the escalating crisis over the Russian annexation of the Crimea peninsula.
The move brought the number of Russians and Ukrainians facing EU sanctions to 33, and French President Francois Hollande said it included a lot of crossover with the people the United States is targeting with similar measures.
"We added 12 people, in concert with the Americans," Hollande said.
The 28-nation bloc said the names of the sanctioned would be published Friday. "Some of them are really high-ranking," said EU President Herman Van Rompuy.
The EU leaders also tasked its executive Commission to prepare a raft of economic sanctions that could be imposed if one of the biggest political crises in Europe since the Cold War worsens further.
"We cover all economic areas," said Van Rompuy, implying it could include an arms embargo against Russia.
11:09 pm: Russia assures US, says no intention of crossing into Ukraine's border 
Russia's defense chief assured US Defense Secretary Chuck Hagel that Russian forces along Ukraine's eastern border have no intention of crossing into Ukrainian territory.
A Pentagon spokesman, Navy Rear Adm. John Kirby, said Hagel discussed Ukraine's with Defense Minister Sergei Shoigu in an hour-long phone conversation, Associated Press reported.
"Secretary Hagel appreciated Minister Shoigu's time and the minister's assurance that the troops he has arrayed along the border are there to conduct exercises only, that they had no intention of crossing the border intoUkraine and that they would take no aggressive action," Kirby said.
Asked whether Hagel accepted that explanation, Kirby said Hagel expects that Shoigu "will meet his word."
When Hagel asked how long the Russian military training exercise would last, Shoigu said he could offer "no firm timetable," Kirby said.
Kirby said Hagel initiated the call, having in mind Russia's moves against Crimea.
Hagel asserted to his Russian counterpart that because Russian forces are in control of the Crimean Peninsula, they bear responsibility for what happens there, Kirby said.
10.45 pm: Pro-Russian forces seize three Ukrainian warships
Pro-Russian forces seized three Ukrainian warships Thursday and Ukraine said its troops were being threatened in Crimea as the US announced a new round of sanctions against Russia for its annexation of the Black Sea peninsula, Associated Press reported.
Shots were fired but there were no casualties as the Ukrainian corvette Khmelnitsky was seized in Sevastopol, according to an AP photographer at the scene. Another ship, the Lutsk, was also surrounded by pro-Russian forces. An AP photographer later saw Ukrainian servicemen disembarking a third ship, the Ternopil corvette.
The Defense Ministry had no immediate information on the incidents.
Ukrainian Deputy Defense Minister Leonid Polyakov accused Russian troops of constantly threatening to storm military bases where Ukrainian soldiers were located, according to the Interfax news agency.
In Geneva, Ukraine's ambassador to the United Nations warned of a sharp deterioration in relations between the two neighbors, saying that Russia appears to be preparing for a military "invasion" in more areas of his country.
Ambassador Yuri Klymenko said there were "indications that Russia is on its way to unleash a full-blown military invention in Ukraine's east and south" since its annexation of Crimea. He said his statement was based on information from non-governmental organizations.
10.05 pm: Russia slaps counter sanctions on US lawmakers, imposes travel ban
Russia responded to Obama's sanctions by imposing a travel ban on nine US lawmakers and officials. This was the first retaliation against the United States for its sanctions against Russia for annexing Crimea, Associated Press reported.
The Russian Foreign Ministry said "the use of sanctions is a double-edged sword that will boomerang against the United States."
List includes three of Obama's advisors who conceivably played a role in crafting the specific sanctions. Law makes include John Boehner, a Republican congressman from Ohio and Speaker of the US House of Representatives and 2nd in the line of succession for the presidency; Harry Reid, a Democratic senator from Nevada who runs the US Senate, sets the legislative agenda.
List also includes John McCain, a Republican senator from Arizona who lost the 2008 presidential race to Obama; Robert Menendez, a Democratic senator from New Jersey who chairs the Senate Foreign Relations Committee; Mary Landrieu, a Democratic senator from Louisiana who chairs the Senate Energy and Natural Resources Committee, and lastly Dan Coats, a Republican senator from Indiana and member of the Senate Intelligence Committee.
9.27 pm: Obama expands sanctions on Russia, EU threatens to follow
President Barack Obama expands US economic sanctions against Moscow, targeting President Vladimir Putin's chief of staff and 19 other individuals as well as a Russian bank that provides them support.
Obama, warning of more costs to come for the Kremlin if the situation worsens, said he also had signed an executive order that would allow the US to penalize key sectors of the Russian economy, including its huge energy business. Officials said Obama could act on that authority if Russian forces press into other areas of Ukraine, Associated Press reported.
The president said the latest penalties were the result of "choices the Russian government has made, choices that have been rejected by the international community."
"Russia must know that further escalation will only isolate it further from the international community," Obama said, speaking from the South Lawn of the White House.
European Union leaders, too, said they would expand the number of people targeted with various sanctions and indicated they would cancel an EU-Russia summit. Chancellor Angela Merkel told the German parliament that if the crisis deepens in Crimea and Ukraine, the EU is prepared to move to economic sanctions on a higher level.
The new American sanctions hit close advisers to Putin, including Sergei Ivanov, the Russian president's chief of staff and a longtime associate. Also targeted were Arkady Rotenberg and Gennady Timchenko, both lifelong Putin friends whose companies have amassed billions of dollars in government contracts.
Also sanctioned: Bank Rossiya, a private bank that is owned by Yuri Kovalchuk, who is considered to be Putin's banker.
9.00 pm: Russian parliament's lower house clears Crimea's accession
The Russian parliament's lower house has given its near-unanimous approval to the country's annexation of Crimea, ignoring threats from Western powers of more sanctions.
The Kremlin-controlled State Duma voted 445-1 Thursday to make Crimea a part of Russia following a quick discussion in which members assailed the Ukrainian authorities, Associated Press reported.
The vote came as UN Secretary General Ban Ki-moon arrived in Moscow for a meeting with President Vladimir Putin. "I'm deeply concerned about the current situation," Ban said at the start of the talks.
The incorporation of Crimea into Russia needs to be rubber-stamped by the upper house and receive a final endorsement by Putin, formalities expected to be completed by the end of the week.
During Thursday's debate, senior lawmakers spoke of the need to protect Russian speakers elsewhere in Ukraine from radical Ukrainian nationalists, statements that could fuel fears of Russian invasion.
"They don't understand in Washington that entire territories will flee as Crimea did if such outrage continues," said Vladimir Vasilyev, the leader of the dominant United Russia faction.
Though Putin, who signed the treaty for Crimea to join Russia earlier this week, said he's not seeking a division of Ukraine, he insisted that the country can "use all means" to protect Russian speakers. He also made his view clear that he sees Ukraine as an artificial state carved up by the Soviet government to include some of Russia's historic lands.
Russia has been arguing for broad autonomy for Ukraine regions that would turn the nation into a federation, and guarantees of Ukraine neutral status to prevent its membership in NATO.
Ilya Ponomarev, an opposition lawmaker who was the only Duma member who voted against, said in his blog that Russia behaved like a "banal aggressor" and made a grave mistake by annexing Crimea.
8.40 pm: Obama signs executive order gaining power to impose sanctions on sectors of Russian economy
US President Barack Obama once again called Russia's annexation of Crimea illegal and announced sanctions on additional top Russian officials and a bank following the Russian parliament's approval of the treaty adding Crimea to Russia.
The sanctions will have a "significant impact on the Russian economy but could also be disruptive to the global economy," Obama said.
In a prepared statement, Obama also said he had signed an executive order that allowed the placing of sanctions on sectors of Russian economy if necessary, but left some wriggle room by saying doing so was not the preferred outcome.
He also warned Russian president Vladimir Putin that further escalation would isolate Russia further, reiterating what US Vice President Joe Biden said earlier today.
"The Ukrainians shouldn't have to choose between the west and Russia."," Obama said.
He also urged Congress to pass legislation providing aid for Ukraine.
7.30 pm: Russian lawmakers seal annexation of Crimea
The Russian parliament's lower house has endorsed the country's annexation of Crimea.
The Kremlin-controlled State Duma voted Thursday to allow Crimea to join Russia following a quick discussion in which members assailed the Ukrainian authorities.
The merger needs to be rubber-stamped by the upper house and signed by Russian President Vladimir Putin, formalities expected to be completed by the end of the week.
The endorsement follows Crimea's referendum last weekend where there was overwhelming support for breaking off from Ukraine and joining Russia.
The vote, held just two weeks after the Black Sea peninsula was overtaken by Russian forces, has been rejected as unlawful by Ukraine and Western powers. The United States and the European Union have responded by slapping some limited sanctions on Russia.
AP
6.30 pm: Russian foreign minister urges lower house to ratify Crimea treaty
Russian Foreign Minister Sergei Lavrov presented a treaty on annexing Crimea to the lower house of parliament on Thursday and urged legislators to accept the Ukrainian region as part of the Russian Federation.
Approval of the treaty in the State Duma was in no doubt after President Vladimir Putin signed it on Tuesday, and ratification will be complete when the Federation Council, or upper house, votes on the treaty on Friday.
"I am certain the passage of these documents will be a turning point in the fate of the multi-ethnic peoples of Crimea and Russia, who are linked by the close ties of historical solidarity," Lavrov told the State Duma.
Describing annexation of Crimea as needed to protect ethnic Russians there, he said: "To this day, lawlessness continues, and there are daily actions by nationalists, anti-Semites and other extremists on whom the new (Ukrainian) authorities depend."
He added: "The unification of these peoples in one state will promote the well-being and prosperity and serve the interests of Russia."
Reuters
5.25 pm: Russia on a dark path to isolation, warns US Vice President Biden
The United States warned Moscow it was on a "dark path" to isolation on Wednesday as Russian troops seized two Ukrainian naval bases, including a headquarters in the Crimean port of Sevastopol where they raised their flag.
The dramatic seizure came as Russia and the West dug in for a long confrontation over Moscow's annexation of Crimea, with the United States and Europe groping for ways to increase pressure on a defiant Russian President Vladimir Putin.
"As long as Russia continues on this dark path, they will face increasing political and economic isolation," said U.S. Vice President Joe Biden, referring to reports of armed attacks against Ukrainian military personnel in Crimea.
Biden was in the Lithuanian capital, Vilnius, as part of a quick trip to reassure Baltic allies worried about what an emboldened Russia might mean for their nations. Lithuania, along with Estonia and Latvia, are NATO members.
"There is an attempt, using brutal force, to redraw borders of the European states and to destroy the postwar architecture of Europe," Lithuanian President Dalia Grybauskaite said.
The head of NATO warned that Putin may not stop with the annexation of Crimea and urged Europe to step up defence spending in response to the crisis.
Reuters
5.10 pm: Putin wants Russian billionaires to pay taxes in Russia
Russian President Vladimir Putin has called on billionaires to pay taxes at home amid fears that a new wave of western sanctions against the country over the annexation of Crimea may hit businessmen.
At a meeting Thursday with Russia's richest men in Moscow, Putin said businesses "ought to register on Russian territory and pay taxes in our motherland."
The call has come in the wake of Western threats to impose another round of sanctions.
On Monday, the U.S. and the European Union announced sanctions against a limited number of individuals they say were involved in the unlawful referendum in Crimea over joining Russia. Most of those targeted, however, were not businessmen but political figureheads, who mocked the sanctions and said they had no assets abroad that were at risk.
AP
4.35 pm: Russian, Ukrainian boxing teams to compete in World Series of Boxing
Despite the tensions between the two countries, Russian and Ukrainian boxing teams will compete as scheduled in the World Series of Boxing quarterfinals. The International Boxing Association says the Russian Boxing Team and Ukraine Otamans will meet on March 30 in Moscow and April 4 in Donetsk. The eastern Ukraine city has recently seen pro-Europe groups clash with Russia supporters.
AIBA says both teams agreed "sport should always be dealt with outside of politics."
The Russian franchise is owned by oil and gas engineering company Stroytransgaz, which is controlled by Kremlin-linked billionaire Gennady Timchenko. The Ukrainian franchise is run by the national boxing federation.
AP
3:12 pm: Viktor Yanukovych to hold press conference, says still Ukraine's President
Ukraine's fugitive president, Viktor Yanukovych, has a news conference scheduled Friday in Russia's south near the Ukrainian border.
He has not been seen publicly since Saturday, and he declared yesterday in a statement that he remains Ukraine's legitimate president.
Ukraine's parliament yesterday elected a new government led by a pro-Western technocrat who promptly pledged to prevent any national break-up.
Meanwhile, Russian military were blocking an airport in the Black Sea port of Sevastopol in Crimea near the Russian naval base while unidentified men were patrolling another airport serving the regional capital, Ukraine's new Interior Minister Arsen Avakov said, reported Associated Press.
Avakov wrote in a Facebook post that the Belbek international airport in Sevastopol was blocked by military units of the Russian navy. "I can only describe this as a military invasion and occupation," Avakov said.
The Russian foreign ministry refused to comment while a spokesman for the Russian defence ministry was not available for comment.
Early today, dozens of armed men in military uniforms without markings were seen patrolling the airport in Simferopol, the capital of Crimea.
An Associated Press photographer saw military men armed with assault rifles Friday morning patrolling the airport. The men, who were wearing uniforms without any insignia, refused to talk to journalists, and it was not immediately clear who they were.
3:00 pm: Germany says Russia has more EU sanctions coming, G8 meetings suspended
German Chancellor Angela Merkel says the European Union will impose more sanctions on Russia following its decision to annex Ukraine's Crimean Peninsula and will suspend all G8 meetings until the political situation changes, Associated Press reported.
Merkel told the country's Parliament on Thursday, ahead of an EU summit in Brussels, that the bloc would expand a freeze of bank accounts and travel bans of people that have been linked to the crisis.
Earlier this week, the EU and the United States slapped sanctions on certain individuals that were involved in what they say was the unlawful referendum in Crimea over joining Russia.
She also said that the G8 will not meet until the situation changes. Russian President Vladimir Putin was due to host leaders from the top industrial countries in Sochi in June.
1:43 pm: Crimean and Russian troops free captive Ukrainian navy commander
Ukraine's acting president says the commander of the country's navy has been freed after being held by Russian forces and local Crimean militia at the navy's headquarters, Associated Press reported.
Rear Adm. Sergei Haiduk and an unspecified number of civilians were held for hours after the navy's base in Sevastopol was stormed Wednesday. Early reports said the storming was conducted by a self-described local defense force, but the statement by President Oleksandr Turchynov on Thursday said Russian forces were involved.
The statement said Haiduk and the civilians were released, but did not give details.
1:13 pm: Russia says legalities for Crimea's accession to be finished this week
The legal process required to make Crimea part of Russia will be completed this week, said Foreign Minister Sergei Lavrov, two days after President Vladimir Putin signed a treaty to bring the Ukrainian region into Russia, Reuters reported.
"Practical steps are being taken to implement the agreements on the entry of Crimea and (the Crimean port city of) Sevastopol into Russia," Itar-Tass news agency quoted Lavrov as saying. "The legal process will be completed this week."
Russia's lower house of parliament plans to ratify the treaty today, and to adopt legislation to make Crimea and Sevastopol regions of Russia. The upper house plans to do the same on Friday.
Both chambers are loyal to Putin and there is no chance the measures will fail. The treaty says that it enters into force upon ratification, and that Crimea will be fully integrated into Russia after a transition period ending on 1 January.
9:35 am: Germany halts $138 million military contract with Russia
Germany has halted a Russian military contract for a German defence technology company, authorities said.
The Germany's economy ministry said in a statement Wednesday that it would suspend a planned defence contract with Russia for the German firm Rheinmetall, reported Xinhua.
The ministry said the German government considers the export of the equipment to Russia "inappropriate in the current situation" and "the government is in contact with the company. At the moment no such export is planned".
According to media reports, the Rheinmetall deal to deliver simulation technology to a Russian combat training centre is worth about 100 million euros ($138 million).
It was ordered about two years ago and due for completion this year. The complete training centre should be able to train 30,000 troops per year.
The company will inform the government in time if deliveries are made "so that the government, if necessary, can take necessary measures in the light of further developments", the ministry added.
9:10 am: Russia, US exchange threats at UNSC meeting, Ban Ki-moon visits Ukraine, Russia
Russia and the United States exchanged threats on Wednesday at a tense UN Security Council meeting over the Ukraine crisis, with Moscow's envoy warning that the US ambassador's "insults" are jeopardizing Moscow's willingness to cooperate with Washington on other diplomatic matters, reported the Associated Press.
The meeting came as UN Secretary-General Ban Ki-moon left for Russia and Ukraine in a bid to seek a diplomatic way out of the crisis. Ban will meet with President Vladimir Putin and other Russian officials in Moscow on Thursday and travel to Kiev on Friday for talks with Ukraine's acting president and prime minister, the UN said.
At the council, Russian Ambassador Vitaly Churkin was once again alone in defending his country's actions in Crimea.
He began his speech by celebrating the treaty signed a day earlier by Russian President Vladimir Putin declaring Crimea part of Russia, saying it honored the will of the Crimean people and complied with international law.
US Ambassador Samantha Power said the United States rejects "Russia's military intervention and land grab in Crimea."
She warned that the US and its allies, who imposed sanctions on Russia two days ago, "are prepared to take additional steps if Russian aggression or Russian provocations continue."
Power also compared Russia's takeover of Crimea to theft. "A thief can steal property, but that does not confer the right of ownership on the thief," she said. The Russian ambassador shot back: "It is simply unacceptable to listen to these insults addressed to our country."
The council also heard a briefing from Ivan Simonovic, assistant UN secretary-general for human rights, who expressed particular concern over the security of Tatars and other ethnic minorities in Crimea.
Simonovic announced that the United Nations is deploying a 34-member human rights monitoring mission to Ukraine, scheduled to be in place by Friday.
He said he was not able visit Crimea because the authorities there refused to receive his mission or ensure its security until it was too late. But he said he spoke to representatives of displaced Tatars and victims of arbitrary arrests, torture and other human rights violations. Churkin dismissed Simonovic's assessment as "one-sided."
8:55 am: Russia says it will change stance on Iran nuke talks, most serious threat yet
Russia may revise its stance in the Iranian nuclear talks amid tensions with the West over
Ukraine, a senior diplomat has warned, Associated Press reported.
Russia's Deputy Foreign Minister Sergei Ryabkov said on Wednesday, that Russia didn't want to use the Iranian nuclear talks to "raise the stakes," but may have to do so in response to the actions by the United States and the European Union.
The statement is the most serious threat of retaliation by Moscow after the US and the EU announced sanctions against Russia over its annexation of Ukraine's Crimea region.
Ryabkov, who is Russia's envoy to the Iranian talks, said that Russia considers the "reunification" with Crimea as far more important than the developments surrounding the Iranian nuclear program.
Russia has cooperated with the United States and other Western nations in the Iranian talks, but Ryabkov warned that its attitude may now change.
"We wouldn't like to use these talks as an element of the game of raising the stakes taking into account the sentiments in some European capitals, Brussels and Washington," Ryabkov was quoted as saying by Interfax.
"But if they force us into that, we will take retaliatory measures here as well. The historic importance of what happened in the last weeks and days regarding the restoration of historical justice and reunification of Crimea with Russia is incomparable to what we are dealing with in the Iranian issue."
Ryabkov didn't elaborate on how Russia's position in the talks may change.
8.20 am: NATO says Russia will face consequences for 'gunpoint' take over of Crimea
NATO says Russia would face the consequences of its military action in Ukraine, asserting that the annexation of Crimea through a "so-called referendum held at gunpoint is illegal and illegitimate".
"The Russian behavior must have consequences. I mean, when I study the founding documents that create the framework for our partnership with Russia, I can see Russia in blatant breach of all the fundamental principles," NATO Secretary General Anders Fogh Rasmussen said on Wednesday, PTI reported.
In view of the Russian actions in Ukraine, Rasmussen, while addressing a meeting, said NATO has also taken measures to strengthen its readiness. "They include more assets for our Baltic air policing mission, surveillance flights over Poland and Romania, and heightened awareness. Allies have taken further steps to impose diplomatic and economic consequences. These are not our preferred choice. They are inevitable and appropriate consequences of Russia's choices," he said.
"Russia's military aggression in Ukraine is in blatant breach of its international commitments, and it is a violation of Ukraine's sovereignty and territorial integrity," Rasmussen said.
"The annexation of Crimea through a so-called referendum held at gunpoint is illegal and illegitimate, and it undermines all efforts to find a peaceful political solution. This is a wake-up call for the Euro-Atlantic community, for NATO, and for all those committed to a Europe whole, free and at peace," he said.
Observing that NATO countries cannot take its security for granted, Rasmussen said this was the gravest threat to European security and stability since the end of the Cold War. "First, because of its scale, with one of the largest movement of troops for many decades; second, because of the stakes: the freedom of 45 million people and their right to make their own choice; and third, because this crisis is right on NATO's border," he said.
Noting that Ukraine cannot be viewed in isolation, and this crisis is not just about Ukraine, he said this be called 21st-century revisionism: attempts to turn back the clock, to draw new dividing lines on our map, to monopolise markets, shuffle populations, rewrite or simply rip up the international rulebook, and to use force to solve problems rather than the international mechanisms that we have spent decades to build.
"We had thought that such behavior had been confined to history, but it's back, and it's dangerous because it violates international norms of accepted behavior. It exports instability, it reduces the potential to cooperate and build trust, and ultimately it undermines our security," he said.
"If the rules don't apply, if agreements are not honored, certainly Russia also stands to suffer the consequences," Rasmussen said. "Russia was among those who committed in 1994 to respect Ukraine's territorial integrity and sovereignty. Russia pledged not to threaten or use force against Ukraine. By turning its back on that agreement, Russia has called into question its credibility and reliability as an international actor. And its steps to annex Crimea are a clear violation of the United Nations Charter," the NATO chief said.
NATO's clear position has been to condemn Russia's military actions in Ukraine, to stand firmly in support of the government in Kiev, and to make clear that President Putin's decisions to escalate the situation have consequences, he said.
"As a first step, we have suspended joint planning for a maritime escort mission for the destruction of Syria's chemical weapons. This would have been the first joint operation of the NATO-Russia Council. We also decided that no staff-level civilian or military meetings with Russia will take place for now," he said.
"We have put the entire range of NATO-Russia cooperation under review. NATO foreign ministers will take decisions when they meet in Brussels early next month. At the same time, we have kept the door open for political dialogue in the NATO-Russia Council to give Russia an opportunity to engage," Rasmussen said.
8.13 am: Ukraine says it will withdraw troops from Crimea
Ukraine is drawing up plans to withdraw its soldiers and their families from Crimea, the security and defence chief has revealed, reported IANS.
Andriy Parubiy here said they wanted to move them "quickly and efficiently" to mainland Ukraine, BBC reported on Wednesday. Speaking during a press conference, the top official set out more details on Kiev's position in light of the events in Crimea.
"We are developing a plan that would enable us not only to withdraw servicemen, but also members of their families in Crimea, so that they could be quickly and efficiently moved to mainland Ukraine," he said.
The arrangements, he added, were now being set up to introduce visas for Russian nationals travelling to Ukraine. The official also said that Ukraine was leaving the Moscow-led Commonwealth of Independent States (CIS) alliance, and is preparing for military exercises with the US and Britain.
8.00 am: Ukraine to appeal to the UN to declare Crimea 'demilitarised zone'
Kiev: Ukraine on Wednesday, proposes that Crimea scene of a Russian-backed armed takeover, be declared a demilitarised zone by the United Nations with a pull-out by both Russian and Ukrainian forces, Reuters reported.
"The Ukrainian government will immediately appeal to the United Nations to recognise Crimea as a demilitarised zone and take necessary measures for Russian forces to leave Crimea and prepare conditions for re-deployment of Ukrainian forces," security chief Andriy Parubiy said.
Parubiy told journalists that in the face of the growing likelihood of military confrontation with Russia the Ukrainian foreign ministry had been given the task of introducing visas for Russians visiting the ex-Soviet republic.
Referring to his demilitarisation proposal, Parubiy, secretary of the National Security and Defence Council, said he hoped the United Nations would support the idea. "This formula is the best for de-escalation ... We hope that common sense will prevail," he said.
--End of updates for 19 March--
9.53 pm: Argentina's president accuses US, UK of hypocrisy over Crimea
Argentina's president on Wednesday accused the U.S. and Britain of "double standards" if it doesn't recognize Crimea as part of Russia.
During a speech in Paris, Cristina Fernandez compared the referendum in the Black Sea peninsula to the one that took place last year in the Falkland Islands, a British territory that Argentina claims as its own and refers to as the "Islas Malvinas."
The international community accepted the will of citizens of the archipelago who overwhelmingly voted to remain British, despite strong protests from Buenos Aires.
Argentina says the Falklands, which have been under British control for 180 years, were usurped from the South American country. Argentina went to war with the U.K. in 1982 in a failed occupation attempt.
"We demand that when the great powers talk of territorial integrity, that it be applicable to everyone," Fernandez said, referring to opposition by the international community over the disputed referendum in Crimea on Sunday in which 97 percent of voters said they wanted to separate from Ukraine.
"We either respect the same principles for all, or we live in a world without law, where the most powerful get their way," the 61-year-old leader added.
The issue of Crimea overshadowed a working lunch expected to focus on ways to tackle Argentina's growing international debt.
Argentina owes $9.5 billion to the Paris Club, a group of the world's wealthiest countries that has in recent decades helped other nations with debt problems.
7:45 pm: Biden warns Russia over Ukraine
Issuing an outright warning to Moscow, Vice President Joe Biden declared Wednesday the United States will respond to any aggression against its NATO allies, as Russia's neighbors looked warily to the escalating crisis in nearby Ukraine.
Standing side by side with a pair of Baltic leaders in Vilnius, Lithuania, Biden said the U.S. was "absolutely committed" to defending its allies, adding that President Barack Obama plans to seek concrete commitments from NATO members to ensure the alliance can safeguard its collective security.
In a jab at Russia, he said the U.S. stands resolutely with Baltic states in support of the Ukrainian people against Russian aggression.
"Russia cannot escape the fact that the world is changing and rejecting outright their behavior," Biden said, after meeting in Vilnius with Lithuanian President Dalia Grybauskaite and Latvian President Andris Berzins.
Biden's comments came at the close of a two-day trip to Lithuania and Poland with a two-pronged theme: Sending a stern message to Russian President Vladimir Putin that the U.S. won't abide Russian intervention in Ukraine, and reassuring fretful NATO allies that the U.S. and others will come to their defense if necessary.
"We're in this with you, together," Biden said.
3.24 pm: Crimean PM says Kiev officials will be sent back, no permission to enter region
Crimean Prime Minister Sergei Aksyonov said, that senior Ukrainian officials dispatched to the region by the government in Kiev amid tension between military forces would not be allowed to enter, Russian news agency Interfax reported.
"They are not wanted in Crimea. Nobody will let them into Crimea, they will be sent back," Interfax quoted Aksyonov as saying, after Ukrainian Prime Minister Arseny Yatseniuk ordered and the acting defence minister and first deputy prime minister to fly to Crimea to "resolve the situation" in the region now controlled by Russian forces.
3.16: Russia conducts aviation exercises in Western regions
Russia's military started large-scale aviation exercises in western regions on Wednesday, Interfax news agency quoted a defence official as saying.
The report indicated the exercises involving jet fighters and bombers were taking place mostly in northwestern regions that do not border Ukraine, but the drills could add to tension between Russia and NATO over Moscow's drive to annex Crimea.
3.05: US Vice President meets Baltic leaders, pledges support
US Vice President Joe Biden met with leaders of Lithuania and Latvia on Wednesday, part of a quick trip to reassure Baltic allies worried about what an emboldened, aggressive Russia might mean for their nations, Reuters reported.
Biden's visit is intended to reassure nations like Poland and the Baltics that the United States will live up to its NATO pledge to protect allies under attack. Estonia, Latvia, Lithuania and Poland are all members of both the European Union and the North Atlantic Treaty Organization - unlike Ukraine.
The Baltics are worried not just about Russia's intentions but also about the economic impact of rising tensions if Russia retaliates through trade bans or by withholding natural gas. Last week, Russia suspended food imports through Lithuania's major port, Klaipeda, a move local businesses saw as Moscow's way of exerting political pressure.
Latvia's finance minister said on Monday that the EU should compensate any countries hurt by its sanctions against Russia.
2.25 pm: US conducts joint naval exercise with Bulgaria and Romania in the Black Sea
The Truxtun, a US guided-missile destroyer has started a one-day military exercise with the Bulgarian and Romanian navies in the Black Sea on Wednesday, a US Naval Forces official told Reuters.
Ukraine's Crimea peninsula juts into the north of the Black Sea. The US military has described it as a "routine" deployment scheduled well before the crisis in Ukraine.
"There are many reasons for exercises with allies, it allows us an opportunity to assure our NATO allies that we support them," said Shawn Eklund, a public affairs officer for US Naval Forces Europe.
2.04 pm: Witness says three Russian flags seen flying at Ukrainian naval HQ in Crimea
Three Russian flags were flying at one of the entrances to Ukraine's naval headquarters in the Crimean port of Sevastopol, suggesting that at least some of the base was under the control of pro-Russian forces.
A Reuters witness saw three armed men, possibly Russian soldiers in unmarked uniforms, at the gate where the flags were flying.
Also in the area were several unarmed members of so-called "self-defence" units, made up of volunteers who have supported Russia's annexation of Crimea.
2.00 pm: Russian defence minister says Russian troops will not withdraw from Crimea 
Ukrainian forces would not withdraw from Crimea even though Russian President Vladimir Putin has signed a treaty to make it part of Russia, acting Defence Minister Ihor Tenyukh said, Reuters reports.
Asked by journalists on the sidelines of a government meeting if Kiev would pull its forces out of the peninsula, Tenyukh replied: "No. We will stay".
1.52 pm: India will not support Western sanctions against Russia
India may not be a part of efforts by Western countries to issue sanctions against Russia.
NDTV quoted sources as saying that India would not support the sanctions. Several Western countries along with Japan and Russia, have already imposed sanctions on Russia, over Putin's move to annex Crimea.
India as said it has accepted Russia's legitimate interests in Crimea, NDTV said quoting sources.
In a phonecall with Putin last evening, Prime Minister Manmohan Singh "expressed his hope that all sides would exercise restraint and work together constructively to find political and diplomatic solutions that protected the legitimate interests of all countries in the region and ensured long term peace and stability in Europe and beyond."
12.52 pm: Crimean self-defense forces storm Ukrainian navy HQ
Crimea's self-defense forces on Wednesday stormed the Ukrainian navy base in the Black Sea port of Sevastopol a day after Russia signed a treaty with local authorities to annex the region.
An Associated Press photographer witnessed several hundred self-defense forces force their way onto the headquarters' premises and raise the Russian flag on the square by the headquarters.
Ukrainian servicemen were standing guard by the main building. Crimean self-defense forces are not armed and seemed to be waiting for the Ukrainian army's decision whether to let them in.
Russia on Tuesday signed a treaty to incorporate Crimea into its territory following a referendum in which residents of Ukraine's region overwhelmingly backed the move. Ukraine and the West consider the vote illegitimate.
The United States and the European Union on Monday imposed sanctions on Russia, targeting Russian and Crimean officials with visa bans and asset freezes.
12.25 pm: Neighbours worried after Russia's intervention in Crimea
After moving to annex Crimea, Russian President Vladimir Putin insists he has no intention of invading other regions in Ukraine, much less other nations, the Associated Press reported.
But leaders in Russia's backyard aren't so sure. They're looking to Vice President Joe Biden for assurances that the US has a plan to prevent that from happening.
Biden meets in Vilnius on Wednesday with the leaders of Lithuania and Latvia, two small countries bordering Russia. The Baltics have suddenly been plunged into the type of eerie concern about foreign aggression they may have thought they'd left behind after the Cold War.
Biden plans to make the case that the US stands ready to defend NATO allies like Latvia, Lithuania and Estonia. He offered a similar message Tuesday during meetings with leaders in Poland.
12.10 pm: Hillary warns of further Russian aggression 
Other countries near Russia could also face aggression if President Vladimir Putin is allowed to get away with his actions in Ukraine former US Secretary of State Hillary Rodham Clinton said Tuesday.
Clinton, a potential 2016 presidential contender, called Russia's move to annex Crimea illegal and a violation of international law, reported the Associated Press.
"If he's allowed to get away with that, I think you'll see a lot of other countries either directly facing Russian aggression or suborned with their political systems so that they are so intimidated that in effect they are transformed into vassals, not sovereign democracies," Clinton said at an event hosted by the Board of Trade of Metropolitan Montreal at the Palais des Congres.
In response to a question about Ukraine, Clinton advocated a "two-track" approach toward resolving the crisis that included economic incentives and "standing up for our values."
Along with sanctions against Russia, Clinton argued for increased financial and technical support for a democratic government in Kiev. She also said Europe needs to be encouraged to find other energy sources so they aren't dependent on Russian oil and gas.
"We don't have to be rattling sabers and all that. That's not useful," she said.
"But people need to get moving in protecting themselves against future intimidation. It might take a year, it might take two years, but it needs to be slow and steady. And then once again people will see the difference, they will see the choices."
Clinton referred to the conflict as a "clash of values" and "an effort by Putin to rewrite the boundaries of post-World War II Europe."
"We're going to stand up against illegal acts and we're going to demonstrate that we have a better model, just like we did for 50 years. That takes continuity and persistence and it takes a consensus across the political spectrum in our country, certainly," she said.
Clinton said she's hopeful another Cold War can be avoided.
"Obviously nobody wants to see that. I think that's primarily up to Putin."
Earlier this month, Clinton likened Putin's actions on the Crimean Peninsula to those of Adolf Hitler in the 1930s. She has also said he is a tough but thin-skinned leader who is squandering his country's potential.
End of updates for 18 March 
9.30 pm: Putin dials Manmohan
Seeking to discuss the evolving situation in Crimea, Russian President Vladimir Putin had a telephonic talk with Prime Minister Manmohan Singh, a NDTV flash said.
The details of the call are awaited.
9.20 pm: Ukraine president says Putin acting like Nazi Germany with Crimea annexation
8.35 pm: Joe Biden calls Russia's actions in Crimea 'land grab'
Denouncing Russia's actions in Crimea as "nothing more than a land grab," Vice President Joe Biden warned Russia on Tuesday that the US and Europe will impose further sanctions as Moscow moved to annex part of Ukraine.
With few good options, the United States was scrambling for ways to show it won't stand idly by as Russian President Vladimir Putin signed a treaty for the Ukrainian peninsula of Crimea to join Russia. So far, Putin has been undeterred by sanctions and visa bans levied by the U.S. and the European Union, and there's no U.S. appetite for military intervention.
"Russia has offered a variety of arguments to justify what is nothing more than a land grab, including what he said today," Biden said in Poland, which shares a border with both Russia and Ukraine. "But the world has seen through Russia's actions and has rejected the flawed logic behind those actions."
Biden arrived early Tuesday in a region on edge over Russia's nascent aggression in Crimea. Amid eerie echoes of the Cold War, U.S. allies including Poland have raised concerns that they could be next should the global community be unable to persuade Putin to back down.
Former Soviet states are among the most alarmed by the prospect that Moscow could be resuming its traditional imperial ambitions. But Ukraine is at greater risk militarily because it lacks membership in NATO and the promise of collective defensive measures that NATO membership provides.
The first round of sanctions having failed, Biden promised more would be coming, as he declared that Russia's actions constituted a blatant violation of international law.
Meanwhile, major Western powers sought fresh ways to show that Russia would incur real costs unless it changes course.
The White House announced that President Barack Obama was inviting the leaders of the G-7 group of nations to a meeting in Europe next week to discuss further action. The group normally meets under the banner of the G-8, including Russia, but has suspended preparations for upcoming G-8 talks.
And in London, British Foreign Secretary William Hague says the U.K. was suspending military cooperation with Russia in light of the crisis.
"It's a simple fact that Russia's political and economic isolation will only increase if it continues down this dark path," Biden said, adding that virtually the entire world rejects the referendum in Crimea on Sunday that cleared the way for Russia to absorb it.
For his part, Putin seemed to shrug off the tough talk from the West, describing Russia's move to add Crimea to its map as correcting past injustices. In an emotional, live speech from the Kremlin, he said that "in people's hearts and minds, Crimea has always been an integral part of Russia."
Russia's move in clear defiance of its neighbors and the U.S. ups the pressure on Biden to convince its NATO allies that the U.S. won't roll over. After meeting with Polish Prime Minister Donald Tusk, Biden headed to the Poland's presidential palace to consult with President Bronislaw Komorowski.
In sessions Tuesday in the Polish capital and later in Lithuania's capital, Vilnius, Biden was to discuss the crisis with the leaders of Estonia, Lithuania and Latvia — three Baltic nations that are deeply concerned about what Russia's military intervention in Ukraine's Crimean Peninsula might portend for the region.
All four countries share borders with Russia, while Poland also borders Ukraine. Poland broke away from Moscow's domination in 1989 and was a vocal advocate for Ukraine forging closer ties with the E.U. — a dispute at the heart of Ukraine's political crisis.
"This trial, this challenge that we are facing will not be for a month or a year," Tusk said after meeting with Biden. "We are facing a strategic perspective for many years to come."
Biden said the goal is for NATO to emerge from this crisis stronger and more unified than ever. While in Europe, Biden planned to discuss what additional steps the U.S. can take to shore up security for Poland and the Baltics, such as increased training, said a senior administration official, who wasn't authorized to comment by name and demanded anonymity.
At Warsaw's request, the U.S. last week sent some 300 air troops and a dozen F-16 fighters to Poland for joint training in a show of military support for a key ally.
Also on the agenda: long-term energy security in Europe, a key factor that has confounded the West's attempts to display a united front in punishing Russia. Much of Europe is heavily dependent on Russian natural gas, and European countries have major economic interests in Russia that could be in jeopardy if Moscow retaliates with sanctions of its own.
Republican lawmakers and a handful of European countries, including Poland, have urged the White House to accelerate approval of U.S. natural gas exports, but the White House has insisted that would take too long and says Russia is too dependent on gas revenues to cut off Europe.
One option that doesn't appear to be on the table: rethinking the U.S. posture on missile defense in the region. Poland is still bruised from Obama's 2009 decision to cancel the final phase of a defense system sorely Poland wanted as a hedge against Russian missiles. Biden said the smaller, phased-in system Obama chose instead is on schedule for completion.
8.05 pm: Obama calls for meet over Russia's involvement in Ukraine
President Barack Obama on Tuesday invited allied leaders for an emergency meeting in Europe next week to discuss further action in response to Russia's involvement in Ukraine, as world economic powers considers whether Moscow' should keep its membership in their organization.
White House spokeswoman Caitlin Hayden said Obama wants to gather leaders of the Group of Seven nations and the European Union to meet on the sidelines of a nuclear summit next week in the Netherlands. Russia is one of 53 countries which will participate in the nuclear meeting in The Hague.
In a statement, Hayden said the meeting that Obama is organizing "will focus on the situation in Ukraine and further steps that the G-7 may take to respond to developments and to support Ukraine."
The G-7 includes the United States, Britain, Germany, Japan, France, Italy and Canada. Russia joined to form the G-8 in the 1990s, but has been a bit of an odd man out at their annual meetings. The G-8 has been eclipsed in recent years by the G-20, which includes China and emerging markets and was created to better represent the drivers of the 21st century global economy.
Russia has the G-8's rotating leadership and is scheduled to host a summit in Sochi in June, but the other members already had suspended preparations for that meeting over objections to Russia's involvement in Ukraine.
U.S. officials had been mulling the idea of an emergency summit since at least the weekend, depending upon how Russian President Vladimir Putin proceeded in Ukraine. The White House announced plans for the meeting shortly after Putin signed a treaty to incorporate Ukraine's Crimea region into Russia's map.
French Foreign Minister Laurent Fabius on Tuesday said G-8 leaders have decided to suspend Russia's participation because of its incursion into Crimea, although other member countries said no decision has been made about Russia's future in the group.
Britain's Foreign Office said Tuesday that Russia is still part of the G8 — but did not rule out a suspension.
"The G7 collectively made clear last week that we would take further action should the Russian Federation seek to annex Crimea," the Foreign Office said in a statement. "We are keeping this under review and talking to G7 partners."
7.40 pm: Francois Hollande calls for EU response
French President Francois Hollande called Tuesday for a "strong and coordinated" EU response to Russia's annexation of Crimea, which he said Paris did not recognise.
"The next European Council on March 20 and 21 must provide the opportunity for a strong and coordinated European response to the new step that has just been taken," he said in a statement.
7.35 pm: Russia's referendum on Crimea breached international law, says Angela Merkel
German Chancellor Angela Merkel said Tuesday that Russia's absorption of Ukraine's Crimea region after a secession referendum and declaration of independence there violated international law.
"The so-called referendum breached international law, the declaration of independence which the Russian president accepted yesterday was against international law, and the absorption into the Russian Federation is, in our firm opinion, also against international law," she said.
6.30 pm: Vladimir Putin signs treaty to annex Crimea
With a historic sweep of his pen, President Vladimir Putin signed a treaty Tuesday to annex Crimea, describing the move as correcting past injustice and a necessary response to what he called Western encroachment upon Russia's vital interests.
In an emotional 40-minute speech that was televised live from the Kremlin, Putin said "in people's hearts and minds, Crimea has always been an integral part of Russia."
He dismissed Western criticism of Sunday's Crimean referendum — in which residents of the strategic Black Sea peninsula overwhelmingly backed breaking off from Ukraine and joining Russia — as a manifestation of the West's double standards.
At the same time, the Russian leader said his nation didn't want to move into other regions of Ukraine, saying "we don't want division of Ukraine."
Thousands of Russian troops have been massed along Ukraine's eastern border for the last few weeks — Russia says that was for military training while the U.S. and Europe view the troops as an intimidation tactic.
Putin argued that months of protests in Ukrainian capital that prompted President Viktor Yanukovych to flee to Russia had been instigated by the West in order to weaken Russia. He cast the new Ukrainian government as illegitimate, driven by radical "nationalists, neo-Nazis, Russophobes and anti-Semites."
5.13 pm: We want peace in Ukraine, says Putin while addressing Parliament
Calling for peace in Uraine Putin says, "Most important thing, we want peace in Ukraine. But it's only up to Ukrainians themselves to restore peace in their home."
"Russia admires courage and dignity of Sevastopol people, you have decided the fate of Crimea," he says and adds, "This was a straightforward referendum. It took place in open way, and Crimeans expressed their free will, they want to be with Russia."
5.04 pm: We don't want to split Ukraine, says Putin
Putin said, "We do not want to split Ukraine. Crimea was and will be Russian, Ukrainian and Crimean Tatar."
"We could lose Crimea al together," he said and added, "Kiev is the mother of Russian cities. Ancient Rus is our common source. We cannot live without one another."
5.00 pm: Reject the rhetoric of cold war, says Putin

Criticising the west, Putin said, "We are pushed into a corner for calling things as they are. There is a limit to everything and our western partners broken their limit."
"Russia was on the brink and could not step back anymore. Reject the rhetoric of cold war," he said.
"Please understand us," he told the US.
4.52 pm: Russian troops did not invade Crimea, says Putin
Putin also added that Russian troops did not invade Crimea during the Ukraine uprising.
"We could not leave them in trouble. Otherwise it would just be betrayal," he said.
4.45 pm: Referendum on Crimea legal, democratic, says Putin
Vladimir Putin while addressing the parliament today said that the referendum and bill to annex Crimea was legal and democratic.
"No one could imagine that Russia and Ukraine could be become different states. But the USSR broke up," said and added, "I don't know why Khrushchev gave Crimea to Ukraine. Maybe he wanted to hide his own wrongdoings towards Ukrainians in 1930s."
Condemning the violence in Ukraine, he said, "Murders, pogroms, everything was used.Anti-Semites, Russophobes and neo-Nazis were involved."
4.09 pm: Putin approves bill for Russia to annex Crimea
Russian president Vladimir Putin today approved a bill approving the annexing of Crimea after a referendum.
The Guardian reported, in an address to a joint session of Russia's parliamentary houses scheduled for 11am GMT today, Putin will deliver his position on the hugely contentious Crimean question. His is expected to set the stage for parliament to approve the absorption of Crimea.
Meanwhile, France's foreign minister says that leaders of the Group of Eight world powers have suspended Russia's participation in the club amid tensions over Ukraine and Russia's incursion into Crimea.
The US and the EU retaliated over the referendum – which the west considers illegal – with sanctions against Russian and Ukrainian officials on Monday, a move widely seen as "toothless", reported The Guardian.
The other seven members of the group had already suspended preparations for a G-8 summit that Russia is scheduled to host in June in Sochi.
France's Laurent Fabius went further Tuesday, saying on Europe-1 radio that "concerning the G-8 ... we decided to suspend Russia's participation, and it is envisaged that all the other countries, the seven leading countries, will unite without Russia."
Fabius did not give further details.
The US and European Union on Tuesday announced new sanctions against Russia over its actions in the Crimean Peninsula.
World
Prigozhin -- an ally of president Vladimir Putin -- has for months been involved in a power struggle with the defence ministry, claiming battlefield victories ahead of Russia's army and accusing the military of not sharing ammunition with his forces
World
As Ukraine gains conventional firepower, the Kremlin vowed to follow through on a plan announced by President Vladimir Putin to deploy tactical nuclear weapons in neighbouring Belarus, an initiative which has drawn widespread criticism
World
Ukraine was attacked by 16 Russian drones on Friday night, the Ukrainian Air Force said in the early hours of Saturday